Montgomery County, TN – Clarksville-Montgomery County School Bus 01-104 caught fire on Southside Road early Thursday morning, November 2nd, 2017, as it was stopping to pick up students who attend Montgomery Central Middle School and Montgomery Central High School.
No students were injured during the incident.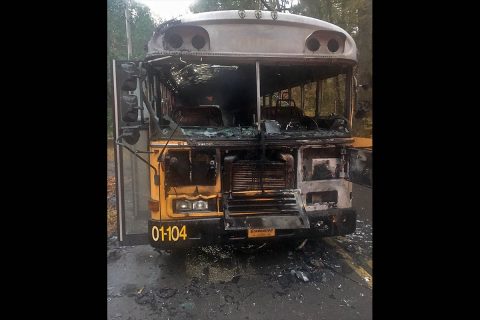 Bus driver Brittany Sigears immediately began evacuating the bus, which is a total loss.
The school bus was a substitute for bus 806, which had been damaged the previous day by impact with a deer. The 20 students who were riding the bus were transferred to another bus and delivered to their schools.
"We take pride in the safety training and protocols we have in place and commend Ms. Sigears for her conscientiousness in protecting our students," said Schools Director Millard House II.
Tennessee Highway Patrol and CMCSS Transportation staff are investigating the cause of the fire on the 2001 Bluebird front engine passenger bus.