Clarksville, TN – When Hurricane Maria — a Category 4 hurricane with winds up to 150 mph — ripped through the island of Puerto Rico on September 20th, 2017, the fury of Mother Nature appeared relentless, but Puerto Rico native and Austin Peay State University senior psychology major Maydaliz Bultron knew better than most that the damage left in the storm's wake would be the true challenge for the island and its people.
"I grew up in Puerto Rico and I lived through Hurricane George (in 1998), so I understand what life is like in the wake of a storm," Bultron said. "I remember things like not having running water and having to get ready for school in the dark with candles because the electricity had been knocked out during the storm."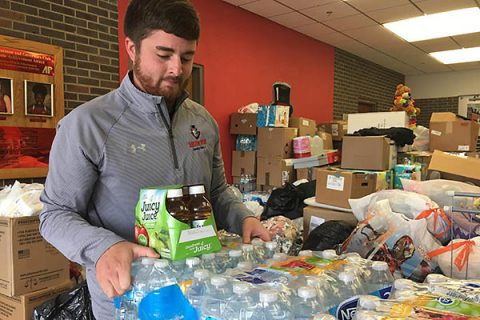 Bultron knew what life looked like following a major storm, but those memories could not compare to the stories of devastation relayed by family members she finally reached nearly two weeks after the storm.
"My family has lived through storms, so for them to tell me that things were really bad there meant something," Bultron said. "People older than me who had lived through more storms than me said this was unlike anything they'd seen, and that this situation was serious, so that got me thinking there had to be something we could do at Austin Peay to help."
Puerto Rico was one of a number of areas impacted by hurricanes this year, as Hurricane Harvey devastated Texas, while Hurricane Irma caused billions of dollars in damage across Florida and its neighboring states in the same short period of time.
Searching for ways to help — and not far removed from Tennessee's own recent brush with disaster — Austin Peay's Center for Service-Learning & Community Engagement brought together faculty, staff and students from across campus to explore ways the University could do its part to help the hurricane relief effort.
"When Gatlinburg's wildfires happened in 2016, everyone on campus pitched in because it impacted us directly and while we did help, our efforts weren't coordinated, and (hurricane season) presented us with an opportunity to do better," Alexandra Wills, executive director of the Center for Service-Learning & Community Engagement, said. "We said 'let's get together the people who traditionally respond in these situations and coordinate our efforts so we can make sure we're making the biggest contribution that we can'."
The Center partnered with University departments and student groups to solicit donations, while athletics used its connections in the community to put the call out for supplies in the form of food, clothing and fresh water. Their efforts were met with overwhelming support, as the Center received over a quarter-ton of goods and supplies for those in need.
Setting up in the University's Technology Building, over 20 Austin Peay students spent a week sorting and bundling supplies for the relief efforts in Houston. And when Hurricane Irma began to bear down on Florida, the Center made the call to divvy up its donations so that the victims of both storms could receive aid.
"I've seen what storms can do," Hayden McClain, a Trezevant native whose hometown was hit by tornadoes during his youth and current men's basketball assistant coach who coordinated athletics' donation efforts, said. "I've seen the time it takes to tear down and rebuild. As many people as are affected in that 30 or 40 mile radius, it's going to take them a long time, so anything we could do to help, we wanted to do."
With donations packed, two trucks left in opposite directions from campus, as Jamie Pack, coordinator for the Center for Service-Learning and Community Engagement, drove one delivery to Florida, while McClain and director of student-athlete development Ryan Combs drove another to Houston, followed closely by former Houston resident and current associate professor of chemical engineering, Dr. Chester Little.
Houston is near to Little's heart, having spent 15 years there before coming to Austin Peay. Unsure of the extent of the damage, Little volunteered his experience to help the drivers navigate one of the country's largest cities.
"Houston is a really large city and it's easy to get lost, especially since we weren't sure if their GPS and cellular technology would be working after the storm had hit," Little said. "The Salvation Army drop-off location we reached was in good shape, but that was just one part of the city. The area I lived in, for instance, was completely flooded out and I'd have lost everything if I was still there."
As the Center worked to help mainland citizens receive physical aid, Bultron and other Puerto Rican students at Austin Peay could not do the same for their people. With the storm making it difficult, if not impossible, to get goods to the island, Bultron and fellow students Joel Romero, Juan Romero and Hector Sandoval reached out to the Center with a different option.
"I had come across a fund raiser for relief for Houston and I thought that, if we can't send physical items, we could at least send money so the people of Puerto Rico could get the things they badly need," Bultron said. "We reached out to Service-Learning and together, we came up with a t-shirt that we could sell, with the money raised going to support the relief efforts."
The shirt's design, which shows an illustration of a golden Puerto Rican flag above the popular social media hashtag "Puerto Rico Se Levanta," or "Puerto Rico rises" was chosen, Bultron said, to connect Austin Peay to other national efforts, while also serving as a source of inspiration for the University's Hispanic community.
"(Tennis star Monica Puig) won Puerto Rico's first gold medal last year, and that was a major moment for our country, so we chose to use the flag colored gold to both remind us of what she did and show that, while we're a small island and we're hurting right now, we're mighty and we can rise up," Bultron said.
The shirts sell for $10.00, with proceeds going to charity organizations helping the island's recovery. Since going on sale earlier this month, the shirts have proven difficult to keep in stock, and proved popular when the group set up a table outside Fortera Stadium before the school's Homecoming 2017 football victory over Southeast Missouri State University.
"Our purpose was to bring awareness of what's going on in Puerto Rico to our campus community and show that we care, and I'm grateful that Austin Peay and the Center have helped us to share that message," Bultron said.
While the storms of the 2017 hurricane season have passed, recovery efforts can often take months, if not year — and Austin Peay will continue to do its part, with alternative break trips scheduled for Houston and Florida in the months to come and a task force ready for the next time Mother Nature strikes.
"We have a team of people across campus who are passionate about helping, and those are the people we are going to continue to reach out to," Wills said. "This wasn't a one-time effort; we're going to continue to work to support these programs and make sure we're helping as best we can as a University."