APSU Sports Information

Clarksville, TN – Austin Peay State University women's soccer head coach Kelley Guth, who has helmed the program since its inception in 2002, resigned Wednesday for personal reasons. Athletics Director Ryan Ivey accepted Guth's resignation and has named Jeremy Sullivan as the program's acting head coach, effective immediately.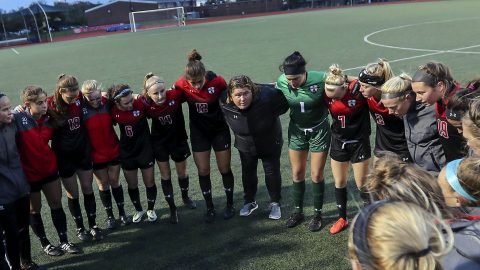 "I am forever grateful to (Dave) Loos and (Cheryl) Holt for trusting me 16 years ago to start women's soccer at Austin Peay," said Guth. "I am also very thankful for Ryan Ivey and the support and care he has shown toward me when I made this decision to step away from the college game at this time for personal reasons.
"It has been a great privilege to serve Austin Peay and build a program. I am very proud of our accomplishments both on the field and off. It has been a tough decision because Austin Peay has been my life, my family since I was 26 years old. I step away from it now knowing I leave the program in a good place with a very talented team with a promising future and a support structure administratively that will ensure their success."
Hired to start the Governors soccer program in 2002, Guth coached student-athletes that earned 32 All-OVC honors.
In addition, her student-athletes won OVC Offensive Player of the Year, OVC Freshman of the Year, the OVC Steve Hamilton Sportsmanship Award and twice earned the OVC Scholar-Athlete Award.
This season, the Governors reached the OVC Soccer Championship for the seventh time in Guth's career. Austin Peay twice finished runner-up in the OVC Soccer Championship (2010 and 2012). In 16 seasons with Guth at the helm, Austin Peay finished with 117 victories on the soccer field. The Govs have posted a winning record six times in the last eight seasons.
Sullivan, a member of Guth's coaching staff for 11 seasons and associate head coach since 2015, will manage the program. He was named National Soccer Coaches Association Midwest Regional College Assistant Coach of the Year in 2010.
"Kelley gave me my first opportunity 11 years ago and for that I am forever grateful. It's been a pleasure working alongside her and I wish her all the best in the next chapter of her life," said Sullivan. "I want to thank Ryan Ivey for his trust to give me the opportunity to lead the team through this period of transition. I will do everything I can for the team to make it a smooth transition and ensure a bright future for Austin Peay soccer."
A national search will begin immediately for the second head women's soccer coach in Austin Peay history.
"On behalf of APSU athletics, we are forever grateful and thankful to Kelley for her service to our soccer program," said Ivey. "For 16 years she has led her program with integrity and class. The experience of her student-athletes has been paramount and is reflected in the growth of our program. We wish Kelley the best and she will always have a place with APSU Athletics.
"Our focus is now turned to finding a new head coach for our soccer program. We will work tirelessly and diligently to find the right person to continue to grow and lead our program to new heights. I am confident that we have a great opportunity to attract a high quality person and coach to move us forward."