Tennessee vs. #20 LSU
Saturday, November 18th, 2017 | 6:00pm CT
Knoxville, TN | Neyland Stadium | TV: ESPN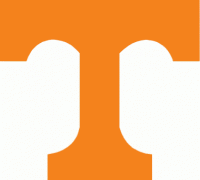 Knoxville, TN – Tennessee takes on No. 20 LSU on Saturday at Neyland Stadium. The game will feature a 6:00pm CT kickoff on ESPN.
Bob Wischusen (play-by-play) and Brock Huard (analyst) will be in the booth and Allison Williams will report from the sidelines. Vol Network radio affiliates will have a live audio broadcast with Bob Kesling, Tim Priest, Brent Hubbs and Maddy Glab. Sirius Channel 138 and XM Channel 190 will also carry a live audio broadcast.
Tennessee (4-6, 0-6 SEC) is coming off a 50-17 road loss to Missouri on November 11th.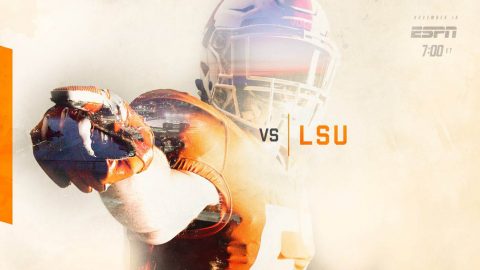 True freshman quarterback Will McBride made his first start and completed 16 of 32 passes for 139 yards with one touchdown and two interceptions. McBride also led the Vols in rushing with 63 yards on 14 carries.
LSU (7-3, 4-2 SEC) took a 33-10 home win over Arkansas last week. Junior running back Derrius Guice led the Tigers with 21 carries for 147 yards and three touchdowns. Senior quarterback Danny Etling went 11-for-16 for 217 yards and two scores.
Tennessee-LSU History
Saturday's game will mark the first meeting between Tennessee and LSU since 2011. Tennessee holds a 20-9-3 all-time edge in the series, which dates back to 1925. The Vols are also 11-3-1 all-time against LSU when the game is played in Knoxville.
The Tigers have won each of the last four times the teams have played with wins in 2006, 2007, 2010 and 2011.
Tennessee's last win over LSU was on September 27th, 2005. The 10th-ranked Vols traveled to Baton Rouge to face the No. 4 Tigers in their home opener after LSU's first game was changed to a road game because of Hurricane Katrina. After trailing 21-0 at halftime, LSU-transfer Rick Clausen led the Volunteers to a 30-27 victory in overtime. Clausen finished the game 21-for-32 passing for 196 yards and a touchdown to go along with a rushing score.
Running back Gerald Riggs Jr. had 89 yards rushing a pair of scores on 24 carries, including the game-winning touchdown in overtime. That 2005 win was Tennessee's most recent victory over a team ranked inside the top-5 of the AP Poll and is the last ranked win the Vols have against a team from the SEC West.
Hoke Takes Over
Associate head coach/defensive line coach Brady Hoke was named Tennessee's interim head coach on Sunday, replacing Butch Jones, who finished with a record of 34-27 in five seasons.
Hoke has 34 years of coaching experience, including 12 years as an FBS head coach at Michigan (2011-14), San Diego State (2009-10) and Ball State (2003-08). He was a conference coach of the year in three difference leagues and in 2011 he was named the National Coach of the Year by the Maxwell Football Club. He has a 78-70 record as a head coach.
On Monday, Hoke emphasized that he and the coaching staff are focused on the team's seniors.
"These last two games are only about one thing, and that's the seniors on this football team," Hoke said. "They have been part of 29 wins, three bowl wins and they've laid a foundation for this program that was badly needed. They're the ones who we play for."
Smith Continues To Impress On O-Line
When Trey Smith started at left tackle against Southern Miss on November 4th, he became Tennessee true freshman to start at left tackle in at least the last 30 years. He followed that with a second start at left tackle last week against Missouri.
Smith is a frontrunner for Freshman All-America, All-SEC and All-America honors as he leads the Vols with 48 knockdowns. He is the second-highest grade Vol on the offensive line behind only senior Jashon Robertson.
Smith started the first eight games of the season at right guard before moving to left tackle for the last two games. He enrolled at UT in the spring of 2017 and was the nation's No.1 overall recruit in the class of 2017 according to ESPN.
Daniel Making Case for Ray Guy Award
Redshirt senior punter Trevor Daniel is one of 78 final candidates for the Ray Guy Award, which is given to the nation's top collegiate punter.
Through 10 games this season, Daniel has 62 punts for 2,919 yards and a 47.1-yard average, which ranks fourth in the nation. Daniel's 26 punts inside opponents' 20 are tied for third in the nation and lead the SEC. His 29 punts of 50 or more yards lead the nation.
His 45.7-yard career average is the best in Tennessee history and is third among active NCAA punters, regardless of division.
1997 SEC Champs To Be Honored
The 1997 SEC Champion Tennessee team will be honored on the field on Saturday during the first quarter.
Coached by Phillip Fulmer and led by quarterback Peyton Manning, defensive end Leonard Little, linebacker Al Wilson, running back Jamal Lewis and wide receiver Marcus Nash, the 1997 Vols finished 11-2 and overcame a 10-point second-half deficit to defeat Auburn 30-29 in the 1997 SEC Championship Game.
VFL Flyovers
Navy Captain Stan Jones and Air Force Captain Leigh Smith To Provide VFL Flyovers on Saturday
A pair of VFLs will lead military flyovers prior to this Saturday's game versus LSU.
At 4:45pm, Air Force Captain Leigh Smith will pilot one of five F-15 jets for a flyover during the Vol Walk. Smith was a three-time All-American and a 2008 Olympian in the javelin.
VFL and former Tennessee football player Capt. Stan Jones will fly an F-18 Hornet over Neyland Stadium before the start of Saturday's game at 5:55pm at the end of the national anthem.
Capt. Jones joined the Vols as a walk-on and was on the team during the 1985 and 1986 seasons.
Capt. Jones earned a bachelor's of science in industrial engineering and a master's of science in aviation systems from the University of Tennessee. He has accumulated over 3,000 flight hours and 623 carrier arrested landings and he has flown 30 different aircraft types.
His personal decorations include the Defense Meritorious Service Medal, Meritorious Service Medals (three), Strike Flight Air Medals (three), Navy Commendation Medals (two), Navy Achievement Medal (two), and various campaign and unit awards. Capt. Jones joined the Navy and entered Aviation Officer Candidate School at Naval Air Station in Pensacola, Florida, in April of 1991 and earned his wings in January of 1994.
On Friday, the public can meet Capt. Jones and view the F-18s at McGee-Tyson/TAC Air from 12:00pm to 3:00pm.