APSU Sports Information

Clarksville, TN – Don't stop believing.
Not after a stretch of 1-45 football.
Not after an 0-2 start to 2017.
And certainly not after laying waste to nearly an entire Ohio Valley Conference slate which long considered Austin Peay State University football a punchline.
The Governors kept believing, and had their faith rewarded with a solid 28-13 defeat of Eastern Illinois to cap a record-breaking regular season, Saturday, November 18th at Fortera Stadium.
As they have for most of the season, the Govs didn't get the job done by spreading it out and throwing the ball around.
On a cold, windy, rainy night, the Govs did what they do best. Austin Peay pounded the ball between the tackles with freshman Ahmaad Tanner and got the ball to a cornucopia of athletes in space and let them run wild.
Tanner accounted for 95 of the Governors 325 yards on the ground, while three other Govs—Jeremiah Oatsvall (49 yards), Daryl Rollins-Davis (47) and Kyran Moore (40)—picked up big chunks as secondary running options.
Sixty-six rushes, picking up 4.9 per carry, allowed the Govs to dictate tempo and Austin Peay ate up clock all night, wearing down Eastern Illinois' defense with a 40:27 time of possession mark.
Tanner has emerged as the bulldog between the tackles—he bookended the day with touchdowns, scampering in from 22 yards out late in the first quarter to give the Govs their initial lead, and putting the game away with a one-yard plunge early in the first quarter.
Nice time to have your first career multi-touchdown performance, Mr. Tanner.
Moore grabbed touches all kinds of ways Saturday night; with 10 touches (six rushing, three catches and a kick-return), he ate up a team-high 103 all-purpose yards and burst through for a 10-yard scamper in the second quarter to put some distance between the Govs and Panthers.
And Oatsvall, the precociously talented freshman charged with orchestrating the offense, showed poise under fire. With multiple options each time he rolled out—pitch, pass or keep the ball—the Brentwood native made the right call, all the time. His numbers weren't eye-popping, but without his leadership and decision-making, who knows where the Govs would be?
When he called his own number, it typically worked out for the Govs. He picked up 4.1 yards on 12 carries and rumbled 26 yards for a touchdown, his third straight game with a rushing score.
When Eastern Illinois got its chances offensively, it was often backed up within the shadow of its own goalpost, and often against a ferocious and—thanks to the offense's proclivity for long, clock-chewing drives—rested and eager to attack the Panther offense. The Govs forced seven three-and-outs, forced a trio of turnovers and stopped the Panthers twice on fourth down.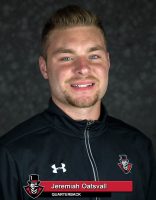 And when the Govs got those stops, it often gave the offense excellent field position. Austin Peay's average starting position was its own 41, including four drives started in EIU territory—those resulted in Oatsvall's touchdown and Tanner's second trot into the end zone.
Austin Peay's opportunistic defense forced a trio of turnovers—a fumble recovery by Theron Hodges led to the Govs first score, while Juantarius Bryant's third-quarter pick set up Tanner's final score. And Keawvis Cummings' interception on Eastern Illinois' last-gasp final drive sealed the deal for the Govs and touched off another in a season full of celebrations at Fortera Stadium.
The records broken this season will stand for a while. It extended the Governors record of total offense, concluding the regular season with 4,645 yards and gave Austin Peay its first-ever 3,000-yard rushing campaign. The 327 points also were a school record, just in case you didn't know. And junior Gunnar Scholato made it back-to-back 100-tackle seasons, the first by a Gov since 2000-01 (Drew Wilson).
The regular season is over, but that doesn't mean the party has stopped. The Governors are very much in the discussion for an FCS playoff berth, and will find out their fate at 10:00am, Sunday, when the FCS announces the playoff participants. Anything is possible.
The 2017 football season proved that much.
Don't stop believing.