APSU Sports Information

Clarksville, TN – Austin Peay State University men's basketball team saw a balanced scoring effort spearheaded by freshman Dayton Gumm in a dominant 86-61 win against Miami University, Sunday, in the Dunn Center.
In his first career start, Gumm led all scorers with 23 points, while fellow Bowling Green freshman Terry Taylor chipped in with 12.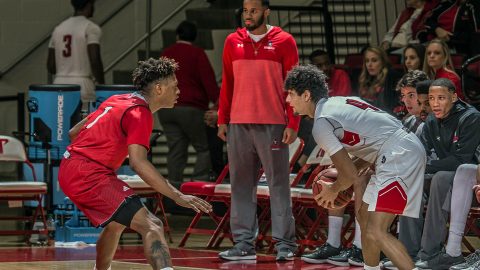 Senior Averyl Ugba (13 points) made it back-to-back forays into double-digits, while juniors Zach Glotta (13) and Steve Harris (11) came up with big contributions off the bench.
An early three-point barrage jump started the offense. After a combined 3-of-28 showing from distance the previous two games, the Govs hit five threes over the course 4:05 in the first half, taking a slim 9-7 advantage and nearly doubling up Miami (27-14).
That opened things up on the interior, where Harris, Gumm and others found more space to operate thanks to efficient long-range shooting. When Glotta's jumper in the lane swished through at the buzzer, the Govs carried a 51-29 lead into halftime.
By the 6:40 mark in the second half, the lead for the Govs had swelled to nearly 40 points. Austin Peay opened the second period on a 26-11 run featuring 10 of Gumm's 23 points and eight from Ugba, who was near-unstoppable down low (5-of-7 shooting). A late Miami run cut the deficit, but the Governors first Division I win of the Matt Figger era remained an emphatic statement.
The Difference
The Governors first-half shooting set a standard Miami simply could not keep up with. Austin Peay hit 66.7 percent from the floor (20-of-30) and beyond the arc (8-of-12) over the first 20 minutes, with both percentages well into the 70s deep into the frame.
Notably
The victory is Austin Peay's first-ever against Miami, first against a MAC school since 2009 and first-ever at the Dunn Center against a Mid-American Conference school.
The win puts the Governors at .500 for the first time in 2017-18.
This win is the Governors first by 25 or more points against a Division I foe since March 2nd, 2013 (91-58 against UT Martin) and first against a non-conference DI opponent since January 3rd, 2011 (89-57 against Chattanooga).
Austin Peay's nine made three-pointers were a season-high.
Gumm's 23 points now gives four of Austin Peay's top-five individual scoring marks in 2017-18 to a freshman. His 9-of-13 shooting mark also is a career-high.
With 31 points off turnover, it marks the fourth straight game the Govs have turned opponent miscues into 25 or more points; Austin Peay is averaging 31.5 points off turnover during that span.
Miami attempted just 45 shots, fewest by an Austin Peay opponent since February 12th, 2015 against Eastern Illinois (44).
Seven-footer Ivan Cucak made his first career three-pointer for the Govs.
With Glotta (13 points) and Harris (11) contributing off the pine, Austin Peay now has four straight games with at least two subs scoring in double figures; the Govs are seeing 41.8 points per game from the reserves over the last four contests.
While Miami had just six assists as a team—fewest by an opponent since November 25th, 2015 (Oakland City, six), Glotta had a career-high tying six all by himself for Austin Peay.
The Govs shot an even 60 percent (33-of-55) for the contest, their first team shooting performance of 60 percent or better since December 28th, 2016 (at Western Kentucky).
Coaching Quotables with Head Coach Matt Figger
On the performance
"It's the best game we've played all season. The defensive side of the ball set the tone and I'm very, very happy with our guys. For about 35 minutes, I felt like we played as fundamentally sound on both sides of the ball as we can."
On perimeter defense
"We restrict passing. If you're going to beat us, you're going to have to drive on us. When everybody is driving the ball, it gets opposing players mad because nobody is passing and it starts playing guys against one another."
On three-point shooting
"I hadn't said anything about it in practice. I think a lot of times if you put a problem into someone's brain, it makes them hesitant and I don't want my guys to be hesitant. I know the number of hours Zach Glotta and Dayton Gumm spend in the gym shooting the ball, and the basketball gods eventually let those guys make shots and when they do, their confidence goes up and that continues to help our team."
Up Next for the Govs
Austin Peay makes its first visit to Stillwater in 16 years when the Govs travel to play Oklahoma State in a Wednesday night contest at Gallagher-Iba Arena is scheduled to tip off at 7:00pm.