Clarksville, TN – Huddled with a group of Austin Peay State University criminal justice students, Mark Wojnarek finally asked the question they had all spent the better part of a half hour trying to solve.
"Are we looking at the scene of a crime," Wojnarek, a senior investigator sergeant with the Montgomery County Sheriff's Office, asked. "Some crime scenes can be staged, so are we looking at a murder, or are we looking at a suicide?"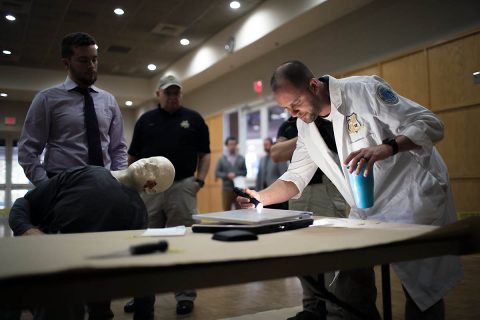 Students in Assistant Professor Dr. George Froggé's criminal investigation course spent an afternoon at the University's Morgan University Center Ballroom, pouring over a simulation of a possible crime scene after officers reported to what — on the surface ­— appeared to be a person who took their life with a self-inflicted gunshot to the head.
Like at a real crime scene, each student had a role to play, as some took photographs, while others marked evidence and searched for clues as to what had taken place. At each step, Wojnarek was available to answer questions or offer insight to how he approaches real crime scenes.
The mock investigation was coordinated by the University's Department of Criminal Justice and Froggé, himself a former Nashville police officer, who worked with the Montgomery County Sheriff's Office to create a lifelike simulation of what crime scene investigators encounter in the field.
"I've done similar (mock crime scenes) at a previous university, and it was always a very beneficial experience for my students," Froggé said. "Some of them will go into (crime scene investigation), so these kinds of simulations will at least give them a grasp of the basics when they're really called to a crime scene as professionals."
Froggé said the idea for the simulation was born out of Wojnarek's pre-existing relationship with the University. An alumnus of APSU with a bachelor's degree in political science and psychology, the 18-year law enforcement officer had been working toward a master's in strategic leadership and was looking for opportunities to use his experience to help the department's students.
Wjonarek's experience directing a special victims unit that handles, among other crimes, homicide or death investigations — and his willingness to help APSU students, Froggé said, has been invaluable as students can take their lessons and begin to apply them to both simulated and — eventually — real world crime scenes.
"We go over the kinds of things that you will see and do at a crime scene in our lectures, so to have Mark come to campus and offer his insight was a chance for our students to see that what they're learning really is relevant," Froggé said. "You could really begin to see their eyes light up when they realized that they had been given the tools they'll need to approach these situations in the real world."
With television programs like the "CSI" series igniting interest in the field among students, Froggé said these kinds of simulations are important as more people begin to consider crime scene investigation as a career.
"There's been a trend among larger police departments to hire civilian crime scene investigators instead of sworn officers, and even here on campus, there's been a lot of interest in the field at our AP Day events," Froggé said. "A lot of my students love to solve puzzles, so to them, they see crime scenes as an opportunity to solve one big puzzle, and it's important we give them an understanding of the basics."
For more information on Austin Peay's Department of Criminal Justice, visit www.apsu.edu/criminal-justice