#20 Tennessee vs. #7 North Carolina
Sunday, December 17th, 2017 | 2:00pm CT
Knoxville, TN | Thompson-Boling Arena | TV: ESPN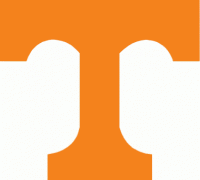 Knoxville, TN – For the first time since 2010, a pair of AP Top-25 Teams will clash in Thompson-Boling Arena this Sunday, as the 20th-ranked Volunteers host No. 7 North Carolina. The game will tip at 2:00pm CT and will be televised live on ESPN and streamed online via WatchESPN.
Tennessee announced plans earlier in the week to "checker" Thompson-Boling Arena for next Sunday's highly anticipated game against the defending national champion Tar Heels.
Fans planning to attend the sold-out showdown, which tips off at 2:00pm CT on ESPN, are encouraged to visit CheckerTBA.com to learn whether their seats are in a section designated to wear orange or white.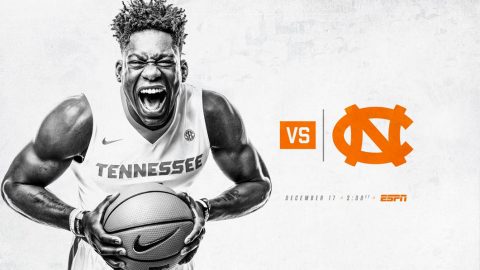 VolShop locations are offering t-shirts in both colors; the shirts feature the state outline filled in with a checkerboard.
Doug Sherman (play-by-play) and Jay Bilas (analyst) are on the call for Sunday's matchup for ESPN.
Fans can also listen live on their local Vol Network affiliate to catch Bob Kesling and Bert Bertelkamp describing the action. The contest is officially sold out, but tickets for upcoming games can be purchased at AllVols.com.
The Volunteers (7-1) have begun the season on a hot streak, earning their best starting record since 2010-11, when they opened with seven straight wins. UT was recently rewarded for its strong play, making its first appearance in the AP top-25 poll since December of 2010. After a win over Lipscomb last Saturday, Tennessee moved up to 20th in the polls and are now in search of its second consecutive win over an AP Top-10 at home. Grant Williams has stepped up his game across the board this season, posting 16.1 ppg, 7.3 rpg, 2.6 apg and 1.9 bpg for the Vols.
North Carolina (9-1) has double-digit wins over "Power 5" foes in Stanford, Arkansas and Michigan this season and enters Sunday's contest riding a four-game winning streak, during which the Tar Heels have averaged 93.0 ppg while holding their opponents to 73.0 ppg. Junior forward Luke Maye leads the charge for UNC, averaging a double-double with 19.6 ppg and 10.5 rpg.
The Series
Overall: UNC leads, 9-1
In Knoxville: Series tied, 1-1
In Chapel Hill: UNC leads, 3-0
Neutral Sites: UNC leads, 5-0
Current Streak: UNC has won four straight
Last Meeting: UNC won, 73-71, in Chapel Hill, 12/11/16
Rick Barnes vs. UNC: 6-11
Rick Barnes vs. Roy Williams: Tied, 6-6
Right Now
UNC is the third of four ACC opponents on Tennessee's schedule during a 30-day span.
The Vols are rated No. 7 in the ESPN InsideRPI, with the nation's 24th-rated SOS.
At 7-1, the Volunteers are off to their best start since the 2010-11 season, when they went 7-1 though their first eight games.
Tennessee leads the SEC in assists per game (19.1) and 3-point percentage (.412).
A Win Would
Extend Tennessee's home winning streak against non-conference opponents to 11 games. That streak dates to last season's win over Appalachian State on November 15th, 2016.

Give the Vols six straight home wins over teams that are the defending national champion, dating to 1999.

Give the Volunteers a 17-game home winning streak during the month of December
About North Carolina
North Carolina, the defending NCAA champions, visit Knoxville as the Vols and Tar Heels close out a two-game, home-and-home series, which began last season.
Under the direction of head coach Roy Williams, the Tar Heels are 9-1 this season (lone loss came against No. 4 Michigan State in the PK80 Tournament) and are ranked No. 7 by the AP and coaches.
The Tar Heels received a huge boost in the offseason when Joel Berry II, the Most Outstanding Player of the Final Four, withdrew his name from the NBA Draft and announced he would return for another season in Chapel Hill. In nine games, he's averaging 16.0 ppg, 3.7 apg and 2.4 rpg.
North Carolina is bolstered by Luke Maye, who won UNC's Danny Green Award as the team's most improved player and was named the Most Outstanding Player in the NCAA South Regional during the team's title run last season. The junior has become one of the Tar Heels' best players after starting only one game in his career prior to this season.
This year, Maye has started all 10 games and is averaging a double-double behind 19.9 ppg and 10.5 rpg, both of which are team highs. The 6-8 forward is shooting 57 percent (80-140) from the field and has the ability to knock down shots from beyond the arc, connecting on 48 percent (13-27) of his attempts from deep.
Kenny Williams (13.4 ppg, 3.6 rpg, 2.1 apg, 1.4 spg) and Theo Pinson (9.4 ppg, 5.1 rpg, 4.4 apg) have stepped up as two do-it-all guys for UNC this season.
The Tar Heels have double-digit wins over "Power 5" foes in Stanford, Arkansas and Michigan this season and enter Sunday's contest riding a four-game winning streak, during which UNC has averaged 93.0 ppg while holding its opponents to 73.0 ppg.
UNC Connections
Tennessee head coach Rick Barnes and Senior Executive Associate AD/Chief Operating Officer Reid Sigmon (who serves as UT's men's basketball administrator) both attended college in North Carolina. Barnes attended Lenoir-Rhyne University in Hickory; he and his wife, Candy, both are Hickory natives, and his mother and brothers still reside there. Sigmon went to Wake Forest.

Hickory is approximately 150 miles west of Chapel Hill.

Two current Vols are North Carolina natives: Jalen Johnson (Durham) and Grant Williams (Charlotte). Another current Vol, John Fulkerson, played his high school ball at The Christ School in Arden, North Carolina, near Asheville.

Third-year UT assistant coach Desmond Oliver spent five seasons as an assistant at Charlotte from 2010-15.

Tennessee Video Coordinator Riley Davis was a Regional Advance Scout for the Charlotte NBA franchise during the 2013-14 season.

A former UNC standout used to hold the head coaching reins on Rocky Top. Asheville native Buzz Peterson was UT's head coach from 2001-05. He and his close friend, Michael Jordan, both played on UNC's 1982 National Championship Team.

Peterson's predecessor at UT, Jerry Green (1997-2001), was an assistant at Kansas for four years under current UNC head coach Roy Williams, before taking the head job at Oregon and later Tennessee.
Last Meeting with UNC
Tennessee led No. 7 North Carolina by five with just 4:32 remaining in regulation on Dec. 11, 2016, at the Dean E. Smith Center, but the upset bid came up short as the Tar Heels outscored UT 10-5 over the decisive stretch, handing the Vols a 73-71 loss.
Tennessee was led by senior Robert Hubbs III, who scored a game-high 21 points on 9-of-11 shooting. He also had a team-high six rebounds. Freshman Jordan Bowden added 12 points with five boards.
After leading by as many as 15 in the first half, the Vols successfully fended off North Carolina's comeback attempts for much of the second half. Vols freshman Grant Williams—a North Carolina native—knocked down a short jumper in the lane to give UT a 68-63 lead with just over 4:30 to play, but a 7-1 run gave the Tar Heels their first lead since the 15:34 mark in the first half. The rally was capped by a driving layup from Carolina's leading scorer, Justin Jackson, which gave the Tar Heels a 70-69 lead with 2:14 left in the game.
The Vols hung around, trailing 73-71 with nine seconds left. Lamonté Turner drove the length of the court and into the lane, but his potential game-tying shot attempt was blocked with just two seconds remaining.
Turner finished with nine points. Williams turned in a nice outing in his home state, posting seven points, six rebounds and four blocks.
After UNC scored the first four points of the game, the Vols went on a 27-9 run—at one point scoring on 10 consecutive possessions. The Big Orange shot 65 percent as a team in the first half and were 3-of-6 from beyond the 3-point arc.
Tennessee's first half field-goal percentage of .654 was the fourth-highest ever recorded by a UNC opponent in a half at the Dean Smith Center, which opened in 1986.
Ranked Teams Collide in Knox
Sunday's game marks the first time two ranked men's teams have collided at Thompson-Boling Arena since February 27th, 2010, when the 19th-ranked Vols upset second-ranked Kentucky, 74-65. That Wildcats squad was led by current NBA stars John Wall, Eric Bledsoe and DeMarcus Cousins.
That game also is the last time Tennessee faced a top-10 opponent at home when the Vols were ranked as well.
Tennessee went on to advance to the Elite Eight, its deepest-ever run in the NCAA Tournament.
Sunday's Game a Sellout
Sunday's game was officially announced as a sellout several weeks ago. It is Tennessee's first sellout at Thompson-Boling Arena since February 17th, 2015.
Vols' Schedule is ACC Heavy
Tennessee's 2017-18 schedule features four games against ACC opposition in a 30-day span: November 24th vs. NC State, December 3rd at Georgia Tech, December 17th vs. North Carolina, December 23rd at Wake Forest.

The Vols defeated NC State, 67-58, at the Battle 4 Atlantis. Then, in its first true road game of the season, Tennessee toppled Georgia Tech, 77-70, in Atlanta.

Additionally, Tennessee traveled to Clemson for a charity exhibition on November 5th. The Vols defeated the Tigers, 71-67.
Vols have Won last Five at Home vs. Defending Nat'l Champs
Tennessee has won five straight home games against the defending national champion, dating to 1998-99. UT possesses an overall record of 7-4 at home against the defending national champion.
Only one of those games came against a non-conference opponent: Tennessee's 60-57 win over then-Big East member UConn on January 21st, 2012.

| DEFENDING CHAMP | DATE | RESULT |
| --- | --- | --- |
| #25 Kentucky | Feb. 16, 2013 | W, 88-58 |
| #13 UConn | Jan. 21, 2012 | W, 60-57 |
| Florida | Feb. 5, 2008 | W, 104-82 |
| #5 Florida | Feb. 27, 2007 | W, 86-76 |
| #13 Kentucky | Feb. 28, 1999 | W, 68-61 |
| #3 Kentucky | Feb. 25, 1997 | L, 74-64 |
| Kentucky | Feb. 17, 1979 | W, 101-84 |
| #1 Kentucky | Feb. 28, 1959 | L, 69-56 |
| #3 Kentucky | Jan. 19, 1952 | L, 65-56 |
| #2 Kentucky | Jan. 14, 1950 | W, 66-53 |
| Kentucky | Jan. 15, 1949 | L, 66-51 |
Barnes vs. The Tar Heels
Vols coach Rick Barnes, a native of Hickory, North Carolina, owns a 6-11 career record against UNC and a 6-6 career head-to-head record against current UNC coach Roy Williams.
Barnes has led his teams to one win over UNC when the Tar Heels were ranked in the AP top 10, leading Texas to a 103-90 victory in Arlington, Texas, December 19th, 2009, when UNC was ranked 10th in both polls.
Barnes never faced the Tar Heels during his tenure at Providence from 1988-94. He went 1-9 vs. UNC while he was the head coach at Clemson from 1994-98.
As the head coach at Texas from 1998-2015, Barnes led his Longhorns teams to a 5-1 record against UNC. Here is a breakdown of those six meetings:

| DATE | SITE | UNC RANK | RESULT |
| --- | --- | --- | --- |
| March 20, 2004 | Denver | #18 | W, 78-75 |
| Dec. 19, 2009 | Arlington | #10 | W, 103-90 |
| Dec. 18, 2010 | Greensboro | NR | W, 78-76 |
| Dec. 21, 2011 | Chapel Hill | #5 | L, 82-63 |
| Dec. 19, 2012 | Austin | #23 | W, 85-67 |
| Dec. 18, 2013 | Chapel Hill | #14 | W, 86-83 |
Vols climb into Top 20
Tennessee on December 4th made its first appearance in the AP top-25 poll since 2010—nearly seven full years. The Vols landed at No. 24 in that week's AP poll.
Prior to that week, the last time Tennessee appeared in the top 25 was December 20th, 2010 (19th AP, 18th coaches). This week, UT stands at No. 20 both major polls.
UT in Rare Ranked Company
Tennessee is one of seven schools whose men's and women's basketball teams are both ranked in the latest Associated Press top-25 poll.
The Vols are ranked 20th, and the unbeaten Lady Vols are ranked seventh under coach Holly Warlick.
Other schools with two ranked hoops squads (AP poll) are Baylor, Duke, Florida State, Texas A&M, Villanova and West Virginia
Sections
Sports
Topics
Appalachian State, Arkansas, Arlington TX, Baylor, Bert Bertelkamp, Bob Kesling, Buzz Peterson, Clemson, Desmond Oliver, Duke, ESPN, Florida, Georgia Tech, Grant Williams, holly warlick, Jalen Johnson, John Fulkerson, Knoxville TN, Lady Vols, Lamonte Turner, Michael Jordan, Michigan, NC State, NCAA, North Carolina, Rick Barnes, Robert Hubbs III, Roy Williams, SEC, Southeastern Conference, Stanford, Tar Heels, Tennessee, Tennessee Vols, Texas, Thompson-Boling Arena, Tigers, UConn, UNC, UT, UT Basketball, UT Lady Vols, UT Men's Basketball, UT Vols, UT Women's Basketball, Villanova, Vol Network, Vols, Volunteers, Wake Forest, West Virginia