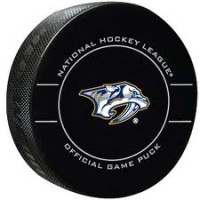 Clarksville, TN – The Nashville Predators pulled six points from their just completed road trip with a 2-0 victory over the Calgary Flames. Once again, Pekka Rinne stood tall for the Preds securing his third shut-out of the season. This comes on the heels of Juuse Saros' record setting shutout on Thursday against Edmonton.
Rinne stopped all 32 shots he faced against the Flames in the 2-0 win. The shutout was the 46th of his career.
As is usual for Nashville, they have problems getting started in the first period, as Calgary outshot the Preds 12-6. Shots from TJ Brodie and Dougie Hamilton were deflected off the crossbar, something that plagued the Flames most of the night.
The first period ended with no scoring.
Ten minutes into the second period, Austin Watson took a five minute major and a game misconduct after he had leveled Garnet Hathaway and a fight ensued.
When the teams went to 4 on 4, Ryan Johansen gave the Predators their first goal of the time, from the seat of his pants, swatting the puck past Mike Johnson at 11:17.
Then the Predators found themselves in a 5-3 situation, having to kill off the penalties for 1:48 of the second period, which they did. At the 19:22 point of the period, Kevin Fiala would give the Predators a 2-0 lead to take into intermission. Kyle Turris got the assist.
Nashville held of a determined Calgary squad for the third period who failed to score leaving the final score, 2-0 Nashville. The Predators were forced to kill off several penalties late in the contest.
Players of note; Viktor Arvidsson recorded his 100th career NHL point on the night when he was credited with an assist on the Johansen goal.
Both Kevin Fiala and Kyle Turris extended their point scoring streaks to seven games.