APSU Sports Information

Clarksville, TN – Freshman Terry Taylor put the Govs on his back and spurred a furious second-half rally to lift Austin Peay State University men's basketball to a 75-73 win against Troy, Tuesday, in the Dunn Center.
Taylor scored 20 of his team-high 27 points in the second half as the Govs erased a nine-point halftime deficit thanks to timely shooting and the type of lockdown defense that Matt Figger's squad is fast becoming known for.
Despite its proclivity for defense, Austin Peay had a hard time containing Troy in a first half that saw the Trojans hit 53.8 percent from the floor. The Trojans' ball movement was crisp, particularly from Kevin Baker (five first-half assists), necessitating a late-half switch to a 3-2 zone on the Austin Peay defensive end after Troy ripped off a 19-6 run which chewed up nearly half of the opening 20 minutes.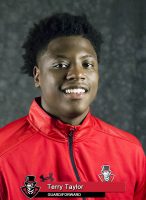 Foul trouble, particularly against some of Austin Peay's more dynamic offensive options, also had the Govs on the ropes in the first half.
Taylor scored Austin Peay's first seven points but was beset by foul trouble for the rest of the half, while Chris Porter-Bunton and Dayton Gumm were limited to nine combined first half minutes due to foul trouble.
But the gloves came off in the second half for the Govs thanks to a herculean effort from Taylor and some dead-eye shooting from Zach Glotta.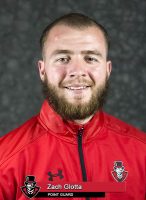 During the course of the Governors game-changing 18-2 run from 13:04 to 8:13 of the second half, Glotta hit a trio of three-pointers to provide the spark, while Taylor chipped in six of his 20 second half points, including an emphatic dunk to tie the game at 9:23.
Taylor's final five points lifted the Govs for good. After a Baker jumper with 2:26 remaining tied the game again, Taylor converted a three-point play and followed it up with a jumper on the next possession to put the Govs up five—Troy would get no closer than a point with 15 seconds to go.
The Difference
In a game this close, a plus-seven showing in the rebounding column was a huge bonus for the Govs, with Taylor and Porter-Bunton leading the charge with seven boards each.
Even more crucial was Austin Peay's work on the offensive glass—13 offensive boards (compared to just three for Troy) yielded a 15-5 advantage for Austin Peay in second-chance points.
Notably
Austin Peay moves to 4-0 all-time against Troy and 38-17 against the Sun Belt as a whole.
Taylor became the first Gov to put up 20 or more points in a half this season.
The victory gives Austin Peay four straight home wins for the first time since 2014-15—the first of which came against Troy.
Glotta hit four three-pointers, equaling the most by an Austin Peay individual this season—he also had four triples in the November 16th contest against Oakland City.
After forcing four more turnovers than they committed against Troy, the Govs are at +53 in turnover differential since the Virginia game—an average of 5.9 per game.
With 16 points and five rebounds, senior Averyl Ugba upped his averages to 12.8 ppg and 7.0 rpg over the last five games.
The Govs are hitting 80.8 percent (21-of-26) at the line the last two games.
This win was Austin Peay's first of the season when being outshot by an opponent. It's also the Governors first victory against an opposing team which scored more than 70 points, first win when scoring fewer points off turnover and first victory when facing a halftime deficit.
Coaching Quotables with Head Coach Matt Figger
On responding in the second half
"I challenged those guys at halftime, and then responded with the energy in the second half. We were flat in the first half. We'd been flat in practice and we played like we practiced in the first half. We had a little meeting at halftime and we came out and turned up the energy in the second half."
On defensive adjustments
"We weren't able to contain them off the bounce and I thought our rim protection wasn't any good (in the first half). When we got in foul trouble, those guys weathered some storms and I felt like if we kept it under 10, we'd have a chance in the second half."
On Ugba and Taylor's inside presence
"That's how we're designed, to get those guys touches in the paint. I think it's a lost art; teams rely more on pick-and-roll and dribble-drive and pounding the ball. I want to get my post guys touches in the paint. I wish I was seven-feet tall; I just think that the team that plays at the rim has a better chance of winning and in the second half, we played at the rim."
Up Next for APSU Men's Basketball
A massive game against a former Ohio Valley Conference foe rounds out the non-conference slate as Western Kentucky visits for a 7:00pm, Friday, December 22nd showdown.