APSU Sports Information

Clarksville, TN – Austin Peay State University and head football coach Will Healy have signed a new four-year contract, athletics director Ryan Ivey announced Wednesday afternoon. The new agreement begins January 1st, 2018 through the end of the 2021 calendar year.
The new four-year contract includes a base salary increase that will place Healy among the top three salaries in the Ohio Valley Conference. In addition, Healy may receive bonus compensation for specific team performance achievements both on the field and in the classroom.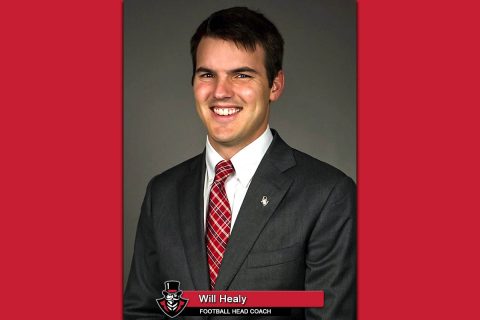 Healy also may receive retention bonuses each year following completion of the contract's second year. The deal also secures an increased assistant coach salary pool.
"We are excited about the opportunity to keep Will and his family at Austin Peay and in the Clarksville community," said Ivey. "Without a doubt, he and his staff have changed our football program for the better, and has proven that Governors football can and will continue to be successful.
"I want to thank all of great supporters for their help throughout this process. We certainly have some amazing fans and I look forward to watching our football program grow with them."
"This place is special," Healy said. "I've known that ever since the first time I saw it and met the people who make it what it is. I realized then that we had a chance to be incredibly successful because of the sincerity of the school's leaders and also their commitment in ensuring that each one of our athletic programs is able to reach its full potential. I am unbelievably grateful to be part of this community and this university, and I cannot wait to see what's in store for all of us."
In just his second season at the helm, Healy spearheaded one of the most remarkable turnarounds in college football history. Entering the 2017 season with just one win in the last four years, Healy guided the Governors to an 8-4 mark – a 7.5-game improvement that ranks as the seventh-best single-season turnaround in Football Championship Subdivision history and best by any FCS program since 2004.
The Governors posted an impressive 8-1 record against Football Championship Subdivision competition. Austin Peay also tallied a program-record seven wins in Ohio Valley Conference play, finishing second in the league race.
In response to the Governors landmark campaign, the national sports writers and sports information directors bestowed Healy with the STATS FCS Eddie Robinson Award, presented annually to the FCS National Coach of the Year. Healy will receive that latter award during an awards ceremony coinciding with the FCS National Championship in Frisco, Texas. In addition, the OVC coaches and sports information directors named Healy the 2017 Roy Kidd OVC Coach of the Year.
"I want to thank Coach Healy, his staff and our football student-athletes for their continued efforts in moving our football program forward," said Ivey. "A successful football program is paramount to supporting the growth of the entire athletics department and institution, and I am confident that we have the right leadership that will continue to drive our future success."
Healy and his coaching staff completed the early portion of their third recruiting class, Wednesday morning. The first two recruiting classes under Healy were ranked among the best in the nation and bore fruit in 2017 with freshman quarterback Jeremiah Oatsvall being named the OVC Freshman of the Year. In addition, freshman running back Ahmaad Tanner was named to the OVC All-Newcomer team.
The Governors offense was one of the nation's most improved in total yardage during Healy's first season and they improved their offensive total again in 2017, posting a program record 387.2 yards per game. In addition, Austin Peay's 27.3 points per game was its second best average in program history.
Austin Peay's defense also took a considerable step forward in 2017 with the team posting 24 sacks and 63 tackles for loss. It was the most sacks by a Governors team since 2004 and the most tackles for loss since 2009.
In the classroom, the Governors also have shown improvement, with a record 42 percent of the team receiving athletic director's honor roll recognition in Fall 2016 with this fall's grades still waiting to be finalized. Austin Peay also saw offensive lineman Ryan Rockensuess recognized as a 2017 Academic All-District™ selection by the College Sports Information Directors Association.