Clarksville, TN – Appleton's Harley Davidson hosted its annual Christmas party Saturday. Tia Suiter says this is a tradition that was started long ago by the company's founders, who believed that everyone should have a Christmas dinner.
"With us being in a military town, there are so many who don't have the opportunity to be with their family at Christmas," Suiter said. "They are serving their country, so we've continued the tradition, and it has become such a privilege for us to do this each year. We feel this is a gift that we can provide to our community."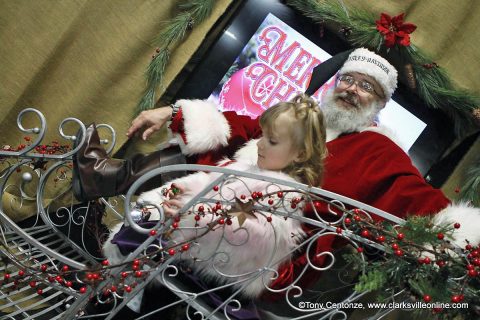 The annual holiday party is not just for Appleton's customers. Lots of people from the community come, bring food, and take part in the day's festivities. This year, Mike Robinson performed, and Santa Claus greeted the children from his sleigh which was parked in the showroom.
"We also host the last blood drive for the state of Tennessee each year," Suiter said. "The American Red Cross parks its bus outside, and we always meet our goal."
Suiter was very excited about a giant cake in the shape of a cross that some friends from Dickson, Tennessee brought. She reiterates that this party is a celebration of the birth of Jesus Christ.
This year's menu included six turkeys, four hams, and three whole pork tenderloins. There were also 200 country ham biscuits, 100 smoked sausage biscuits, six hash-brown casseroles, 5 gallons of green beans, and countless desserts and sides that were brought pot-luck style.
"We don't really know how many people come out each year," Suiter said. "I know we had more than 750 transactions one year, but this isn't about business. It's about everyone coming together, enjoying a meal, and sharing the spirit of Christmas. This is what the founding fathers of this company would want us to do. It's been going on since the 1950's.
"It's like a trip back to the past. Everyone comes together, and we celebrate each other with food and conversation. It has nothing to do with motorcycles. It's been going on for many years, and we hope it will continue for many more. I always say, it looks like a scene from the old Bailey Brothers Savings & Loan in It's a Wonderful Life."
Photo Gallery