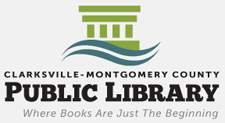 Clarksville, TN – The Clarksville-Montgomery County Public Library works to champion learning and reading, ignites imaginations, and delivers access to information and ideas. To this end, the library holds several events that are educational, entertaining and fun throughout the month.
In January, some of the events include: Teen Programming, Saturday Story Time, Hola Story Time with Abuela Elena, Library Book Club and Tabletop Game Night.
Teen Programming
Every Thursday
5:00pm – 6:30pm
Teens (grades 7-12) will meet and participate in different activities weekly. Check the library's Facebook page for more details.
Tween Programming
January 8th, 22nd
5:00pm – 6:00pm
Tweens (grades 4-6) will meet and participate in various activities.
DIY at the Library
January 4th
6:00pm – 7:00pm
Check the library's Facebook page for more details. All supplies are provided by the library, and the program is free of charge.
4 Paws for Reading
January 13th
1:00pm – 2:00pm
Children of all ages are welcome to attend this program where they will take turns reading books to a furry, four-legged friend!
Hola Story Time with Abuela Elena
January 10th
9:30am – 10:00am
This is a special story time for the bilingual members of our community.
Saturday Story Time
January 6th, 13th, 20th, 27th
2:00pm-2:30pm
Saturday Story Time is for the whole family. There will be stories and songs and a craft afterwards. Come join the fun!
Library Book Club
January 18th
6:00pm-7:30pm

The Library has started a book club! The book club will meet every 3rd Thursday at 6:00 pm in the Boaz Board Room on the second floor. This month's book is Nightingale by Kristin Hannah.

You can pick up a copy of this book at the library. For more information check us out on Facebook or contact Gracie or Jason at (931) 648-8826.
Resume and Job Hunting Assistance
January 6th, 20th
10:00am – 12:00pm
Do you need help perfecting your resume or assistance finding a job? Come to the Resume Building and Job Hunt Assistance workshop for help from our reference department. The workshop will be in the second floor computer lab.
Family Story Time
Mondays: January 8th, 29th
10:30am – 11:00am
Every Tuesday
9:30am – 10:00am
The Family Story Time programs will feature stories centered on a specific theme that will cover a wide range of ages. Families with children of varied ages will find this program the ideal way to enjoy the library together.
Busy Bees Twos & Threes
December 8th, 29th
9:30am – 10:00am
This is a program for children ages 2-3.
Just for Me Story Time
January 2nd, 9th, 30th
10:30am – 11:00am
Just for Me is designed for children ages 4 and 5 years old. We incorporate the use of music and movement as well as offering the best in children's books and storytelling. We have a craft or an art activity as part of this program.
To help create an independent learning experience, children should attend this program alone, while the parent or care giver waits in the Children's Library. Parents are welcome to join during the craft or art activity.
Baby and Me Lapsit
January 4th, 11th
9:30am – 10:00am

The Baby and Me Lapsit (pre-walkers) program is designed for infants from birth up until they begin walking.

This program brings caregivers and infants together in the library and offers them an opportunity to enjoy a special sharing time together promoting and modeling early literacy. Infants sit on their parent's lap and interact with them while enjoying songs, music, bounce rhymes, play rhymes, free play and books designed with babies in mind! We provide age appropriate programming and ask that no older children accompany the caregiver and baby in this program.
Walk with Me
January 4th, 11th
10:30am – 11:00am
The Walk with Me program is designed for toddlers that are walking and under the age of two. This program allows toddlers to explore language and books with their caregivers in a fun and intimate setting. Programs include rhymes, songs, circle games and books as well as time for free play and informal discussion of early childhood development.
We provide age appropriate programming and ask that parents bring only the appropriate age child with them to the program.
Basic Computer & Facebook Skills
Every Friday
3:30pm -5:30pm
Want to begin using a computer? If you need an in-person guide who can show you the basics of using a computer then this is the class for you. You will also learn basic social media skills for communicating with family and friends via Facebook. This class introduces first-time computer users to computer basics and gives practical tips for using social media.
The pace of the class will be adjusted to attendees in the class and there will be plenty of time for questions and one on one time.
Family LEGO Program
January 20th
3:00pm – 4:30pm
Family Lego Program is fun for the whole family! We supply the Legos, and you supply the imagination.
Teen Anime Viewing
January 6th
2:00pm – 4:00pm
Teens in grades 7-12 are invited to join us for a free screening of an anime movie (title to be determined).
Junior Coders Club
January 20th
10:00am – 12:00pm.
The Junior Coders Club is for children ages 5-13 who are interested in coding. Ages 5-8 meet from 10:00am-11:00am and ages 9-13 meet from 11:00am-12:00pm.
Genealogy Class
January 13th
10:00am – 11:00pm
The Genealogy Class has returned to the library! January's class will be focused on studying census records.
Tabletop Game Night
January 23rd
6:00pm – 7:30pm
Join us for Tabletop Game Night! The library has a variety of board games for participants to choose from or you are always welcome to bring your own.
---
The library is located at 230 Pageant Lane, Suite 501, Clarksville, TN. Learn more at www.mcgtn.org/library
Sections
Events
Topics
Basic Computer Skills Class, Clarksville TN, Clarksville-Montgomery County Public Library, Facebook Class, Montgomery County, Pageant Lane, Saturday Story time