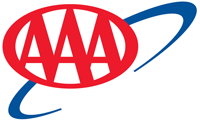 Orlando, FL – Seventy-eight million dogs reside in more than 46 million U.S. households, according to the American Pet Products Association, and an increasing number of these furry companions accompany their families on road trips, day trips and even local errands.
However, in a vehicle this can mean added distractions for the driver and added dangers for all passengers, including pets.
A survey conducted by AAA and Kurgo, a leading manufacturer of pet travel products, asked dog owners how often they drive with their dog and examined their habits behind the wheel.
The survey results indicated that drivers not only love to bring Fido in the car, but often engage in risky behaviors when man's best friend is along for the ride.
Motorists frequently bring dogs along, engaging in distracting behaviors
Nearly six in 10 (56 percent) respondents have driven with their dog at least once a month in the past year, however, many participate in behaviors that take their attention away from the road with the most common activity being petting their dog (52 percent).
Nearly one-quarter (23 percent) have used their hands or arms to hold their dog in place while applying brakes, and 19 percent have used their hands or arms to keep their dog from climbing into the front seat—creating a situation where they remove at least one hand from the steering wheel.
Other distracting behaviors drivers admitted to include reaching into the back seat to interact with their dog (18 percent), allowing their dog to sit in their lap or holding their dog (17 percent), giving food or treats (13 percent) and 3 percent have taken a photo of their dog while driving. These behaviors can distract the driver and increase the risk of a crash. The AAA Foundation for Traffic Safety found that looking away from the road for only two seconds doubles your risk of being in a crash.
Drivers admit dangers of unrestrained pets, but most not using a pet restraint
Eighty-three percent of respondents acknowledge that an unrestrained dog in a moving car can be dangerous, but only 16 percent currently use a pet restraint. However, use of a restraint is three times greater among drivers who have heard of situations where unrestrained dogs were injured or caused injury to other passengers in a car crash (32 percent) compared to respondents who were not aware of such a situation and still use a restraint (9 percent). Using a pet restraint, such as those available from Kurgo, can aid in limiting distractions and help protect pets and passengers.
"Drivers should use a pet restraint system for your dog every time their pet is in the vehicle," said Jennifer Huebner-Davidson, AAA National, Traffic Safety Programs manager. "A restraint like those offered by Kurgo will not only limit distractions, but also protect you, your pet and other passengers in the event of a crash or sudden stop."
Calm dogs and lack of awareness top reasons for not using a pet restraint
More than two in five (42 percent) respondents stated they do not use a pet restraint because their dog is calm and they do not think he/she needs a restraint. However, a calm dog will be thrown with the same amount of force as an active dog in the event of a crash or sudden stop—a danger for all passengers as well as the pet.
"An unrestrained 10-pound dog in a crash at only 30 mph will exert roughly 300 pounds of pressure, while an unrestrained 80-pound dog in a crash at only 30 mph will exert approximately 2,400 pounds of pressure. Imagine the devastation that can cause to your pet and anyone in its path," said Huebner-Davidson.
Other reasons cited for not using a restraint include: never considered it (39 percent); just take dog on short trips (29 percent); and 12 percent want their dog to be able to put its head out the window.
Eighteen percent of respondents who drive with a dog in the vehicle also have children under the age of 13 who ride with them. Seven in 10 of these motorists have driven with a child and an unrestrained dog in the vehicle at the same time.
A variety of reasonably priced products are available to keep pets safe and help dog owners reduce potential distractions caused by pets while driving. There have been many recent innovations in this market from Kurgo and others to make these products more comfortable for the dog and convenient to use for the owner. AAA recommends owners use a restraint system anytime they are driving with their pet—even short trips close to home.
Pet owners who want to take their pet on a longer trip can find all of the information they need to make their vacation easier and safer in Traveling with Your Pet: The AAA PetBook® including pet-friendly AAA Approved property listings and advice on transporting pets.
Survey Methodology
The online study was conducted among a sample of 1,000 dog owners who have driven with their dog in past 12 months. The study results have an average statistical error of +/- 3.1 percent at the 95 percent confidence level.
About Kurgo
Kurgo® (Motivation Design LLC) creates innovative, stylish and high-quality pet travel products that allow families and pets to travel comfortably to their destination together. The Kurgo® product line currently includes convenient products for traveling with your dog such as the Backseat Barrier, Skybox Booster Seat, Collaps-a-Bowl, Wander Hammock, Tru-Fit Smart Harness, and the Auto Zip Line, named as a Consumers Digest Best Buy.
More information about the ever-evolving line of products can be found at http://www.kurgo.com/.
About AAA
As North America's largest motoring and leisure travel organization, AAA provides more than 52 million members with travel, insurance, financial and automotive-related services. Since its founding in 1902, the not-for-profit, fully tax-paying AAA has been a leader and advocate for the safety and security of all travelers.
AAA clubs can be visited on the Internet at AAA.com.