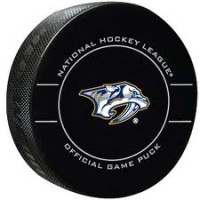 Clarksville, TN – The Nashville Predators were on their heels for most of the game as the Minnesota Wild defeated the Preds, 4-2, in the first of back to back games between the two. The re-match is tomorrow night at Bridgestone Arena.
Nashville has lost four of the last five games.
Minnesota's Mikael Granlund scored a hat-trick and goalie Devan Dubnyk saw his return to the line-up with a 41 save performance tonight.
Minnesota came out of the gate with overwhelming pressure on Nashville in the first period, outshooting Nashville, 18-2 and taking the early lead, 2-1 after the first period.
Granlund opened the scoring at 7:34 of the first, only to be tied by P.K. Subban at 10:16, who's slap shot beat Dubnyk for the 1-1 tie.
Granlund then scored his second of the night at 11:09, putting the Wild up 2-1. Granlund's third goal was an empty netter with less than a minute remaining in the contest.
Kyle Turris would score the only other Nashville goal at 2:52 of the third period on a blast that Wild goalie Dubnyk never saw.
Penalties plagued the Predators most of the night as Nashville spent too much time in the box. Head coach Peter Laviolette has addressed this problem with the team, but there's been little improvement.
Setting the tone early, Minnesota had the first 11 shots on goal and most of the first period was played in the Predator's defensive zone.
Nashville goalie Pekka Rinne had 34 saves on the night, and basically, kept the Predators from being blown out of the arena.
Nashville led the shots on goal statistic with a 43-38 tally, but Dubnyk was too much for Nashville on this night. It's expected that Juuse Saros will start in goal for Nashville tomorrow night.
Sections
Sports
Topics
Bridgestone Arena, Clarksville TN, Devan Dubnyk, Juuse Saros, Kyle Turris, Mikael Granlund, Minnesota Wild, Nashville Predators, P K Subban, Pekka Rinne, Peter laviolette, Predators