#23 Tennessee vs. #17 Kentucky
Saturday, January 6th, 2018 | 8:00pm CT
Knoxville, TN | Thompson-Boling Arena | TV: SEC Network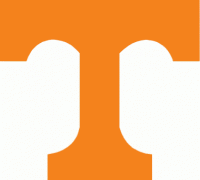 Knoxville, TN – The 23rd-ranked Tennessee Volunteers look to gain momentum with a win over No. 17 Kentucky at Thompson-Boling Arena on Saturday night after a slow start to conference play. The game—already announced as a sellout—will tip at 8:00pm CT and will be televised on the SEC Network and streamed online via WatchESPN.
Tennessee (9-4, 0-2 SEC) is coming off back-to-back losses for the first time this season, most recently dropping a 94-84 contest to Auburn on Tuesday.

UT has several players who can provide a spark offensively on any given night, as Lamonte Turner (25) and Grant Williams (22) both eclipsed the 20-point margin against the Tigers earlier in the week.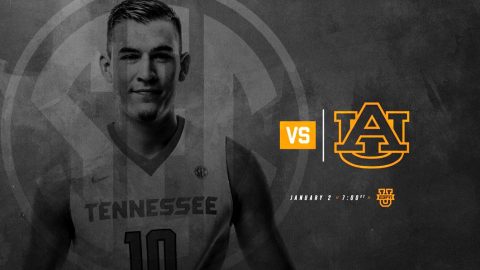 Tennessee's recent woes have come on the glass, as Auburn snagged 22 offensive rebounds and thus attempted 16 more field goals than the Vols.

Kentucky (12-2, 2-0 SEC) boasts another talented roster this season, highlighted by freshman forward Kevin Knox and guard Shai Gilgeous-Alexander. Knox leads the team with 14.6 points and 6.0 rebounds in 33 minutes of action per game, while Gilgeous-Alexander has led UK in scoring the last three games off the bench.

After Saturday's showdown, the Vols hit the road to face in-state rival Vanderbilt on January 9th at Memorial Gymnasium before a big matchup at home against Texas A&M on January 13th.
The Series
Overall: Kentucky leads, 153-69
In Knoxville: UK leads, 52-49
In Lexington: UK leads, 90-16
Neutral Sites: UK leads, 11-4
Current Streak: UK has won one
Last Meeting: Kentucky won, 83-58, in Lexington, 2/14/17
Rick Barnes vs. Kentucky: 3-4
Rick Barnes vs. John Calipari: Tied, 4-4
Right Now
This is Tennessee's second home sellout of the season. UT ranks 11th nationally with an average home attendance of 14,944. The Vols are rated No. 19 in the NCAA RPI and own the nation's fifth-rated SOS, per ESPN.
Kentucky and Tennessee are among the youngest teams in Division I. Going by class/experience, Kentucky is the youngest, and the Vols are tied as the nation's fifth-youngest. UT ranks 15th nationally in defensive efficiency, per KenPom.com.
A Win Would
Snap UT's two-game losing streak and give the Vols their first SEC win of the season.
Give Tennessee a three-game win streak against Kentucky in Knoxville. That would be its longest home win streak against the Wildcats since winning seven straight in Knoxville from 1979-85.
Give the Vols two wins over opponents ranked in the top 20 of the AP poll this season.
About the Kentucky Wildcats
John Calipari once again heads a strong Kentucky team, which was picked to win the SEC this year by select media during the preseason.
The Wildcats are currently ranked 17th in the AP poll and have an RPI that stands at No. 16. With an 12-2 record entering the matchup, UK holds wins over ETSU, Harvard, Virginia Tech, Louisville and Georgia this season. Its two losses came at the hands of Kansas and UCLA in neutral-site games.
Kentucky is paced by preseason first-team All-SEC guard Hamidou Diallo, as the redshirt freshman averages 14.4 ppg, 4.9 rpg and 1.7 apg. The Wildcats' lineup is boosted by five-star freshman forward Kevin Knox. The top-10 prospect has made his presence felt at the collegiate level, leading the team with 14.6 ppg and 6.0 rpg in 33 minutes of action per game.
Another UK player to keep an eye on is freshman Shai Gilgeous-Alexander. The 6-6 guard plays nearly 29 minutes a game off the bench and is averaging 12.1 ppg on 50 percent (58-of-116) shooting, 4.1 apg, 3.5 rpg and 2.3 spg. During his last three outings, he has paced the Wildcats' scoring attack, dropping 24 points vs. Louisville and 21 vs. Georgia.
Series Notes
The Kentucky series is UT's oldest and most-played among SEC opponents. The Vols and Wildcats first met on February 5th, 1910, and have clashed 222 times over the years.
In 17 previous meetings, both teams have been ranked in the AP Top 25. Kentucky holds an 11-6 edge in those games.
No program in college basketball has logged more wins over Kentucky than Tennessee (69).
Kentucky is one of only three SEC schools (along with Alabama and Arkansas) to lead its all-time series against the Volunteers.
Four Tennessee All-Americans were Kentucky natives: Allan Houston, Chris Lofton, Danny Schultz and Paul "Lefty" Walther.
Tennessee has 13 all-time wins over the Wildcats at Thompson-Boling Arena. The Vols have beaten the Wildcats just four times at Rupp Arena, posting victories in 1977, 1979, 1999 and 2006.
Last Meeting with Kentucky
Admiral Schofield scored 17 points and Jordan Bone had 15, but Tennessee could not keep pace with Kentucky's strong 3-point shooting early on, falling to the Wildcats, 83-58, on Feb. 14, 2017, at Rupp Arena.
UT struggled from the floor, shooting just 34.6 percent on the night and 18.8 percent (3-of-16) from 3-point range. Kentucky shot 44 percent (11-of-25) from 3-point range with 10 treys in the first half.
Schofield scored 11 of his 17 points in the second half. He was 6-of-10 from the floor for the night and collected a team-high seven rebounds. Bone's 15 points featured a pair of 3-pointers.
Kentucky's Malik Monk scored a game-high 20 points to go with eight rebounds and a 4-of-7 effort from 3-point range. Derek Willis, who rained seven treys in last year's UT-UK contest in
Lexington, enjoyed another strong night from beyond the arc, scoring 16 points and connecting on four of his seven 3-point attempts.
Kentucky took control of the game midway through the first half, going on an 18-3 run to build a 31-15 advantage. The Wildcats made five 3-pointers in that stretch, with Willis and Monk draining two each. Willis was 4-of-4 from downtown in the first half. Monk also made all four of his treys before the break.
The Wildcats took a 47-32 lead in to halftime with 30 of those points coming on 3-pointers (10-of-18). Monk led all players with 16 points in the first 20 minutes, and Grant Williams paced the Vols with eight. UK prevented Williams from scoring in the second half.
Memorable Vol Performances Against Kentucky
Kevin Punter Jr.'s 27 points were the most scored by a Vol against the Kentucky in 10 years as Tennessee defeated the Wildcats, 84-77, February 2nd, 2016, in Knoxville. The senior point guard made three 3-pointers and was 11-of-12 at the free-throw line.
Chris Lofton reeled off 31 points, Major Wingate scored 12 and current Orlando Magic guard C.J. Watson added 10 as No. 11 Tennessee beat Kentucky 75-67 at Rupp Arena on February 7th, 2006.
Beating the Wildcats was three times as nice during the 1978-79 season. UT notched program win No. 900 in Lexington on Jan. 20, 66-55, before topping UK 101-84 in Knoxville on February 17th.
Then the Vols won the 1979 SEC Tournament with a 75-69 win over UK in Birmingham, Alabama, on March 3rd. Current Vol Network radio analyst Bert Bertelkamp was a junior on that Tennessee team.
As Bernard King walked off the court at Memorial Gym after a deflating 88-82 loss on Jan. 13, 1975, a Kentucky fan flipped a lit cigarette into the Tennessee legend's hair. Outraged, King vowed he would never lose to Kentucky again. He vigorously carried out that promise, finishing his career 5-1 against the Wildcats.
Barnes and Calipari: 1,300+ Wins
Saturday's game features the two winningest coaches (total career Division I wins) in the SEC.
John Calipari is the league's active leader in career wins, with 664. Rick Barnes is a close second with 644 victories to his credit.
Among all active Division I head coaches, Barnes and Calipari rank sixth and eighth, respectively, in total head coaching wins.
Barnes and Calipari became friends while working a Pitt basketball camp in the late 1970s. The star player at that camp? Current Arizona head coach Sean Miller.
Calipari Among Tennessee's Most-Face Head Coaches
On Saturday, John Calipari will coach his 22nd career game against the Vols. Among active college coaches, that stands as the third-most career meetings against Tennessee.

COACH MEETINGS UT's RECORD vs.
Kevin Stallings 37 21-16
Tubby Smith 26 7-19
John Calipari 21 7-14
Andy Kennedy 15 7-8
Mark Fox 13 4-9
Vols have Six Wins vs. Calipari
Since UK coach John Calipari returned to the college game in 2000-01, Tennessee has dealt him six losses. Only Louisville has more wins over Calipari-coached teams during that span.

TEAM WINS
Louisville 7
TENNESSEE 6
Cincinnati 5
Ole Miss 4
Southern Miss 4
Trending Now
Over Tennessee's last three games, sophomore point guard Jordan Bone is averaging 17.0 points and 4.0 assists with a 2.4 assist/turnover ratio.
UT and Arkansas combined to score 42 points in a five-minute overtime period on Dec. 30. The Division I record for total points in an OT period is 45, set by VCU and Texas A&M on December 2nd, 2000.
Sophomore guard Lamonté Turner scored eight points on 3-of-4 shooting in one-plus minute during the overtime period at Arkansas on December 30th and followed that up with a 25-point effort Tuesday vs. Auburn.