APSU Sports Information

Jacksonville, AL – Austin Peay State University had a simple mission Saturday: snap a six-game road losing streak and remain among the Ohio Valley Conference's elite.
Mission accomplished. And then some.
The Govs dominated every facet of the game against host Jacksonville State, cruising to an 87-67 win against the defending OVC Tournament champion on its home court, led by 35 points and 12 rebounds from senior Averyl Ugba.
Head coach Matt Figger voiced his frustration with sluggish starts after Thursday's game at Tennessee Tech; the Govs must've gotten the message, as they matched Jacksonville State bucket for bucket to start the first half before ripping off a massive 27-3 run to put the game out of reach, presenting a balanced attack featuring eight points from Ugba, seven from junior Zach Glotta and seven from freshman Terry Taylor.
That allowed the Govs to take a 23-point lead, 48-25, into the locker room at halftime.
Ugba was at it again early in the second half, scoring nine of the Governors first 15 points as the lead swelled to 30 points. Although the Gamecocks would actually outscore the Govs in the second half (42-39), nearly every Jacksonville State bucket was matched on the other end by Austin Peay and the Gamecocks would not cut the deficit below 20 points for the rest of the contest.
The Difference
Tempting as it is to put Ugba here—35 points and 12 boards certainly make a difference—Saturday's contest boiled down to two things: the Govs hit shots and Jacksonville State didn't.
Austin Peay's 61.1 percent shooting night was a season-best, and highest against a Division I foe since equaling that mark against Western Kentucky (December 28th, 2016), while Jacksonville State's 32.4 percent mark was worst by an Austin Peay opponent in 2017-18 and worst by a Division I foe since the Govs held these same Gamecocks to a 29.9 percent mark in the January 7th, 2016 meeting.
Notably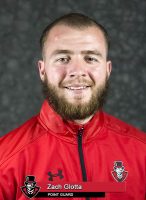 The win is Austin Peay's first in Jacksonville since 2011, as well its first regular-season win against the defending conference tournament champion since 2011.
Glotta posted a career night off the bench, going for a career-high 20 points and tying his career-best with six assists. He joined freshman Dayton Gumm as the only two Govs to score 20 points in a game in a reserve role this season.
This is the earliest in the season Austin Peay has secured victory No. 10 since the 2010-11 season (January 3rd, 2011, beat Chattanooga for season's 10th win).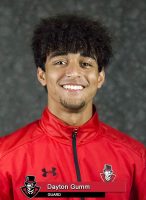 For the third time this season, Ugba and Taylor secured double-doubles in the same game; since electronic record-keeping began in 1999-00, no Austin Peay duo has recorded double-doubles in the same game three or more times in the same season.
Austin Peay's last 20-point win in conference play came March 2nd, 2013 (91-58 vs. UT Martin). Extending that out to road games, the last time Austin Peay beat an OVC team by 20 points or more on the road was December 4th, 2008 at Southeast Missouri.
Taylor is averaging 18.4 ppg in his last 10, with four of his seven double-doubles coming during that span. He finished with 18 points and a game-high 12 rebounds in Saturday's contest against the Gamecocks.
With a plus-six edge (40-34) in rebounding, Austin Peay is averaging plus-8.6 boards more than its opponent over the last eight games.
In 10 wins this season, the Govs' average margin of victory has been 20.5 ppg. The Governors have now won six games by 20 or more points in 2017-18, most in a single-season since 2010-11.
Ugba bumped his per-game averages up to 16.1 ppg and 8.3 rpg over his last 10 games, hitting 57.0 percent (77-of-135) during that span.
This game was Austin Peay's first win this season when posting fewer second-chance points than its opponent.
Coaching Quotables with head coach Matt Figger
On strong starts
"It was as good of a mental state as our team has been in all season. Kid's are resilient; they let go of stuff real quick and move on to the next thing. These kids just took the next step forward and believed in themselves."

On running zone
"We made the adjustments in practice yesterday; we knew we'd have to run some 3-2 zone. I felt like it would be something that could help us. They got to standing around, and weren't able to dribble-drive, and once (Malcolm) Drumwright got his third foul, that got us into a spot I felt good about."

On Ugba
"I thought he answered the bell, because him and Terry really hard because I thought at Tech they played, combined, the worst game they'd played together all year. And both of them responded."
Next Up for APSU Men's Basketball

The Govs return to the midstate area with a 7:30pm, Thursday, January 18th, 2018 trip to Nashville to face Tennessee State at the Gentry Center.
Sections
Sports
Topics
APSU, APSU Athletics, APSU Basketball, APSU Men's Basketball, APSU Sports, Austin Peay State University, Averyl Ugba, Dayton Gumm, Gamecocks, Gentry Center, Governors, Govs, Jacksonville AL, Jacksonville State, Malcolm Drumwright, Matt Figger, Nashville TN, Ohio Valley Conference, OVC, Southeast Missouri, Tennessee State, Terry Taylor, Tigers, UT-Martin, Western Kentucky, Zach Glotta