Clarksville Police Department

Clarksville, TN – Based on info just provided by Clarksville Patrol Officers, the road conditions range from icy to passable. The road crews have been hitting it hard all night, but in some places they haven't made a dent.
It seems as though Fort Campbell Boulevard and Tiny Town Road and the north side of town in general has some fairly slick conditions in general. Trenton Road and Needmore Road continue to be problematic.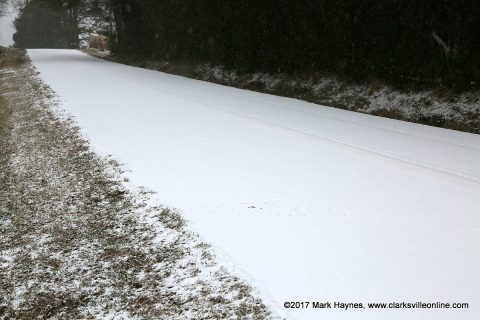 Wilma Rudolph is drive able but caution is the word of the day. So far Boot Hill (North Second Street) is drive able.
Based on my own experience coming in this morning, around 5:00am, many of the roads are decent enough, but you have to adjust your speed and not try to hit the normal speeds for dry roads.
Also, braking can be tricky. After doing some testing of the grip, there isn't much if you have to stop suddenly. For those that like to be up on someone's bumper, today is not the day. Make sure you leave at least 3 to 4 seconds, if not more, gap from the car ahead of you. You'll need at least that for braking purposes.
It's too difficult to give road by road conditions, but suffice it to say, its snowing with some icy conditions so adjust your driving accordingly. Be careful out there. CPD has not had a high volume of crashes, but people are just waking up and heading out on the roadways, so let's hope we can keep the crashes to a minimum through defensive driving.