APSU Sports Information

Clarksville, TN – Junior Almantas Ozelis and freshman Christian Edison, of the Austin Peay State University men's tennis team, were both picked in the Top 10 in the Ohio Valley Conference's Preseason Player Rankings, Thursday, as voted by the conference's head coaches.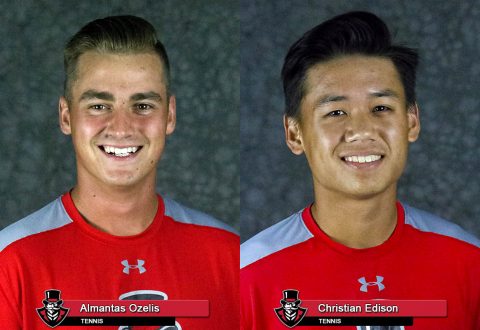 Ozelis was picked in the second spot, after compiling a perfect record in OVC doubles play last spring.
This past fall, he went 7-6 at #1 singles, including gaining a berth to the prestigious ITA All-American Championships in October.
Ozelis also boasts two OVC Men's Tennis Player of the Week Awards in his career, and was named First-Team All-OVC in 2017.
Edison only saw his first action as a Gov this past fall, and yet still cracks the preseason rankings, coming in at tenth position. Edison compiled a 4-2 record at singles, and established himself as one of the top players in the Govs lineup. He also played at the ITA All-American Championships and paired with Ozelis for the top spot in the doubles lineup by season's end.
In addition to the individual rankings, Austin Peay was picked fifth in the OVC's Predicted Order of Finish. The Governors received 18 points and look to defy the odds this spring.
2018 OVC Men's Top Ten Player Rankings
(as voted on by the league's head coaches)
1. Eduardo Mena, Tennessee Tech
2. Almantas Ozelis, Austin Peay
3. Ramon van Flyman, Eastern Kentucky
4. Vincent Sterkens, Belmont
5. Hendrik Inno, Belmont
T6. Jorge Alfonzo, Tennessee Tech
T6. Paolo Cucalon, Jacksonville State
T8. Marc Mila, Tennessee Tech
T8. Parth Aggarwal, Eastern Kentucky
10. Christian Edison, Austin Peay
2018 OVC Men's Tennis Predicted Order of Finish
(as voted on by the league's head coaches)
1. Tennessee Tech – 33
2. Eastern Kentucky – 28
3. Jacksonville State – 26
4. Belmont – 25
5. Austin Peay – 18
6. Eastern Illinois – 9
7. Tennessee State – 8