Written by Maria Christina Yager
Blanchfield Army Community Hospital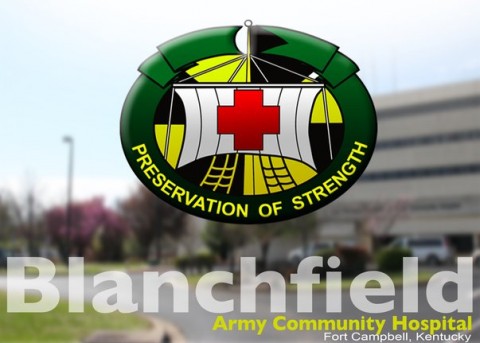 Fort Campbell, KY – Blanchfield Army Community Hospital recognized its top NCO and Soldier of the Year during an award ceremony Friday, January 19th.
Sgt. Olivia Barker, assigned to LaPointe Army Medical Home and Spc. Ryan Washington, assigned to the hospital's optometry department, were named NCO and Soldier of the Year, respectively, after competing in nine events with fellow candidates from the hospital and outlying medical homes.
The competition, held over a three-day period, was even more grueling because the outdoor events were held during Fort Campbell's recent snowfall and below-freezing temperatures.
"It was definitely cold and made for an interesting challenge, but we endured the challenge together. It was a lot of work and everyone did a great job competing out there," said Barker, who has served in the Army for five years. During the ceremony, Blanchfield's hospital commander awarded Barker and Washington the Army Commendation Medal for their achievement.
"Congratulations to our winners and runner-ups. These Soldiers demonstrate commitment to our Army core values and embody the warrior ethos. Many years down the road they will look back at this event and remember how they challenged themselves during this competition and it will serve as a source of personal strength during future challenges," said hospital commander, Col. Anthony McQueen. "I applaud your efforts and I want to also thank our cadre for all their efforts in making this event possible and preparing our next team to compete at the regional competition."
In addition to their regular duties, Barker and Washington, and runner-ups Sgt. Ian French and Spc. Karl Brown, will train for the Regional Health Command-Atlantic Best Warrior Competition later this year. The NCO and Soldier of the Year will represent Blanchfield Army Community Hospital, with French and Brown serving as alternates.
"It was fun and challenging. I enjoyed my time out there in the cold. Now I'm going to continue studying, training with my NCOs and do my best to get to the next level as well," said Washington, who joined the Army in 2015. The hospital's NCO/Soldier of the Year Competition consisted of nine events including Army Physical Fitness Test, Land Navigation, Warrior Tasks and Battle Drills, Basic Rifle Marksmanship Qualification Range, written exam and essay, selection board appearance and mystery events.
"While there can only be one NCO and one Soldier of the year at BACH, participating in this event says a lot about the personnel coming out to compete. It says a lot about your pride and your motivation," said Command Sgt. Maj. Christopher Earle, Blanchfield's command sergeant major. "Congratulations to each and every one of you for making it this far in the competition. It takes a lot of hard work, dedication, a lot of studying and support of your spouses and families as well, so, I commend you for what you have done so far."
The Regional Health Command-Atlantic Best Warrior Competition will be held at Fort Stewart, Georgia March 25th-30th.
Sections
News
Topics
Anthony McQueen, Bach, Blanchfield Army Community Hospital, Fort Campbell KY, Fort Stewart GA, Maria Christina Yager, NCO of the Year, Soldier of the Year