Written by Joe Pitts
Tennessee State Representative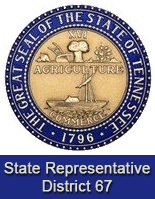 Nashville, TN – Tennessee State Representative Joe Pitts, who is completing his 6th and final term serving House District 67 in the Tennessee House of Representatives, filed several pieces of his legislative package this week.
Dual Enrollment Grants – House Bill 1495/Senate Bill 1676 (Senator Mark Green (R-Clarksville) will eliminate the one-year Tennessee residency requirement for a dual enrollment grant; but still requires that a student be a Tennessee resident on the date of application for, or for renewal of, a dual enrollment grant.
The Dual Enrollment Grant program is defined as a grant for study at an eligible postsecondary institution that is funded from net proceeds of the state lottery and awarded to students who are attending an eligible high school and who are also enrolled in college courses at eligible postsecondary institutions for which they will receive college credit.
"The idea is to help students who come to Tennessee as dependents of our military or a student moving into our State with their families during their senior year in high school to obtain college credits through the dual enrollment program," Pitts stated.
Credit Report Freeze
"This legislation was brought to me by a constituent that was charged to place a freeze on her credit report when Equifax's records were breached", Pitts said. "Even though this was not the fault of the constituent, Equifax is allow to charge a fee for this service," said Pitts. "Since credit reporting agencies do not do business directly with the consumer, it is unfair for them to profit from a serious breach of confidentiality. This legislation is similar to what other states already have in effect".
The security breach of Equifax impacts an estimated 3 million Tennesseans. Their response to the problem was slow, and not consumer friendly. Industry groups have filed suit against them to address the problem and their tepid response.
In the next legislative update, we will share more of the legislation sponsored by Rep. Pitts and other members of the Tennessee General Assembly, and provide weekly updates about the progress of these issues.
If you have questions about the above or other issues of concern, please call me at 615.741.2043, or email me at
Sections
Politics
Topics
Equifax, Joe Pitts, Mark Green, Nashville TN, Tennessee, Tennessee Dual Enrollment Grant, Tennessee General Assembly, Tennessee House District 67, Tennessee Senator, Tennessee State Representative