#18 Tennessee Vols vs. LSU
Wednesday, January 31st, 2018 | 5:30pm CT
Knoxville, TN | Thompson-Boling Arena | TV: SEC Network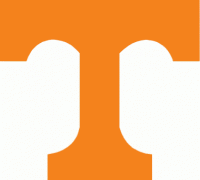 Knoxville, TN – Riding a three-game winning streak, 18th-ranked Tennessee will look to continue its recent success again on Wednesday, as LSU comes to Thompson-Boling Arena for a 5:30pm CT tip. The game will be televised live on SEC Network and streamed online via WatchESPN.
The Vols (15-5, 5-3 SEC) are coming off a road win at Iowa State as part of the Big 12/SEC Challenge last Saturday. UT cruised to a 68-45 victory behind lockdown defense and a 20-point performance from Lamonté Turner, who is the team's third-leading scorer this season with 10.4 ppg. Turner, who is averaging 30 minutes of action during the last three games, is currently riding a streak of 79+ minutes without a turnover.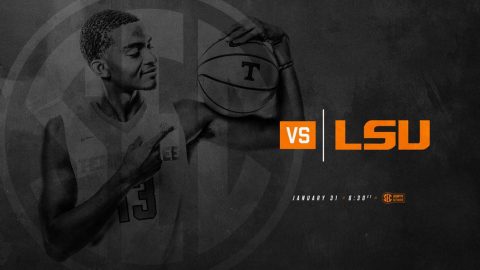 LSU (12-8, 3-5 SEC) enter the contest on the heels of a tough 95-70 road loss at Auburn on Saturday. Despite shooting 43 percent from the field, LSU couldn't keep pace with Auburn's 14 threes.
Tremont Waters has fueled LSU on both ends of the court this season, leading the team in scoring (15.2 ppg), assists (5.8 apg) and steals (2.3 spg) in nearly 33 minutes of action per game.
After Wednesday's matchup, the Vols remain at home for a game against Ole Miss on Saturday that tips at 5:00pm CT and will air on SEC Network. After that, Tennessee prepares for its toughest stretch for the rest of the season, with roads games against Kentucky (February 6th) and Alabama (February 10th) next week.
The Series
Overall: UT leads, 64-46
In Knoxville: UT leads, 30-17
In Baton Rouge: UT leads, 26-25
Neutral Sites: UT leads, 8-4
Current Streak: LSU has won two straight
Last Meeting: LSU won, 92-82, in Baton Rouge, 3/1/17
Rick Barnes vs. LSU: 3-4
Rick Barnes vs. Will Wade: No meetings
Right Now
Tennessee has held its last five opponents to an average of 58.2 points per game. Per KenPom.com, Tennessee rates in the national top 30 in both offensive (29th) and defensive (11th) efficiency.
The Vols are rated No. 13 in the NCAA RPI and own the nation's top-rated SOS, per KenPom.com. Tennessee ranks eighth nationally in average home attendance, having drawn 16,003 fans through 10 home games at Thompson-Boling Arena. An increase in average of 500 fans could push the Vols into the top six.
A Win Would
Give Tennessee a four-game overall win streak (tying for its longest of the season) and a three-game win streak in SEC play.
Extend the Vols' home win streak to four games.
Improve Tennessee's record as a ranked team to 10-4 this season.
Match Tennessee's wins total from a season ago (16).
About the LSU Tigers
Head coach Will Wade is in his first year at the helm in Baton Rouge, where LSU (12-8), like the Vols, have outperformed their preseason expectations so far. The Tigers, who were picked to finish last in the SEC by the media, are currently in ninth and boast a pair of wins over Texas A&M and a road victory against Arkansas. LSU went 9-3 in its non-conference slate, with wins over Michigan, Houston and Memphis.
LSU is one of the best offensive teams in the SEC, ranking fourth in scoring with 78.8 ppg and second in field-goal percentage at 48.6 percent. On the defensive end, the Tigers are the best team in the conference at taking the ball away, averaging 7.8 steals per game.
Tremont Waters has fueled LSU on both ends of the court this season, leading the team in scoring (15.2 ppg), assists (5.8 apg) and steals (2.3 spg) in nearly 33 minutes of action per game. The freshman guard leads the SEC in steals and ranks second in assists.
Senior forward Duop Reath is the league's most accurate shooter, converting 57.6 percent of his shots from the floor, while averaging 14.1 ppg. He's joined by sophomore guard Skylar Mays, who's posting 11.2 ppg, 4.0 rpg and 1.4 spg, to round out LSU's double-digit scorers.
The Tigers enter Wednesday's contest coming off a tough 95-70 road loss at Auburn on Saturday. Despite shooting 43 percent from the field, LSU couldn't keep pace with Auburn's 14 threes. Reath led the Tigers with 18 points on 7-of-12 shooting.
Louisiana Lettermen Rare
In 108 seasons of varsity basketball, Tennessee has had only one letterman from the state of Louisiana: forward Maurice Robertson (New Orleans) in 1996.
Last Meeting With LSU
The Tennessee offense went cold after halftime at the Pete Maravich Assembly Center, allowing LSU to hand the Vols their third consecutive loss, 92-82, on March 1st, 2017. It marked the Volunteers' first loss to the Tigers in Baton Rouge since 2006. UT had previously won five consecutive road games at LSU.
Shembari Phillips and Grant Williams led the way for the Vols, scoring 16 points apiece. For Phillips, that scoring output matched his season-high while Williams added a season-high 14 rebounds to post his third double-double of the season. Lamonté Turner scored 10 points in the second half, knocking down a couple of late threes, to finish with 14 points.
Despite holding LSU leading scorer Antonio Blakeney (17.9 ppg entering the game) to just six points, four Tigers finished in double figures, including two 20-point scorers. Brandon Sampson finished with 24 points while Jalyn Patterson finished with 22 off the bench. Tennessee took a 46-42 lead into the intermission after shooting 57 percent over the first 20 minutes.
LSU also displayed some offensive efficiency in the first half, shooting 50 percent overall to keep pace with Tennessee's best offensive half in the last three games.
After halftime, though, the Vols went cold. UT made only three field goals over the first 16 minutes of the second half, ultimately shooting 27.3 percent (9-of-33) in the final period. Meanwhile, LSU kept up its sharp shooting from the first half, going 14-of-28 from the field and 19-of-26 (.731) at the foul line en route to 50 second-half points.
Vols Rep SEC, Route Iowa State
Tennessee posted a dominant road win at Iowa State Saturday as part of the Big 12/SEC Challenge.
Visiting a notoriously tough venue in which to play, the Vols recorded a 68-45 victory to help the SEC win the Challenge for the first time in the five-year history of the event.
The 23-point drubbing was Iowa State's largest margin of defeat at home since 1959.
It also snapped the Cyclones' streak of five consecutive home wins over ranked opponents. Just one week earlier, Iowa State posted a 70-52 home win over then-eighth-ranked Texas Tech.
Trending Now
In SEC play, Tennessee leads the league in assists per game (14.6) while ranking second in rebounding defense (33.0 rapg) field-goal percentage (.456) and third in scoring offense (76.5), scoring margin (+3.5) and free-throw percentage (.773).
Tennessee has held each of its last two opponents to fewer than 20 points in the first half. Last Tuesday, Vanderbilt scored just 15 before the break. And Saturday at Iowa State, the Cyclones managed only 19 first-half points.
Sophomore guard Lamonté Turner has made 17 consecutive free throws dating to Tennessee's Jan. 6 win over Kentucky. In SEC play, his .944 free-throw percentage (34-of-36) leads the league.
Junior forward Kyle Alexander has 12 blocks over UT's last five games. He is also shooting .882 (15-of-17) from the field during that span.
Turner Provides High-Powered Scoring Punch Off The Bench
Vols sophomore Lamonté Turner has come off the bench to score 15 or more points six times this season, and he has scored 20 or more in two of UT;s last three games. He is the team's third-leading scorer both overall (10.4 ppg) and in SEC play (11.8 ppg).
Turner made a season-high six 3-pointers in Saturday's win at Iowa State while finishing with a team-high 20 points. It was the fifth time this season that he's led the Vols in scoring. In addition to his hot shooting of late, he also is riding a streak of 79 consecutive minutes played without committing a turnover, dating to the first half at South Carolina on January 20th.
More Minutes For Walker
True freshman forward
Derrick Walker
has significantly bolstered the Vols' frontcourt depth over the last four games, playing an average of 15 minutes per game off the bench during that span.
The Kansas, City, Missouri, native is averaging 4.8 points and 2.8 rebounds while shooting .889 (8-of-9) from the field during that span.
In Tennessee's win at South Carolina on Jan. 20, Walker was 5-for-5 while finishing with a season-high 10 points, four rebounds and a block in a season-high 25 minutes.
Nine Straight Weeks In Top 25
Tennessee on December 4th made its first appearance in the AP top-25 poll since 2010—nearly seven full years. The Vols landed at No. 24 in that week's AP poll. Prior to that week, the last time UT appeared in the top 25 was December 20th, 2010 (19th AP, 18th coaches).
This week, UT stands at No. 18 in the AP poll and No. 19 in the coaches poll (both season-bests). The Vols are riding a streak of nine straight weeks in the top 25. As a ranked team, Tennessee is 9-4 this season.is anticipated to be finished and water service restored by approximately 12:00pm.