#15 Tennessee Vols at #24 Kentucky
Tuesday, February 6th, 2018 | 6:00pm CT
Lexington, KY | Rupp Arena | TV: ESPN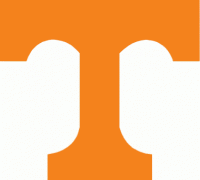 Lexington, KY – Playing its best ball of the season, 15th-ranked Tennessee heads to Rupp Arena on Tuesday night, February 6th for a showdown with rival Kentucky. The game is set to tip at 6:00pm CT and will be televised on ESPN for "Super Tuesday."
The Vols (17-5, 7-3 SEC) enter the contest as winners of their last five games and eight of the last nine. During the stretch, defense has been the key for UT's success. Tennessee has held its opponents to under 65 points in each of the last seven outings and now ranks 6th in defensive efficiency in the KenPom rankings.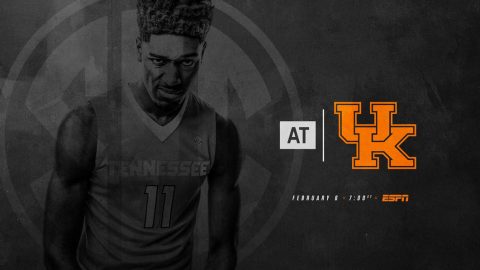 UT is coming off a 94-61 drubbing at home against Ole Miss.
Despite five scorers in double figures and blazing-hot shooting in the second half, the defense stole the show, forcing 17 turnovers by the Rebels behind 11 steals and seven blocks.
In the second period, the Vols shot 71 percent (20-of-28) from the floor, including 10 treys, to blow past Ole Miss.
No. 24 Kentucky (17-6, 6-4 SEC) is coming off a recent victory at No. 7 West Virginia, 83-76, as part of the Big 12/SEC Challenge. Freshman Kevin Knox, the team's leading scorer on the season at 15.1 ppg, led the charge vs. West Virginia, with a career-high 34 points on 11-of-17 shooting.
On Saturday, the Wildcats fell on the road at Missouri, 69-60. UK struggled to connect from beyond the arc, converting on just two of its 20 attempts from three.
After the matchup, the Vols head to Alabama for a game against the streaking Crimson Tide on Saturday at 5:00pm CT. After that, UT returns home to face South Carolina in a 8:00pm CT tip next Tuesday for one of three remaining games in Thompson-Boling Arena this season.
The Series
Overall: Kentucky leads, 153-70
In Knoxville: UK leads, 52-50
In Lexington: UK leads, 90-16
Neutral Sites: UK leads, 11-4
Current Streak: UT has won one
Last Meeting: Tennessee won, 76-65, in Knoxville, 1/6/18
Rick Barnes vs. Kentucky: 4-4
Rick Barnes vs. John Calipari: Barnes leads, 5-4
Right Now
During its five-game win streak, Tennessee is allowing an just 58.5 ppg while boasting a +18.2 scoring margin.
Per KenPom.com, Tennessee rates in the national top 30 in both offensive (22nd) and defensive (6th) efficiency.
The Vols are rated No. 13 in the NCAA RPI and own the nation's third-rated SOS, per KenPom.com.
A Win Would
Give Tennessee a six-game overall win streak (its longest since February 2013) and a five-game win streak in SEC play.
Stand as Tennessee's fifth all-time victory over Kentucky at Rupp Arena. Give the Vols their first season sweep of Kentucky since the 1998-99 campaign.
About Kentucky Wildcats
John Calipari once again heads a strong Kentucky team, which was picked to win the SEC this year by the media during the preseason.
The Wildcats currently rank 16th in the latest RPI standings. With a 17-6 record entering the matchup, UK holds wins over ETSU, Harvard, Virginia Tech, Louisville, Georgia and at West Virginia this season.
After losing two of its previous three, Kentucky fought back from a 15-point halftime deficit on the road at No. 7 WVU to beat the Mountaineers, 83-76, as part of the Big 12/SEC Challenge on January 27th.
Freshman Kevin Knox, the team's leading scorer on the season at 15.1 ppg, led the charge vs. West Virginia, with a career-high 34 points on 11-of-17 shooting.
Shai Gilgeous-Alexander is arguably Kentucky's most versatile player, averaging 12.7 ppg, 4.4 apg, 3.6 rpg and 1.7 spg in 31 minutes of action per game.
Preseason first-team All-SEC guard Hamidou Diallo (12.0 ppg, 4.3 rpg) and PJ Washington (10.3 ppg, 5.1 rpg) round out UK's double-digit scorers.
The Wildcats enter Tuesday's matchup coming off a loss at Missouri, 69-60. Kentucky struggled to connect from beyond the arc, converting on just two of its 20 attempts from three. Gilgeous-Alexander led the Wildcats with 15 points and six assists.
Series Notes
The Kentucky series is UT's oldest and most-played among SEC opponents. The Vols and Wildcats first met on February 5th, 1910, and have clashed 223 times over the years.
It has been 10 years since the last time Tennessee came to Rupp Arena ranked higher than Kentucky. The third-ranked Vols lost to the unranked Wildcats, 72-66, at Rupp on January 22nd, 2008.
No program in college basketball has logged more wins over Kentucky than Tennessee (70).
Kentucky is one of only four SEC schools (along with Alabama, Arkansas and Missouri) to lead its all-time series against the Volunteers.
Four Tennessee All-Americans were Kentucky natives: Allan Houston, Chris Lofton, Danny Schultz and Paul "Lefty" Walther.
Tennessee has 14 all-time wins over the Wildcats at Thompson-Boling Arena, including three straight.
The Vols have beaten the Wildcats just four times at Rupp Arena, posting victories in 1977, 1979, 1999 and 2006.
Last Meeting Against Kentucky
Admiral Schofield scored 20 points and recorded nine rebounds to lead the 23rd-ranked Tennessee Volunteers to a 76-65 victory over No. 17 Kentucky on January 6th, 2018, at a sold out Thompson-Boling Arena.
The Vols shot 54 percent from the field in the second half while using a strong defensive effort to outscore the Wildcats in the final period, 47-28, and earn their first conference victory of the season.
Grant Williams stepped up offensively down the stretch, scoring 16 of his 18 points in the second half on 7-for-9 shooting.
UT was also fueled by great team play, as it recorded 23 assists on 25 made field goals, led by six assists from James Daniel III.
After going into halftime trailing by nine, the Vols went on multiple runs in the second half, including a 10-0 burst that lasted more than three minutes, to reclaim the lead and defeat Kentucky for the third consecutive year at Thompson-Boling Arena.
Kentucky was efficient throughout the first half, shooting 55 percent from the field and 4-for-8 from behind the 3-point arc. PJ Washington knocked down his first four shots and finished the period with 11 points to lead the Wildcats to a 37-29 advantage at the intermission.
UT stormed out of the gate in the second half, going on a quick 6-0 run highlighted by a Schofield breakaway dunk. The outburst continued with a Lamonté Turner 3-pointer three minutes in that put the Vols ahead for the first time since the 16:00 mark of the first half.
Barnes & Calipari: 1,300+ WINS
Saturday's game features the two winningest coaches (total career Division I wins) in the SEC.
John Calipari is the league's active leader in career wins, with 669. Rick Barnes is a close second with 652 victories to his credit.
Among all active Division I head coaches, Calipari and Barnes rank fifth and seventh, respectively, in total head coaching wins.
Barnes and Calipari became friends while working a Pitt basketball camp in the late 1970s. The star player at that camp? Current Arizona head coach Sean Miller.
Calipari Among Tennessee's Most-Faced Head Coaches
On Tuesday, John Calipari will coach his 23rd career game against the Vols. Among active college coaches, that stands as the third-most career meetings against Tennessee.

COACH MEETINGS UT's RECORD vs.
Kevin Stallings 37 21-16
Tubby Smith 26 7-19
John Calipari 21 8-14
Andy Kennedy 16 8-8
Mark Fox 13 4-9
Vols Have Seven Wins vs. Calipari
Since UK coach John Calipari returned to the college game in 2000-01, Tennessee has dealt him seven losses. No team has more wins over Calipari-coached teams during that span.

TEAM WINS
TENNESSEE 7
Florida 7
Louisville 7
Cincinnati 5
Ole Miss 4
Southern Miss 4
January Kentucky Win Sparked Hot Streak For Schofield
Tennessee head coach Rick Barnes said that junior wing Admiral Schofield had his best game as Vol when UT defeated Kentucky on Jan. 6. That win started a streak of stellar play for Schofield.
Over the last nine contests, Schofield is averaging 12.8 points, 7.6 rebounds, 2.1 assists and 1.6 steals per game. He is shooting .467 overall and .442 from 3-point range during that span.
In this year's first meeting with Kentucky, Schofield totaled 20 points, nine rebounds, four assists, four steals and a block. In five career games vs. Kentucky, Schofield averages 13.4 points, 6.8 rebounds and 1.4 assists while shooting .500 from the field.
UT Has Exceeded 2016-17 Wins Total
Tennessee has already exceeded last season's total of 16 wins, and the Vols have eight regular-season games remaining.
Trending Now
In SEC play, Tennessee leads the league in assists per game (16.8) and assist/turnover ratio (1.5) while ranking second in scoring offense (79.0 ppg), scoring margin (+8.4), field-goal percentage (.474), 3-point percentage (.401) and rebounding defense (33.1 rapg).
The school record for 3-point percentage is .3912, set during the 1989-90 season (Allan Houston era). Tennessee's current 3-point percentage is .398.
Excluding any postseason games, UT is on pace to total 533 assists during the regular season. That would stand as the fourth-highest single-season total in school history.
The Vols also are on pace to finish the regular season with 155 blocked shots. That would rank as the sixth-highest single-season total in school history.
During SEC play, junior wing Admiral Schofield ranks second in the league in 3-point percentage (.458) and fifth in rebounding (7.4 rpg) and tied for seventh in steals per game (1.4 spg).
Sophomore guard Lamonté Turner has made 20 consecutive free throws dating to Tennessee's January 6th win over Kentucky. In SEC play, his .949 free-throw percentage (37-of-39) leads the league. Junior forward Kyle Alexander has 19 blocks over UT's last seven games (2.7 bpg).
Vols Coming Off Best Hal of Basketball This Season
Tennessee put on a clinic during the second half of its 94-61 rout of Ole Miss on Saturday.The Vols scored 59 points in the half, during which they missed their first two field goals before making 20 of their last 26 attempts from the floor. The Vols shot .714 as a team during the half.
The 59 points were UT's most in a half since scoring 60 in the first half of a 114-75 season-opening win over Chattanooga on November 25th, 2008. Tennessee had 17 assists and just one turnovers during the half.
UT's 33-point margin of victory was its largest in a regular-season SEC game since beating Vanderbilt, 76-38, on March 1st, 2014, by 38 points (in postseason play, UT beat Auburn by 38 points [97-59] in the first round of the 2016 SEC Tournament).
During the final 20 minutes vs. Ole Miss Saturday, the Vols averaged 1.84 points per possession.