Clarksville, TN – The Wilma Rudolph Event Center was filled this past Saturday for an afternoon and evening of what has become one of Clarksville's most anticipated events, A Chocolate Affair.
"This our 6th Annual Chocolate Affair," Clarksville Parks and Recreation Event Planning Specialist Kara Zahn said, "Parks and Recreation puts this on each year, and this time we are teaming up with Healthy Clarksville to bring a healthy vendor section."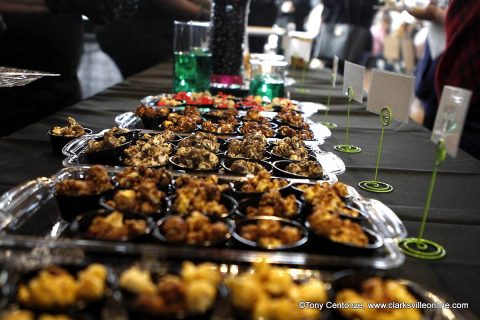 There were 15 vendors at Saturday's event, each brought 600 bite-sizes samples of items which included chocolate in some form or fashion. Some chose to represent the confection in a more traditional way, while others drifted off in creative directions.
"We divide the event into two sessions," Zahn said. "The first session is from 2:00pm–4:00pm and is geared toward the family, the second session from 6:00pm–8:00pm has dancing and a cash bar, so there is a slightly different atmosphere there."
There are only 300 tickets available for each session, and Zahn said the event was sold out more than a month in advance, which is even earlier than usual.
Money from ticket sales goes back to the event and to the vendors. That helps the vendors cover their cost for the 600 samples they provide.
Event-goers were also invited to vote for their favorites this year, with five awards being presented to the vendors with the best sweet and/or savory treats.
"This is a great turnout this year," Zahn said. "Some of the healthy chocolates are very interesting. We also have some gourmet popcorn, which we haven't had that in a while. A lot of local vendors are returning, so B's Cheesecakes, North Meets South, Golly G's, and Texas Roadhouse are back. Then we have some new vendors this year, like Jeni's Spendid Ice Creams from Nashville, and Poppin' Creations. We are excited to see what they have brought."
This year's winners are:
Most Creative Use of Chocolate: APSU Culinary Program
Best Taste: – 1st Place – B's Cheesecakes, 2nd Place – La Casa Taqueria, 3rd Place – The Little Baker
Photo Gallery