Clarksville, TN – Visit Clarksville and Riverside Bicycle Racing announce Clarksville's first High Roller Criterium, or crit, will take place on Saturday, May 19th, 2018 in historic downtown Clarksville.
A criterium, or crit, is a bike race consisting of several laps around a closed circuit, the length of each lap or circuit ranging from about 500 to 1000 meters. In Clarksville's case, the course is a flat four-corner course, .8 miles in length, with tight turns around Franklin Street, Public Square, Main Street and Fourth Street.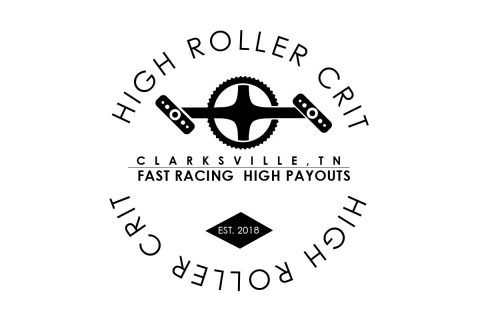 "We are excited to host this new type of event in Clarksville," said Visit Clarksville Board Chairman Jerry Allbert. "We've seen crits be very successful in other Tennessee cities and thought it would be a great fit to bring more people to Clarksville and to showcase our beautiful downtown."
The event will launch from Downtown Commons, 215 Legion Street, and include live music, a food zone, kids races, family activities and an after party.
Eleven categories of races take place from 10:00am until 6:15pm, with race times ranging from 20 minutes to 60 minutes. Registration for adult competitions is $35.00 per race until March 15th, $40.00 until May 17th, or $45.00 the day of the race. Two youth-level races are $5.00 each. Individuals may register in advance at www.usacycling.org or in person on the day of the race.
For details about race requirements, categories, start times and prizes, see www.visitclarksvilletn.com/crit
Visit Clarksville and Riverside Bicycle Racing thank race sponsors F&M Bank, Blackhorse Brewery, Riverview Inn, Hand Family Companies, Two Rivers Company, City of Clarksville and Montgomery County Government.
In the past fiscal year, Clarksville hosted 28 amateur and professional sports events, including football, softball, basketball, soccer, road racing, horseshoe and track and field. In total, these events brought approximately 54,000 visitors for an economic impact of $13 million in new spending.
About Visit Clarksville
The Clarksville-Montgomery County Tourism Commission was established by the State of Tennessee in 1979 to positively influences tourism in the Clarksville-Montgomery County area by promoting tourist attractions, hosting conventions, group tours and engaging in large-scale marketing efforts. In 2015, the organization adopted the Visit Clarksville brand.
Sections
Events
Topics
Blackhorse Brewery, City of Clarksville, Clarksville TN, Downtown Clarksville, Downtown Commons, F&M Bank, Fourth Street, Franklin Street, hand family companies, Jerry Allbert, Legion Street, live music, Main Street, Montgomery County Government, Public Square, Riverview Inn, Tennessee, Visit Clarksville