APSU Sports Information

Evansville, IN – Austin Peay State University men's tennis team earned their first win of the season over Southern Indiana, Friday, at the Evansville Tennis Center.
The Govs (1-4) defeated the previously unbeaten Screaming Eagles (3-1) by a score of 6-3, with the match including the stipulation that all three doubles matches were treated as an individual point, instead of one single point.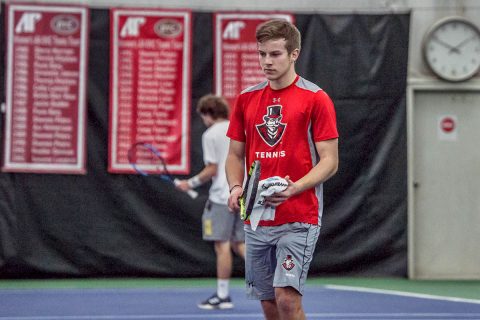 The start was not pretty for the Govs, as they dropped the first two doubles matches, at No. 2 and No. 3.
However, an epic comeback from the No. 1 pairing of Almantas Ozelis and Aleh Drobysh gave the Govs a crucial point and motivation going into the singles matches. The pairing were down a couple of breaks before rallying to win 9-7.
The Govs ran riot in singles, claiming five of six points to win the match. Ozelis, Timo Kiesslich, and Jacob Lorino all won their matches in straight sets to give APSU the advantage going to the last three singles matches. With the score at 4-3 in Austin Peay's favor, Evan Bottorff won a three-set match over USI's Kooper Falkenstein (6-4, 4-6, 6-3) to clinch the victory for the Govs. Drobysh also won a three-setter over USI's Ilia Karelin (6-1, 6-7, 6-2) to close out the action.
"It was a tremendous fight from all of the guys," said Governors head coach Ross Brown. "Coming in and knowing the doubles were treated individually, meant every match counted and I could not be prouder of the team. Playing on a different surface on grass courts also provided a challenge." said Brown.
The Govs have a quick turnaround, as they head to Vanderbilt for a 3:30pm, Saturday, February 10th match.
Box Score
Austin Peay 6, Southern Indiana 3
Doubles
1. Almantas Ozelis/Aleh Drobysh (APSU) def. Samuel Kiladejo/Martim Cafe (USI) 9-7
2. Alexander Lawrenz/Spencer Blanford (USI) def. Timo Kiesslich/Christian Edison (APSU) 8-1
3. Ilia Karelin/Andrew Dones (USI) def. Chad Woodham/Jacob Lorino (APSU) 8-3
Singles
1. Almantas Ozelis (APSU) def. Samuel Kiladejo (USI) 6-4, 6-2
2. Alexander Lawrenz (USI) def. Christian Edison (APSU) 6-4, 4-6, 7-6 (2-0)
3. Aleh Drobysh (APSU) def. Ilia Karelin (USI) 6-1, 6-7 (0-2), 6-2
4. Timo Kiesslich (APSU) def. Yahor Bahdanovich (USI) 6-1, 6-2
5. Jacob Lorino (APSU) def. Martim Cafe (USI) 6-4, 6-2
6. Evan Bottorff (APSU) def. Kooper Falkenstein (USI) 6-4, 4-6, 6-3
Order of finish: Doubles (2, 3, 1); Singles (4, 5, 1, 2, 6, 3)