Clarksville, TN – Clarksville Police uncovered a different type of methodology being used to commit crime.
While investigating three cases of cashing checks fraudulently, Clarksville Police uncovered a scheme using individuals recruited out of a Nashville shelter to cash altered checks from bona-fide Clarksville businesses.
In these cases, two individuals were approached by unknown men at a shelter in Nashville, offered a percentage of the money received from going to a bank and cashing checks they were provided.
The individuals were then taken to a store and dress clothes were purchased for them.
They were dropped off at banks in Clarksville to cash the checks taken from Clarksville businesses and had authorized endorsements on the checks.
The checks had been altered so the funds would be paid to the recruited individuals, allowing them to use their own identification. Two checks were successfully cashed by the two individuals, one for $1640.33 and the other for $1,780.41.
When one of the individuals, Kelvin Pollock, attempted to cash another check for $3750 at the same bank where his cohort cashed a check earlier, he was caught.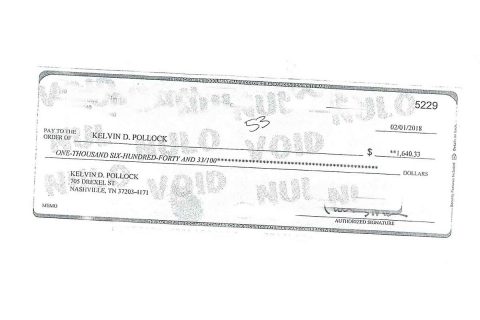 Police are following leads to identify the individuals that recruited the two men from the shelter and how they came to possess the endorsed business checks.
Additionally, Police are following leads to find the other man who was with Pollock. Kelvin Pollock was booked into Montgomery County Jail and charged with Forgery. His bond is set at $15,000.
We attached the check but removed the business name, account and signature for privacy reasons.
The investigation is ongoing.
Anyone with information can contact Sgt Newman, 931.648.0656, ext. 5340, TIPSLINE, 931.645.8477 , or go online and submit a tip anonymously at P3tips.com/591