Tennessee Athletics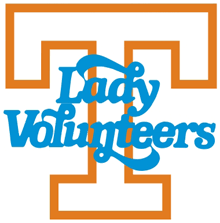 Knoxville, TN – Jaime Nared had a game-high 22 points, but it was not enough as No.11/11 Tennessee lost to Alabama 72-63 Thursday evening in Thompson-Boling Arena.
The Lady Vols (21-5, 9-4 SEC) came out on the losing end of a streaky game that saw leads exchanged on three different double-digit runs. Tennessee had the advantage in the paint, out-rebounding the Crimson Tide 45-39, but Alabama (16-10, 6-7 SEC) won the game behind a 42.6% field goal percentage.
Tennessee had three players in double figures. Jaime Nared led the Lady Vols with 22 points, Rennia Davis scored 18, and Mercedes Russell added another 11. Both Davis and Russell collected double-doubles on the night as they grabbed 10 and 11 rebounds, respectively.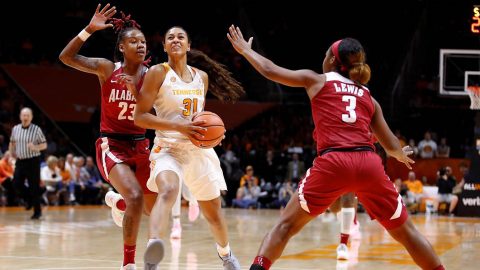 The Crimson Tide's offense was paced by Jordan Lewis with 19 points and Ashley Williams with 16. Williams also registered 10 rebounds to complete a double-double.
An Anastasia Hayes breakaway layup capped off a 12-2 run that gave Tennessee a 15-8 first quarter lead, but the Crimson Tide's scoring woes would not last. Alabama came alive in the second stanza, shooting 64.3% from the field and ending the half with a 12-0 run to take a 29-24 advantage into the break.
The scoring streaks continued in the third quarter with Tennessee making the first charge. The Lady Vols exploded for a 15-0 run covering just three minutes to take back the lead halfway through the period. Davis was key in Tennessee's 49-44 lead at the end of the third quarter, scoring 12 of the team's 25 points.
Alabama posted the final run of the night, launching a 14-0 run to start the fourth quarter and building a 58-49 lead by the 3:52 mark. Despite some late game heroics from Nared, the Crimson Tide pulled away for their first ever victory in Thompson-Boling Arena.
Russell Joins 1,500 Points/1,000 Rebounds Club
Russell's 11 points on the night moved her career total to 1,510, making her one of only six Lady Vols to ever tally 1,500 points and 1,000 rebounds. Other Lady Vols reaching that milestone are Chamique Holdsclaw, Sheila Frost, Glory Johnson, Bashaara Graves and Tamika Catchings.
Davis Heating Up
Davis recorded her sixth double-double of the season with 18 points and 10 rebounds. She has scored in double-figures 16 times this season and in nine of the last 11 games. In SEC play she is averaging 12 points per game.
Next Up for UT Women's Basketball
The Lady Volunteers travel to No.13 Missouri on Sunday, February 18th playing at 2:00pm CT (1:00pm CT) on ESPNU.