Tennessee Athletics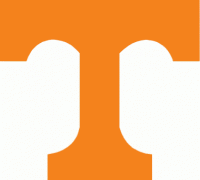 Athens, GA – Despite a double-double from Kyle Alexander, No. 18 Tennessee fell on the road to Georgia, 73-62, at Stegeman Coliseum on Saturday night.

Alexander finished the game with 10 points and a career-high-tying 13 rebounds, marking the second double-double of his career. He was joined by Jordan Bowden (13), Admiral Schofield (11) and Lamonté Turner (14) as the Vols' (19-7, 9-5 SEC) double-digit scorers.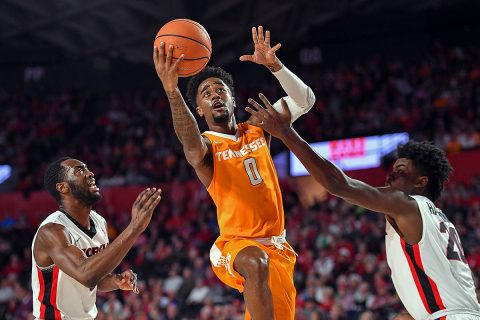 After UGA (15-11, 6-8 SEC) started second half on 10-2 run, Tennessee fought back to make it a two-point game with 7:57 left. That would be as close as UT could get, as the Bulldogs used an 8-2 run to make it a 59-51 game with less than five minutes to play.

After a pair of missed free throws by the Bulldogs with 1:20 left in the game, Turner drained a three to make it a two-possession game at 63-58 with 1:11 remaining, but Tennessee was unable to complete the comeback.

SEC Player of the Year candidate Yante Maten fueled UGA on both ends of the floor, posting 19 points and five rebounds in 31 minutes of action. Derek Ogbeide dominated the paint, finishing with 16 points and 11 rebounds.

After starting the game shooting 5-of-20 from the field, Tennessee ended the half with the hot hand, knocking down six of its final nine shots in the frame to draw within one possession, 28-26, heading into the break.

Tennessee used a 14-7 run to end the half while holding the Bulldogs without a field goal in the final 2:48 of play. Schofield led the team in scoring during the period with six points, while Maten posted 11 points to pace Georgia.

During the first half, the Bulldogs earned 13 trips to the free throw line, where they converted on 10 of the attempts compared to UT's 2-of-4 shooting from the charity stripe. Georgia finished with 17 (27-of-38 overall) more free throws made in the game, which was a major key in the game.
Kyle Doubling Up
Junior forward Kyle Alexander posted his second career double-double on Saturday night, finishing with 10 points and a career-high-tying 13 rebounds.
Next Up for UT Men's Basketball
The Vols return home to host the Florida Gators, who Tennessee (2nd) is currently one game ahead of in the SEC standings, on February 21st at 8:00pm CT on ESPN2. After that, UT has back-to-back road games against Ole Miss (February 24th) and Mississippi State (February 27th).