Written by Sgt. Samantha Stoffregen
101st Airborne Division (Air Assault) Public Affairs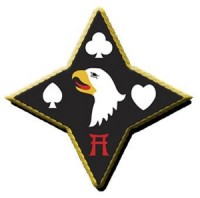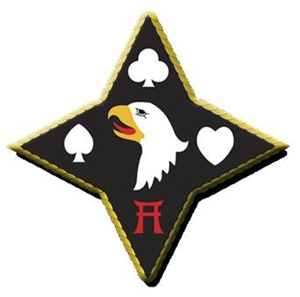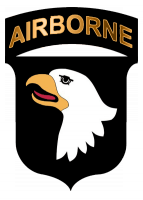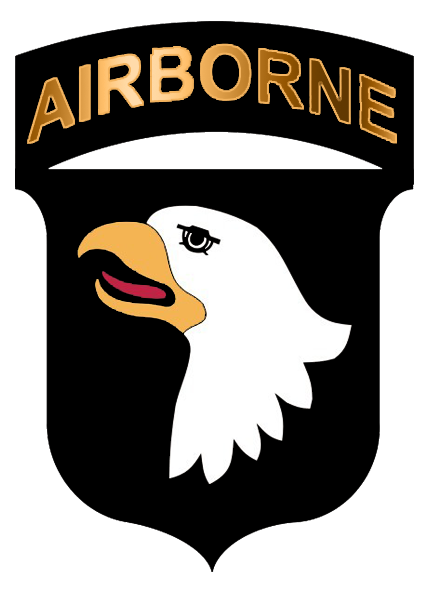 Fort Campbell, KY – Soldiers with 2nd Brigade Combat Team, 101st Airborne Division (Air Assault) stood tall on Strike Field here, February 20th, 2018 as an Iraq campaign streamer was added to the brigade's guidon.
Maj. Gen. Andrew Poppas, 101st Abn. Div. commander, alongside Command Sgt. Maj. Todd Sims, 101st Abn. Div. senior enlisted leader, joined Col. Joseph Escandon and Command Sgt. Maj. Jason Wilson, 2nd BCT, 101st Abn. Div. command team, to attach the streamer for the brigade's contribution to Operation Inherent Resolve during their most recent deployment to Iraq.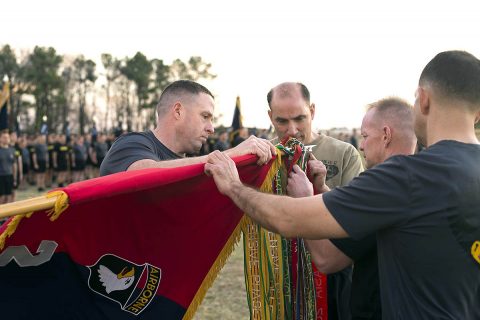 "What Strike [2nd BCT] did was change the entire manner in which we fought that war [Iraq]," Poppas said. "You embraced the advise and assist, you expanded to the accompany and then you took it to the enable."
In May 2016, the brigade, deployed to advise and assist, train and equip the Iraqi security forces to fight and defeat the Islamic State of Iraq. This was accomplished through numerous advise and assist teams, which dispersed to nearly every base in Iraq, Kuwait and Turkey.
The teams helped reorganize, instruct, and facilitate communication between Iraqi Security Forces to lead offensive operations in central and northern Iraq.
Strike conducted precision surface-to-surface fires and supported a multitude of intelligence and logistical operations for coalition and Iraqi forces. Additionally, they provided base security throughout more than 12 areas of operations. Their efforts focused on the retaking of Mosul, Iraq's second largest city, which fell into the hands of extremists in 2014.
"By the time you left, half of Mosul had already been cleared," Poppas said to the 2nd BCT Soldiers.
The Strike mission also aided in the clearance of ISIS from Fallujah, the near elimination of suicide attacks in Baghdad, and the introduction of improved tactics that liberated more than 100 towns and villages.
"This is a formation that is ready to go to war and has always been on the cutting edge and always had the hardest jobs," Poppas said. "And, as we [division headquarters] prepare to deploy back to Afghanistan, that same successful, cutting-edge methodology that Strike applied is the groundwork that we will use to fight."
As the Strike Soldiers look to the future, they prepare to travel to Fort Polk, Louisiana, for a rotation at the Joint Readiness Training Center. There, they plan to bring a strong fight against opposing forces assigned to the 1st Battalion, 509th Parachute Infantry Regiment, also known as the notional enemy 'Geronimo.'
"JRTC is going to be challenging, but 'Geronimo' is not an unbeatable enemy," Wilson said. "Strike Soldiers can defeat them as long as we are aggressive and remain disciplined."
The training rotation will allow the formation to hone their skills and maintain readiness, should they need to answer the nation's call to deploy.
"JRTC will improve our proficiency and lethality," Escandon said. "Following the rotation, we will be the best trained brigade combat team in the Army – ready to deploy, fight, and win where we fight."
Following the streamer ceremony, Soldiers of Troop A, 1st Squadron, 75th Cavalry Regiment, 2nd BCT, 101st Abn. Div. received the Excellence in Armor Award and the brigade conducted a brigade run.