#15/14 Tennessee Lady Vols vs. #7/6 South Carolina
Sunday, February 25th, 2018 | 3:02pm CT
Knoxville, TN | Thompson-Boling Arena | TV: ESPN2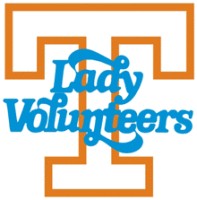 Knoxville, TN – No. 15/14 Tennessee (22-6, 10-5 SEC) and #7/6 South Carolina (23-5, 12-3 SEC) close out the regular season with a 3:02pm CT match-up on Sunday, February 25th at Thompson-Boling Arena. UT is expecting a crowd approaching 12,000, but good seats are still available.
South Carolina sits in second place in the SEC standings, while the Lady Vols are tied for fifth with Texas A&M and LSU.
This marks the 56th all-time meeting in the series, with Tennessee leading, 49-6. The Lady Vols are seeking a season sweep of the Gamecocks and will try to extend their win streak vs. South Carolina to three games.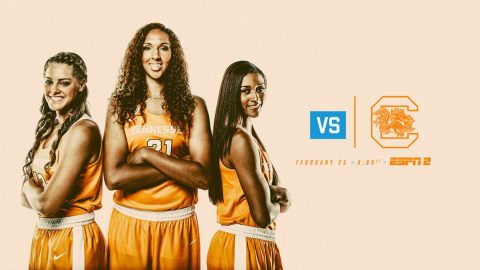 UT prevailed in Columbia earlier this season on January 14th, 86-70, and defeated USC there last season, 76-74, on January 30th.
South Carolina star A'ja Wilson missed the first meeting this season due to an ankle injury but has returned to full strength.
Holly Warlick has forged a 4-3 record vs. Dawn Staley and the Gamecocks in her six seasons at the helm, owning a 1-1 record vs. USC in Knoxville, a 3-1 mark in Columbia and an 0-1 slate in SEC Tournament play. Staley also serves as coach of the U.S. Olympic women's team.
UT enters Sunday's match-up having won five of its past seven games but one of its last three. On Thursday night, the Lady Vols used a 24-2 third-quarter blitz to roll past Florida, 70-42, and erase the bitter taste of back-to-back losses to Alabama (72-63) and #13/13 Missouri (77-73).
South Carolina, meanwhile, fought off a challenge from #24 LSU on Thursday night to win, 57-48, in Columbia and run its win streak to five games after dropping back-to-back games to #1/1 UConn (83-58) and #2/2 Mississippi State (67-53) on February 1st and 5th, respectively.
Broadcast Information
Pam Ward (play-by-play) and Gail Goestenkors (analyst) will describe the action for the UT-South Carolina television broadcast on ESPN2.
Mickey Dearstone is handling the call for IMG College/Lady Vol Network radio/online broadcasts for the 19th season. A link to the live audio stream can be found on each game's Hoops Central page or the Lady Vol schedule on UTSports.com.
Air time for games on the Lady Vol Radio Network generally occurs 30 minutes prior to tip-off.
Game Promotions
It's Kids' Day! There will be free pregame fun at the Gate F Kids' Corner.
Postgame lay-ups on the court for kids ages 12 & under.
High-five tunnel for the first 50 kids every game! Pick up a wristband for the tunnel at section 113 on the concourse.
Free parking & shuttle service from UT's Ag Campus.
Halftime performance by Quick Change.
Lady Vol Senior Day
Tennessee seniors Kortney Dunbar, Jaime Nared and Mercedes Russell, and manager Wyatt Hopper will be honored before the game, beginning at 2:40pm CT (14:00 on the countdown clock).
UT is 5-0 in its final home game of the regular season under Holly Warlick and 40-3 all-time since 1974-75.
The Lady Vols have won their last 11 final regular season home contests, last dropping one in 2005-06 (L, Florida, 95-93 OT). The other setbacks came in 1975 (Tenn. Tech) and 1983 (Kentucky).
Warlick's first season as head coach, UT beat Texas A&M on Lady Vol senior day to clinch the 2013 SEC regular season championship.
The Lady Vols beat South Carolina, 73-61, in the 2014 senior day game and 100-57 in the 1993 senior day contest.
Senior Class Accomplishments
The Lady Vol senior class spans five seasons, including Mercedes Russell's freshman year of 2013-14 (she redshirted due to surgery in 2014-15).
UT is 123-44 during that time, including 56-23 in SEC play.
The Lady Vols won the 2014 SEC Tournament championship and the 2015 SEC regular season crown.
Tennessee went to five NCAA Tournaments, forging Elite Eight finishes in 2015 and 2016.
The team won the 2017 Cancun Challenge Riviera Division title, a 2013 Junkanoo Jam championship and went 3-0 on a tour of Italy in 2015 while facing international competition.
Mercedes Russell (1,526 pts./1,034 rebs./131 games/96 starts) was an AP and WBCA honorable mention All-American and member of the AP and Coaches All-SEC Second Team a year ago. She made the 2016 Sioux Falls All-Regional Team and was a member of the SEC Academic Honor Roll in 2014 and 2017.
Jaime Nared (1,403 pts./696 rebs./123 games/89 starts) was a 2017 Coaches All-SEC Second Team pick and a member of the 2015 and 2016 SEC Academic Honor Rolls.
Kortney Dunbar (282 pts./154 rebs./97 games/4 starts) is a three-time SEC Academic Honor Roll member and was inducted into the Omicron Delta Kappa Leadership Society.
UT's Upcoming Schedule
The SEC Tournament in Nashville begins on Wednesday, February 28th, and runs through Sunday, March 4th.
By Sunday night, February 25th, the bracket will be set.
Selection Monday for the NCAA Women's Tournament is on March 12 (7 p.m., ESPN).
UT is in the hunt to potentially host NCAA First and Second Round games March 16th-19th.
The Latest on Tennessee
Holly Warlick picked up her 150th career win as a head coach in the Florida game on Thursday night, coming in her 202nd career contest.
UT posted its most steals since recording 22 vs. East Tennessee State on December 2nd, 2015, and its most vs. an SEC foe since nabbing 19 vs. Kentucky on February 3rd, 2008.
The 25 turnovers committed by Florida were the most by an opponent since ETSU had 35 in that 2015 game and the most by a league foe since Auburn had 25 on January 1st, 2012.
UT allowed only two points to Florida in the third quarter, the second fewest allowed in school history in a period and the fewest vs. an SEC foe.
The Lady Vols' 24-2 blitz of UF in the third quarter was fueled by 14-0 and 10-0 runs that sandwiched the Gators' lone points. The 14-0 burst was part of a total 18-0 streak that spanned the second and third stanzas.
The 14 second-half points by Florida tied for third fewest allowed by a Tennessee team.
Mercedes Russell needs a double-double to give her 14 for the season and tie for the most by a Lady Vol in a senior season. Glory Johnson, Lisa Harrison and Shelia Collins had 14 in their finals seasons at Tennessee.
The next double-double by Russell would be the 44th of her career, leaving her one shy of tying Candace Parker (45) for second all-time by a Lady Vol. Chamique Holdsclaw is first with 57.
Rennia Davis posted the seventh double-double of her rookie season vs. Florida, tying Karla Horton for sixth most of any UT freshman.
Ahead of Davis are Chamique Holdsclaw (16), Sheila Frost (11), Bashaara Graves (10), Candace Parker (10) and Tamika Catchings (9).
Three different Lady Vol rookies have been named SEC Freshman of the Week this season. Rennia Davis earned the honor twice (most recently on February 12th), while Evina Westbrook and Anastasia Hayes have once each.
Jaime Nared has twice been named the SEC Player of the Week this season.
Nared also was named the College Sports Madness National and SEC Player of the Week on two occasions this season.
Jaime Nared and Mercedes Russell have been included as members of the Wade Trophy Award Midseason Watch List and Citizen Naismith Trophy Late Season Watch List. Nared is among the top 10 for the Cheryl Miller Awards, while Nared is in the same company for the Lisa Leslie Award.
Mercedes Russell surpassed the 1,000-rebound mark vs. Georgia and the 1,500-point mark against Alabama, becoming only the sixth Lady Vol to reach 1,500 points and 1,000 rebounds. The others in that club are Chamique Holdsclaw, Glory Johnson, Bashaara Graves, Sheila Frost and Tamika Catchings.
UT has led 24 of 28 games this season at the half. UT trailed Mississippi State by 13, Missouri by six and Alabama by five, and was tied vs. Auburn.
UT's roster features seven players 6-2 or taller, tying the 2004-05 team as the second tallest in Lady Vol history behind the 2014-15 unit that boasted eight.
UT is 19-0 when leading with 5:00 left in the game, 2-0 when tied and 1-6 when trailing.
The Lady Vols have allowed seven opponents to score more than 72 points (Marquette – 99, Texas – 75, Vandy – 73, A&M – 79, Notre Dame – 84, Arkansas – 85, Missouri – 77) and have allowed only nine teams to shoot better than 41 percent from the field (Missouri, .556; Vanderbilt in Knoxville, .491; Texas A&M in Knoxville, .484; Notre Dame, .478; Arkansas, .477; Vanderbilt, .469; Marquette, .437; Miss. State, .418; Alabama, .426).
When UT has more fouls than its opponent, the Lady Vols are 2-4, losing to Texas A&M, Notre Dame, LSU and Missouri, and beating Marquette in OT and winning by 14 at Kentucky.
Tennessee vs. South Carolina
UT enters Sunday's contest with a 49-6 advantage in the series, including 21-2 in Columbia, 21-2 in Knoxville and 7-2 at neutral sites.
South Carolina had won the last three meetings, including twice in 2014-15, before Tennessee bounced back to win in Columbia last season and this season.
In UT's 86-70 win on Jan. 14, the Lady Vols' point total was the highest by the Orange and White since hitting 86 vs. USC on January 15th, 2004.
Tennessee is 5-2 vs. USC during the postseason and is 1-0 in overtime, taking a 79-73 extra-frame decision over the Gamecocks in the Palmetto State on February 15th, 1996.
Since 2010, UT and USC each have won four SEC regular-season titles, with UT winning or sharing in 2010, 2011, 2013 and 2015 and USC doing so in 2014, 2015, 2016 and 2017.
Holly Warlick is 4-3 vs. the Gamecocks since taking over as head coach at UT prior to the 2012-13 season.
Warlick suffered her first loss to Dawn Staley and company on Feb. 23, 2015, when USC prevailed, 71-66, in Columbia.
Three seasons ago, #10/9 Tennessee and #4/5 South Carolina met in the regular season finale in Knoxville, and the Lady Vols rolled to a 73-61 win on Senior Day for Meighan Simmons.
After defeating South Carolina, the regular season SEC champs at 14-2, the 13-3 Lady Vols went on to claim the 2014 SEC Tournament title in Duluth, GA.
Warlick picked up the first SEC victory of her head coaching career in Columbia on January 3rd, 2013, as her #12/13 Lady Vols went into Colonial Life Arena and took down #18/15 USC, 73-53.
The Lady Vols went 1-1 vs. South Carolina in 2011-12, suffering their first loss to the Gamecocks since January 23rd, 1980 (56-52 in Columbia), when UT head coach Holly Warlick was a senior point guard for the Big Orange.
Warlick's 1979-80 UT squad bounced back to win two follow-up games vs. USC that season, and she finished her playing career 4-1 vs. the team from the Palmetto State.
Tennessee lost to South Carolina, 64-60, on February 2nd, 2012, in Knoxville, but rebounded to defeat USC in the 2012 SEC Tournament semifinals in Nashville, 74-58, en route to its 16th SEC postseason championship.
Last Meeting Between UT and USC
Senior Mercedes Russell recorded a 16-point, 12-rebound double-double to lead No. 6/6 Tennessee to an 86-70 victory over No. 9/8 South Carolina on January 14th, 2018, at Colonial Life Arena.
Jaime Nared added 21 points as the Lady Vols (16-1, 4-1 SEC) bounced back from their first loss of the season with a win over the defending national champions and their second consecutive victory in Columbia. UT was fueled by a balanced attack, with five different players reaching double figures.
Tyasha Harris put on an offensive display for South Carolina (14-3, 3-2 SEC) with a game-high 28 points and four assists. The Gamecocks were able to cut the deficit to four with under six minutes remaining in the fourth quarter, but Tennessee relied on strong defense and timely scoring to end the game on a 16-4 run.
UT's freshman trio of Evina Westbrook, Rennia Davis and Anastasia Hayes had a strong showing in the second half, combining for 29 points over the final 20 minutes. Westbrook finished with 14 points, including 2-for-2 shooting from behind the arc, as well as a game-high five assists, while Davis and Hayes netted 11 points apiece.
Last Meeting in Knoxville
Diamond DeShields scored 21 points and Bashaara Graves had a double-double in No. 24/RV Tennessee's 62-56 loss to No. 3/2 South Carolina on February 15th, 2016, at Thompson-Boling Arena.
The Lady Vols (15-10, 6-6 SEC) and the Gamecocks (24-1, 12-0 SEC) combined for a physical and exciting contest with several trips to the free-throw line. Tennessee went 17-of-22 (77.3 percent) from the stripe and South Carolina shot 22-of-30 (73.3).
DeShields scored 15 of her 21 points in the second half and finished 7-of-17 on the night with four rebounds and two assists. Graves tallied 13 points and 10 boards, marking her sixth double-double of the season and the 27th of her career.
South Carolina's A'Ja Wilson dominated the game with 25 points on 8-of-15 shooting from the floor and a 9-of-11 effort on free throws. Khadijah Sessions had 13 points and Tiffany Mitchell added 12 points.
More About South Carolina
Tennessee has some ties to USC via a member of the coaching staff and one of its players.
USC assistant Jolette Law spent the past five years on Holly Warlick's staff before joining the Gamecocks over the summer. Law is a South Carolina native from Florence.
Former Lady Vol Te'a Cooper transferred to South Carolina after last season. She sat out the 2016-17 campaign at Tennessee while rehabbing a knee injury suffered between her freshmen and would-be sophomore seasons.
The Gamecocks feature three active players scoring in double figures, led by A'ja Wilson (22.9). She is joined by Alexis Jennings (11.7) and Tyasha Harris (11.5).
The Gamecocks have key wins over #15/13 Maryland, #14/16 Duke, #22/21 Texas A&M, #11/11 Missouri, #20/19 Georgia and #24 LSU.
Defending NCAA champion South Carolina is coached by Dawn Staley, who is 244-85 in her 10th year at the school. She is 416-165 in her 18th season overall as a head coach.
USC has won or shared a piece of the last four SEC titles and has claimed the last three tourney crowns.
South Carolina Last Time Out (USC 57, LSU 48)
A'ja Wilson scored 27 points and had a career-best 24 rebounds to lead No. 7 South Carolina to a 57-48 win over No. 24 LSU on Thursday night.
It was senior night and the 6-foot-5 Wilson scored the first seven points of the game as the Gamecocks (23-5, 12-3 Southeastern Conference) never trailed.
Raigyne Louis had 17 points and eight rebounds and Chloe Jackson added 16 points for LSU
Alexis Jennings added 10 points for USC.
Tennessee Last Time Out (MU 77, UT 73)
#15/14 Tennessee defeated Florida at Exactech Arena on Thursday night, 70-42, giving Holly Warlick her 150th career win as a head coach (150-52) in her sixth season at the helm.
The Lady Vols (22-6, 10-6 SEC) were led in scoring by Jaime Nared and Evina Westbrook with 13 each. UT had three other players in double figures, including Meme Jackson (11), Rennia Davis (11) and Anastasia Hayes (10). In a return to her home state, Davis added 10 rebounds to log her seventh career double-double.
Florida was led in scoring by Paulina Hersler, who ended the evening with 12 points and five rebounds.
A 24-2 blitz in the third quarter, fueled by a 14-0 spurt to open the second half, broke open an interesting game and allowed UT to cruise home with its 22nd win of the season.