APSU Sports Information

Kennesaw, GA – Austin Peay State University women's tennis team put together back-to-back wins for the first time this season, defeating Kennesaw State by a score of 5-2, Sunday, at the Betty Siegel Courts.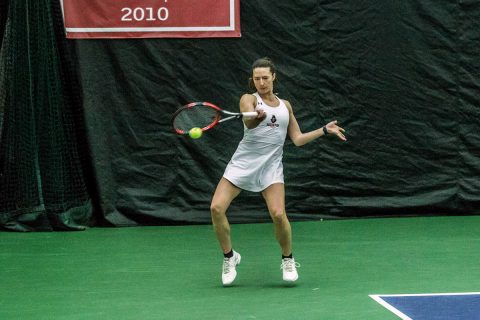 The Govs (3-5) forfeited the No. 3 doubles match but got wins in No. 1 doubles from the team of Lidia Yanes Garcia and Fabienne Schmidt and No. 2 doubles from Ana Albertson and Helena Kuppig to take a 1-0 lead heading into the singles matches.
Both doubles teams won their matches by a 7-5 scoreline.
The top of the order reigned supreme again for the Govs, as Yanes Garcia, Schmidt, and Kuppig all won in straight sets to give APSU an insurmountable lead. The Owls (1-9) won at No. 4 singles and then at No. 6 singles by forfeit, before Brittney Covington won in straight sets to wrap the day's action.
Austin Peay returns to action at home this Wednesday, with a time to be determined, against Saint Louis.
Box Score
Austin Peay 5, Kennesaw State 2
Doubles
1. Lidia Yanes Garcia/Fabienne Schmidt (APSU) def. Laura Hopton/Alexandra Mercado (KSU) 7-5
2. Helena Kuppig/Ana Albertson (APSU) def. Jada Tijani/Jessica Cantrell (KSU) 7-5
3. Aspen Jarrett/Kennedy Craig (KSU) def. No player/No player (APSU), by forfeit
Singles
1. Lidia Yanes Garcia (APSU) def. Alexandra Mercado (KSU) 6-2, 6-1
2. Fabienne Schmidt (APSU) def. Kennedy Craig (KSU) 6-4, 6-4
3. Helena Kuppig (APSU) def. Laura Hopton (KSU) 7-5, 6-2
4. Jessica Cantrell (KSU) def. Ana Albertson (APSU) 6-3, 6-4
5. Brittney Covington (APSU) def. Jada Tijani (KSU) 7-6, 6-3
6. Aspen Jarrett (KSU) def. No player (APSU), by forfeit
Order of finish: Doubles (2,1); Singles (1,3,2,4,5)