APSU Sports Information
Atlanta, GA – Austin Peay State University beach volleyball team wrapped up their five-day road trip at the Georgia State Day of Duals, Tuesday.
The Govs, who opened the season strong with two wins against New Orleans University and Jacksonville State at the New Orleans Invitational, stumbled against two strong opponents on the final day of their southern swing.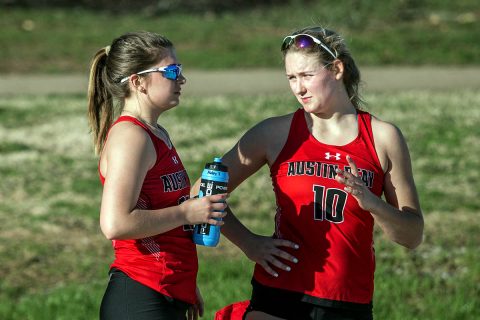 Austin Peay was unable to win a pairing against UNC Wilmington in the morning matchup, but freshman/junior duo Chloe Stitt and Kaylee Taff forced a three-set matchup against UNCW's Mullinax and Thomas, falling 15-9 in the deciding set.
Austin Peay looked to keep pace with Georgia State, but were unable to mount a comeback against the Panthers.
The Governors will have a 10-day hiatus before returning to action on the beach courts for the Blazer Beach Duals hosted by University of Alabama-Birmingham. The Govs will open the tournament against the Tulane Green Wave.
Box Scores
Austin Peay 0, UNCW 5
No. 1 – Cline/Lott (UNCW) def. Gable/Craig (AP) 21-12, 21-15
No. 2 – Hunt/Lewendowski (UNCW) def. Panning/Turner (AP) 21- 16, 21-15
No. 3 – Kelly/Rooney (UNCW) def. Waite/Moore (AP) 21-18, 21-9
No. 4 – Montgomery/McCullough (UNCW) def. Slay/Theiss (AP) 21-15, 21-15
No. 5 – Mullinax/Thomas (UNCW) def. Stitt/Taff (AP) 21-16, 18-21, 15-9
Exh. – Augustine/Evans (UNCW) def. Korfhage/Darland (AP) 21-14, 21-18
Austin Peay 0, Georgia State 5
No. 1 – Creamer/Van Gunst (GSU) def. Gerig/Gable (APSU) 21-11, 21-12
No. 2 – Weiner/Van Gunst (GSU) def. Panning/Moore (APSU) 21-11, 21-12
No. 3 – McCall/Johnson (GSU) def. Turner/Waite (APSU) 21-13, 23-21
No. 4 – Johnson/Brodbeck (GSU) def. Slay/Theiss (APSU) 21-19, 21-8
No. 5 – Ashley McGinn/Eden Hawes (GSU) def. Taft/Stitt (APSU) 21-10, 21-12
Exh. – Gordon/Bauchert (GSU) def. Korfhage/Darland (APSU) 21-6, 21-11