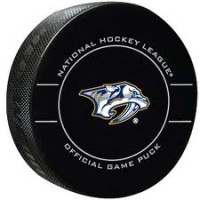 Nashville, TN – The Nashville Predators saw their franchise record win streak come to an end tonight at the Bridgestone Arena, as the New Jersey Devils won it in a shoot-out, 3-2.
New Jersey dominated the play throughout the game, after the Predators were first to score, and then took a 2-1 lead, until just over one minute in regulation, when Ryan Johansen tied the game at 2-2.
Both teams had multiple scoring opportunities on the night, but the puck was a "quirky" thing tonight as players were "whiffing" on shots, and or missing empty net opportunities all night.
«Read the rest of this article»
APSU Sports Information

Myrtle Beach, SC – Both on the track and in the field, Austin Peay State University wrapped up a solid opening weekend at the Coastal Carolina Invitational, Saturday.
The biggest showing of the day belonged to freshman Sabrina Richman, who won the 400m dash with a 56.37 mark—a mark that would have put her comfortably among the league's top-eight last season—and followed it up later in the meet with a third-place, 25.50 mark in the 200m.
«Read the rest of this article»
APSU Sports Information

Clarksville, TN – Austin Peay State University men's tennis team looks to get back in the win column, traveling to Tennessee for a 4:00pm start, Sunday and then returning home to face off against IUPUI, 12:00pm, Tuesday.
«Read the rest of this article»

Nashville, TN – The March 19th deadline is nearing for the Tennessee Wildlife Resources Agency's 2018-19 photo contest. All interested photographers are invited to submit up to 10 of their best photos on fishing, hunting, boating, and wildlife species native to Tennessee.
The photos will be reviewed for publication in the annual calendar edition of Tennessee Wildlife, which is the summer issue.
«Read the rest of this article»
APSU Sports Information
Oxford, AL – Catcher David Martinez' tie-breaking RBI single in the sixth inning salvaged a fine start from starting pitcher Jacques Pucheu as Austin Peay State University's baseball team downed Jacksonville State, 6-4, Saturday in Ohio Valley Conference action at Choccolocco Park.
Pucheu (2-0) got off to a perfect start, needing just 25 pitches to retire the first nine batters he faced.
«Read the rest of this article»
Tennessee Athletics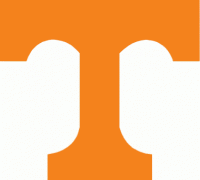 St. Louis, MO – Hot shooting propelled No. 2 seed Tennessee to a commanding 84-66 wire-to-wire victory over the sixth-seeded Arkansas in the semifinals of the SEC Tournament on Saturday afternoon at Scottrade Center.

The Vols (25-7) are advancing to their first SEC Title game since 2009 and will face the fourth-seeded Kentucky Wildcats.

Jordan Bone fueled the offense with 19 points and four assists on the day. He was one of five different Volunteers to eclipse double-digit scoring. Admiral Schofield posted another strong performance with 16 points, seven boards and two assists.
«Read the rest of this article»
January 2018 Statewide Unemployment Rate is More Than a Percentage Point Lower than 2017
Nashville, TN – Tennessee Governor Bill Haslam and Labor and Workforce Development Commissioner Burns Phillips announce that unemployment across Tennessee remained low at the start of 2018.
Data released today revealed the preliminary statewide unemployment rate for January 2018 was 3.3 percent, which matched the revised rate for December 2017.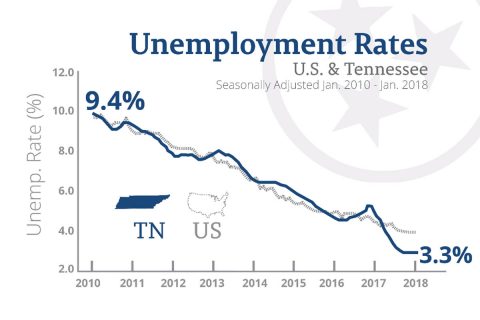 «Read the rest of this article»

Clarksville, TN – In 2003, during the opening months of the Iraq War, a young Fort Campbell soldier drove his Humvee over a hidden antitank mine. The resulting explosion covered more than a third of his body and face in burns. Many wondered if he would survive his injuries.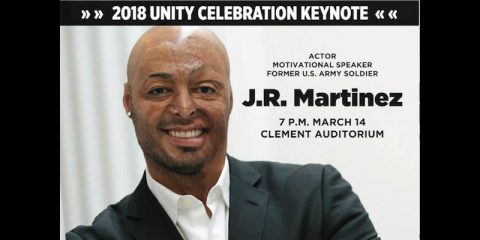 «Read the rest of this article»
Nashville, TN – In March, while basketball teams are fighting for the chance to be crowned champions, patients battling cancer and other illnesses are fighting for their lives. The American Red Cross is asking blood donors to help patients rebound by making a lifesaving donation this spring.
Middle school basketball player Olivia Stoy received blood and platelet transfusions during treatment for T lymphoblastic lymphoma. With the help of blood and platelet donations, the 14- year-old was able to return to the basketball court this season.
«Read the rest of this article»

Clarksville, TN – In 2016, during an interview for the literary journal Ploughshares, award-winning poet and essayist Marcelo Hernandez Castillo said, "I wish I wasn't afraid, I wish this wasn't my reality."
When Castillo was five, his family moved from Mexico to California, and even though he now has permanent resident status, he told Ploughshares, "That doesn't mean I'm not still afraid, either for myself or for my family."
«Read the rest of this article»