Clarksville, TN – The Clarksville-Montgomery County School System (CMCSS) and APSU's Center of Excellence for the Creative Arts (CECA) are among seven teams nationwide selected to join the John F. Kennedy Center for the Performing Arts' Partners in Education, a program designed to assist arts organizations throughout the nation to develop or expand education partnerships with their local school systems.
A primary focus of these partnerships is to provide sustainable and robust arts-based professional development for teachers.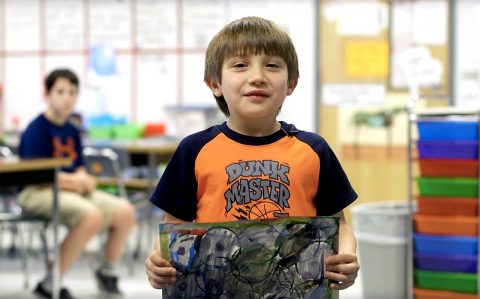 Partnering with teachers is fundamental to arts-based learning. By the community strategically partnering to support and provide teachers with high quality and continuous arts-based professional development, teachers and students are exposed to new access points for learning.
"The Kennedy Center has been a national leader in arts education for decades and has more recently been at the forefront of a nation-wide movement towards Arts Integration in education," stated CECA Executive Director Dr. Janice Crews. "Locally, CECA and CMCSS have made the arts a growing priority in our community. Participating in Partners in Education together will strengthen the relationship between CECA and CMCSS and give local educators access to the Kennedy Center's amazing resources. I'm thrilled to join this program and to see the positive impact it makes in our region."
As the entry point for the program, a team consisting of representatives from CMCSS and CECA will participate in the Partners in Education Institute, April 23rd–26th at the Kennedy Center. During the four-day intensive, team members develop a plan customized to their community for how the partners will work together to create or further establish arts-based professional development programs for area teachers.
Information learned at the Institute has proven invaluable to past participants who have left the Kennedy Center with more confidence in their ability to create their own professional development programs for teachers.
The new teams will join the nearly 100 teams from 39 states and the District of Columbia already participating in the Partners in Education program, now in its 27th year.
In addition, partnership teams receive national support from the Kennedy Center through access to Center resources including its roster of teaching artists to work directly with the school and students; follow-up consultation and ongoing communication to assist teams in program and partnership development, as well as annual multi-day convenings and intensive seminars.
"The Clarksville-Montgomery County School System is committed to providing access to high-quality arts education for every student, every day," said CMCSS Director of Schools Millard L. House II. "Our district's shared vision is that all students will graduate college and career ready. We recognize that a career in the arts is a viable option for our students, but we also know that whether students choose to pursue the arts as a career or not, the lessons and experiences obtained from an exceptional, integrated arts education will benefit them and our society."
For more information on the John F. Kennedy Center for the Performing Arts' Partners in Education Program, please visit www.kennedy-center.org/partners
For more information on CECA, please visit www.apsu.edu/ceca or contact Dr. Janice Crews at 931.221.7876 or crewsj@apsu.edu
For more information on CMCSS, please visit www.cmcss.net or contact Anthony D. Johnson at 931.920.7872 or anthony.johnson@cmcss.net