APSU Sports Information

Clarksville, TN – Austin Peay State University men's tennis team fell in a hotly contested Ohio Valley Conference match against Tennessee State, 4-3, Friday, at the Governors Tennis Courts.
The Govs (1-12) got off to a perfect start as the pairing of Aleh Drobysh and Almantas Ozelis dominated at No. 1 doubles, defeating Jackson Gwinn and Larry Sloan (6-1) to extend their doubles winning streak.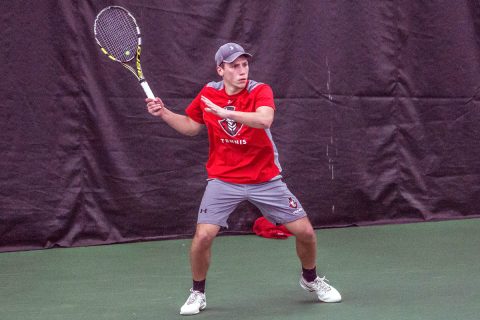 The Govs clinched the point with a win at No. 3 doubles thanks to Timo Kiesslich and Chad Woodham.
The Govs continued their good start at the top of the order, as Ozelis flawlessly disposed of Gwinn (6-0, 6-0) at No. 1 singles and Christian Edison defeated Sloan impressively (6-1, 6-1).
However, that was as good as the day got for the Govs as the Tigers (10-6) won the last four singles matches to win the match 4-3. The Govs dropped matches at No. 5 and No. 6 singles in three sets and a win in either would have given them the victory.
The Govs look to rebound as they continue Ohio Valley Conference action, 2:00pm, Saturday, at home against Belmont.
Box Score
Tennessee State 4, Austin Peay 3
Doubles
1. Almantas Ozelis/Aleh Drobysh (APSU) def. GWINN, Jackson/SLOAN, Larry (TSUM) 6-1
2. Christian Edison/Jacob Lorino (APSU) vs. KORUGA, Stefan/POPOVIC, Pavle (TSUM) 4-3, unfinished
3. Timo Kiesslich/Chad Woodham (APSU) def. NAUTIYAL, Shashank/MAHENDRU, Tanishq (TSUM) 6-2
Singles
1. Almantas Ozelis (APSU) def. GWINN, Jackson (TSUM) 6-0, 6-0
2. Christian Edison (APSU) def. SLOAN, Larry (TSUM) 6-1, 6-1
3. NAUTIYAL, Shashank (TSUM) def. Aleh Drobysh (APSU) 6-4, 7-5
4. KORUGA, Stefan (TSUM) def. Timo Kiesslich (APSU) 6-2, 6-1
5. MAHENDRU, Tanishq (TSUM) def. Jacob Lorino (APSU) 4-6, 6-1, 6-3
6. POPOVIC, Pavle (TSUM) def. Evan Bottorff (APSU) 6-3, 1-6, 6-4