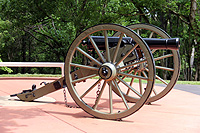 Clarksville, TN – The next meeting of the Clarksville (TN) Civil War Roundtable will be on Wednesday, March 21st, 2018 at the Bone & Joint Center, 980 Professional Park Drive, right across the street from Tennova Healthcare. This is just off Dunlop Lane and Holiday Drive and only a few minutes east of Governor's Square mall.
The meeting begins at 7:00pm and is always open to the public. Members please bring a friend or two – new recruits are always welcomed.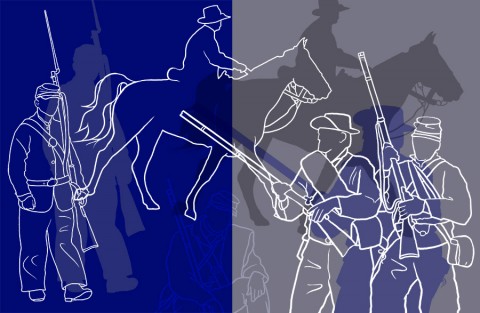 Topic: "Walking The Line: The Civil War Defenses of Atlanta – Or Preservation Gone Badly"
In May 1864 General Sherman marched towards Atlanta, to capture the Confederacy's economic lynch pin. It took him six weeks to accomplish that task. Why so long? Atlanta had a perimeter, not the 64-mile I-285 Interstate we have today but a 12-mile line of 36 forts that kept him out.
Awed by their power, Sherman never conceived of a direct frontal assault on Atlanta's forts instead opting for maneuver against the three railroads that ran into the city and kept it supplied. These set up the Battles of Atlanta, Ezra Church, Utoy Creek and Jonesboro, the Confederate defeat there sealing the fate of the city.
These works were never conquered, only abandoned. And then they were forgotten and, in most cases, destroyed and plowed under. Few traces remain today and only one of the major forts – Fort Hood, in Grant Park.
Atlanta is a textbook case of the population doing what the conqueror couldn't do, try to erase history. Whatever happened to the 36 forts that defended Atlanta? Can you find them today? Can you visit them now and 'walk the line' between them? This presentation will talk about how the forts came into existence, what happened during the siege, and then the slow erasure of the forts over the next 150 years.
The highlights of three walking tours to see the forts and their locations will be well-illustrated, followed by a discussion on proposals to not let the forts completely disappear into history.
The rediscovery and modern status of the forts and Line is the subject of "Walking The Line," a book by Dr. Larry Krumenaker. He is a former astronomer, occasional college educator, and a science and history writer who in the past five years has lived in Atlanta, in Cologne, Germany (writing a guidebook on Roman ruins there), and now in Alabama.
We hope to see you Wednesday, March 21st at the the Bone & Joint Center at 7:00pm for our monthly meeting.