Clarksville, TN – The Austin Peay State University Board of Trustees met Friday, March 9th, 2018 for the board's scheduled quarterly meeting and approved several key items, including the selection of a new student board member.
Celeste Malone, a graduate student majoring in communication, was named as the new student board member, replacing Crystal Wallenius, who will rotate off the board in May.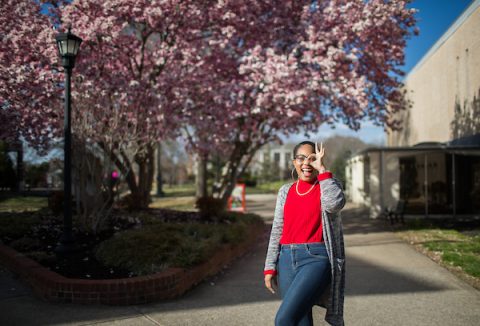 Malone received her undergraduate degree from Austin Peay and currently serves as the editor of the All State, APSU's student newspaper and has been active throughout her academic career through her involvement in multiple student organizations and events.
Among other academic items, a graduate certificate for Teaching English to Speakers of Other Languages (TESOL) was approved.
Three Business and Finance items moved forward as approved, which included consideration for a property acquisition on Forbes Avenue, campus housing rates for the 2018-19 academic year and proposed non-mandatory fees for 2018-19.
Among other agenda items, four facility naming opportunities were approved. The academic building, currently known as the Animal Science Facility, located at the APSU Farm and Environmental Education Center, will be named in memory of the late Brock Blick. Athletic facility naming designations include the Joe and Cathi Maynard Baseball Field and Softball Stadium and the Caffee Family Court, naming one of the newly built sand volleyball courts. Formal events for each naming are being planned, with detailed announcements on the Blick naming planned for release later this month.
For a copy of the full agenda, materials and archived video for the March 8th and 9th committee and board meetings, visit www.apsu.edu/president/board-of-trustees