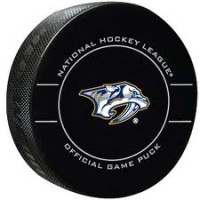 Nashville, TN – The Nashville Predators were flat tonight and the Toronto Maple Leafs took full advantage, defeating the Predators 5-2 at Bridgestone Arena.
Another sell-out crowd watched Auston Matthews and his team put an old fashioned whipping on the favored Predators, where Nashville had their fifteen game point streak end with the loss.
The Predators are 14-1-1 over the last 16 games. They find themselves now tied with the Tampa Bay Lightning with 106 points for the NHL lead.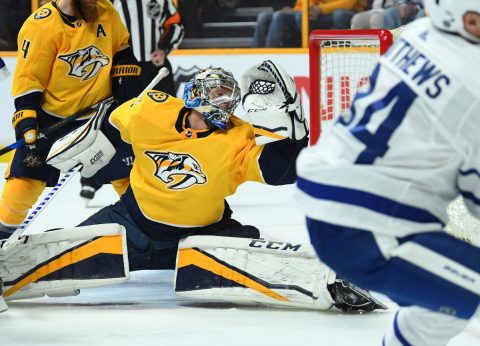 James Van Riemsdyk started the scoring for Toronto at 4:03 of the first period, flipping a back handed shot past Pekka Rinne for the 1-0 lead. It was Riemsdyks 34th goal of the season.
Viktor Arvidsson brought the Predators even at 1-1 on a Predators power play at 5:42 of the second period and suddenly some momentum was swinging Nashville's way.
It wouldn't last long.
Auston Matthews would give the Maple Leafs the 2-1 lead at 15:06 of the second period, scoring in his return to the line up after sitting out the previous 10 games with injury.
William Nylander gave Toronto the 3-1 lead at 16:44 of the second period, weaving through Nashville traffic to tap a rebound of his own shot into the goal. It was Nylander's' 29th goal of the year.
Toronto made it 4-1 just 9 seconds into the final frame with a power play goal provided by Mitchell Marner. And to add insult to injury, Jake Gardiner, a defenseman, would score to make it 5-1 at 3:39 of the third.
Nashville's Scott Hartnell would find the net at 15:37 of the third for the final score of the night and Toronto would have the win, 5-2.
The Predators will now hit the road to try and rebound from the embarrassing loss when they visit the Minnesota Wild on Saturday night.
Nashville remains 8 points ahead of the Winnipeg Jets who remain in second place in the central division. The Predators will visit Winnipeg on Sunday afternoon.