Clarksville, TN – In early March, a group of Austin Peay State University students and a staff member traveled to Grafton, Illinois, to take part in an Alternative Break Trip. As part of their service work, the group worked with Living Lands & Waters, an organization dedicated to environmental conservancy efforts.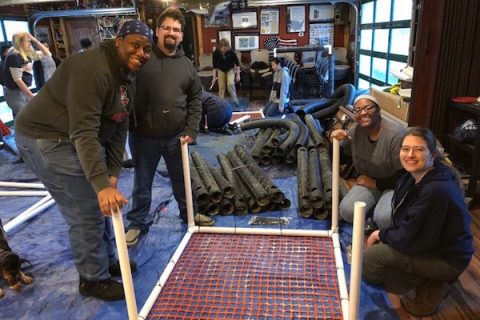 The group assisted in building fish beds, cleaning and beautification of an island, as well as cutting down invasive plants.
"It was awesome to make a difference in the Grafton community," William Legier, the trip's student leader, said. "From repainting a cabin in a nearby park, to removing an invasive plant species on a bluff that overlooks the city. Living Lands and Waters were highly knowledgeable of their respective field and were a genuine joy to work with."
If you are interested in being a part of an Alternative Break Trip, visit the website for Center of Service-Learning & Community Engagement at APSU. After completing a written application, students are selected to participate in a variety of service projects throughout the country that are organized by student leaders and faculty/staff advisors.
For more information, students can visit www.apsu.edu/volunteer.