APSU Sports Information
Cookeville, TN – Austin Peay State University's baseball team rallied to take an early lead but could not hold on in a 12-6 Ohio Valley Conference loss to Tennessee Tech, Sunday afternoon, at Bush Stadium.
Austin Peay (14-11, 5-4 OVC) took advantage of a Tennessee Tech to grab the lead in the third inning. First baseman Parker Phillips gave the Govs the lead with a sacrifice fly and designated hitter Alex Sala added a run-scoring single for a 4-2 lead.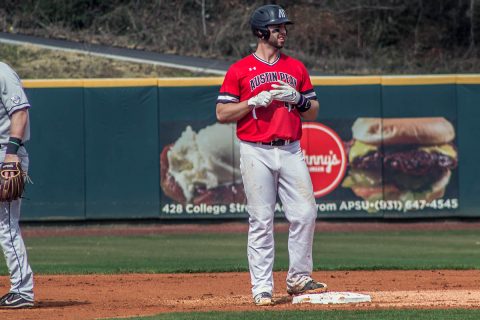 Tennessee Tech (18-5, 8-1 OVC) would get a run back with second baseman John Ham's solo home run in the third.
However, the Govs responded right back when catcher David Martinez hit his first home run as a Governor in the fourth.
However, the Golden Eagles continued to pound away. Third baseman Trevor Putzig gave Tennessee Tech the lead for good with a grand slam in the bottom of the fourth for a 7-5 lead. The Golden Eagles tacked on two more runs in the fifth, extending the lead to 9-5.
The Governors would have opportunities to narrow the deficit in the final innings. Austin Peay loaded the bases with two outs in the seventh, but Tennessee Tech brought in closer Ethan Roberts who struck out the first batter he faced to end the threat.
Austin Peay would get a run off Roberts with two doubles in the ninth, reliever Brett Newberg's double into the right field corner plating a run. The Govs again loaded the bases with two out, but Roberts escaped the jam by inducing a game-ending ground out.
Five Govs had two hits each in a 13-hit outing by the offense. First baseman Parker Phillips led the way with a 1-for-3, two RBI effort.
Govs reliever Tyler Thompson (1-4) was left with the loss after allowing five runs on four hits and a walk in two innings.
Tennessee Tech relief pitcher Alex Hursey (4-2) picked up the win after holding the Govs to one run on seven hits in 4.1 innings. Roberts allowed one run over the final 2.1 innings to notch his season's fifth save.
Putzig had six RBI in a 1-for-3 outing, adding a sacrifice fly and a RBI fielder's choice to his tally.
Who Governed: Parker Phillips
Phillips will be unhappy to depart Cookeville after breaking his recent hitting slump during his stay. He went 1-for-3 with two RBI in the series finale and finished the series 5-for-11 at the plate with two doubles, two home runs and seven RBI.
Govs Notably
Giovannelli To 31 Games
Second baseman Garrett Giovannelli reached safely in each of his final three plate appearances to extend his reached safely streak to 31 games – 24 games this season and seven last season. Only the seventh Govs hitter since 1996 to reach safely in 30 consecutive games, Giovannelli also extended his hit streak to 11 games.
Kueber Keeps Reaching
Shortstop Garrett Kueber also continued his impressive reached base safely streak, which now stands at 24 games. He had two hits and was hit by a pitch in the finale.
Up Next for APSU Baseball
Austin Peay will get the week off before hosting Southeast Missouri in a three-game OVC set at Raymond C. Hand Park. With the upcoming Easter holiday, the three-game set is scheduled to begin with a 6:00pm, Thursday contest followed by a 6:00pm, Friday matchup. The three-game set will conclude with a 1:00pm, Saturday contest.