Written by Maria Yager
Blanchfield Army Community Hospital Public Affairs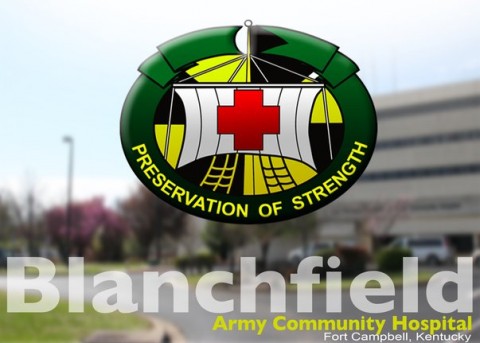 Fort Campbell, KY – An alternative prenatal care program at Blanchfield Army Community Hospital offers expectant mothers greater support and preparation than traditional methods.
The concept is called CenteringPregnancy® and in addition to the traditional health assessment aspect of prenatal care, it adds interactive learning and community building. Centering® brings expectant mothers together in healthcare groups of eight to 12 women, for 10 sessions, to share in their pregnancy journey, guided by their healthcare team.
"A typical prenatal visit is just a one-on-one with a healthcare provider. It usually lasts about 20 minutes. They measure your tummy. They listen to the baby's heartbeat, order labs, order ultrasounds, make sure everything is good and then 20 minutes is pretty much over," said Heather Katz, CenteringPregnancy Program Coordinator at Blanchfield. "In CenteringPregnancy it's an entire group of women with similar due dates. You still get the one- on-one with the healthcare provider, but once that is over we all center-up in a group together."
Blanchfield is one of about 500 CenteringPregnancy sites in the nation, according to the Centering Healthcare Institute. The centering method was established in the late 1990's by midwife Sharon Rising, who sought to bring moms together. In 2016 Army Medicine entered an agreement with the Centering Healthcare Institute to offer CenteringPregnancy at 10 Army hospitals or medical centers.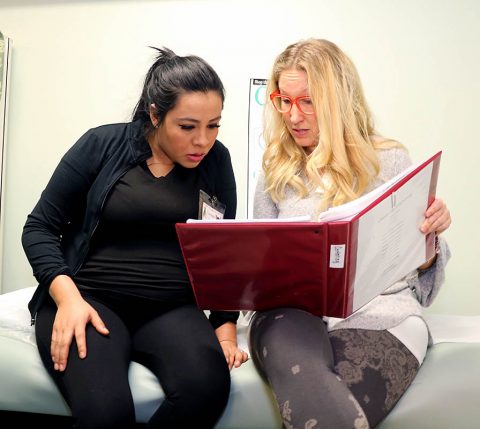 The Centering groups meet each month at the same intervals as traditional prenatal visits. The mothers receive the same prenatal exams as traditional methods, but their centering sessions are what make this prenatal program stand out.
Each session lasts about two hours and the mothers-to-be talk, share and learn about pregnancy in a discussion facilitated by their healthcare team.
"There are different topics that we go over at every Centering session and it's an opportunity for not only moms to meet new people who are due around the same time that they are, but they get to ask all kinds of questions and learn about their pregnancy together," said Katz. The program is voluntary at Blanchfield for women who want to participate in Centering.
"I got a phone call and they said this program was available. I figured I'd give it a try because I'm a first-time mom. I think it's a really good program for first-time moms because it gives a lot of information about what to expect. It really helps you out," said Spc. Holly Holt, a Centering participant at Blanchfield. "I feel great about this program because they walk you through this whole process and you get to see other people progress through their pregnancy as well. The instructor is very helpful and supportive."
"I think it helps to be able to talk to somebody who is going through the same thing as you and even if their experience is slightly different than yours, you can learn from what they're going through and vice versa," said fellow Blanchfield Centering participant Spc. Alaycia Pagan-Rivera.
At the start of each session, the moms-to-be help each other to record their vital signs and track their weight. A healthcare provider assigned to the group sees each women individually to check the health and progress of mom and baby, the other mothers enjoy catching up on events since the last meeting and sharing updates.
Centering coordinator, Katz and another nurse remain with the group to answer questions the moms may have and share information relevant to the current stage in their pregnancy. After each expectant mom has her one-on-on exam, the provider joins the group and participates in the rest of the session.
"After the prenatal exam, participants return to the group and discuss the topic of the session. We have nine different topics, however it's group led and we can talk about anything the group wants to talk about," said Maj. Nicole Sampson, a certified nurse midwife at Blanchfield who currently facilitates two CenteringPregnancy groups at the hospital. "We want our military community to know that we are here and we are here to support you in your decisions involved with your labor and delivery. We are here to listen to you and discuss your labor options."
The group brings together pregnant beneficiaries which can include active-duty, military spouses, family members and retirees. Each woman may share her story about becoming pregnant, her partner, and where the military has taken them. It's also a good way for moms to share information about military lifestyle and programs.
"This is our first baby and we are very excited. I like coming to the group. My [provider] is great. She answers my questions and I love listening to the baby's heartbeat," said Claudia Garcia, a military spouse and Centering participant.
Spouses or partners are also welcome to attend the sessions.
"We strongly encourage support people to come to, whether it's the father of the baby or girlfriends, any support person is more than welcome to come, because again, this is a military community and dads can't always be around due to training and deployments," said Katz.
Each CenteringPregnancy participant remains with the same group of women and healthcare providers for the duration of their prenatal care, allowing the women to form bonds and build friendships.
"Especially for the military community it's just a really good way for moms to get to know each other, have a support system and learn about their pregnancies together," said Katz. "A lot of times moms will form their own little Facebook group and they will keep in touch even after the Centering has ended and have playdates with their kiddos."
"My family is only about two hours away from Fort Campbell but I would consider these women as support to me," said Centering participant, Spc. Sandra Keys. "I would highly recommend the centering program to any other woman who is pregnant here at Fort Campbell because it's a great opportunity to learn different things from different women who are going through the same exact thing as they are."
Currently there are eight to 10 CenteringPregnancy groups at Blanchfield at any given time. New groups are formed each month as pregnancies are confirmed. Sessions are currently held during the day, but Katz said she is exploring the possibility of adding an evening or late afternoon group for mothers who can't get away during the day.
Newly expectant mothers who are interested in participating in CenteringPregnancy should talk with their healthcare provider.