Written by Sgt. Marcus Floyd
101st Combat Aviation Brigade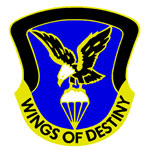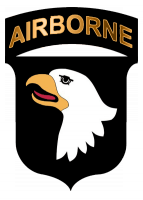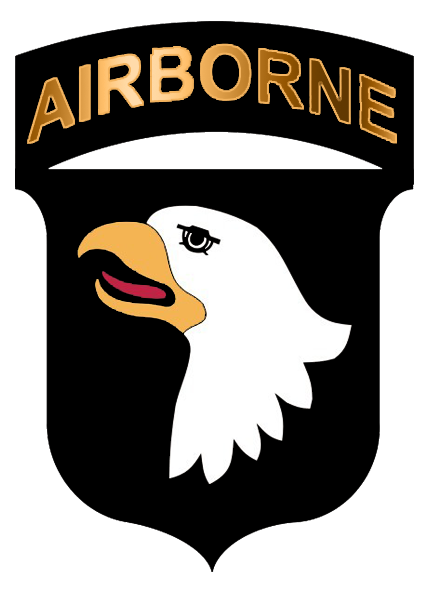 Fort Campbell, KY – Over the past year, the Don F. Pratt Museum staff worked tirelessly to renovate the museum and prepare it for its reopening.
During the renovation, the World War II-era glider that serves as the centerpiece of the museum was damaged by a unit mascot.
Despite this minor setback, Staff Sgt. Ian Thompson, the safety officer for the 96th Aviation Support Battalion, 101st Combat Aviation Brigade, and a team of seven Soldiers repaired the glider in time for the museum's reopening.
As one of the few remaining World War II-era gliders in the world, materials and tools used to build and repair the glider were not as readily available as when the glider was built.
"I had to do some research because in the 1930s they used what they called 100 percent grade-A-cotton, which is the same as our t-shirts that we wear today, and the different types of materials they used then are illegal to use today," said Thompson.
Reaching out to a company in Northern California, Thompson found alternative materials to use during the repairs.
"They were able to help me find the material I needed and all of the appropriate adhesives to facilitate getting the aircraft back to its original glory," said Thompson.
Aside from finding the appropriate materials, Thompson said he and his crew didn't run into too many obstacles during the repairs thanks to his education.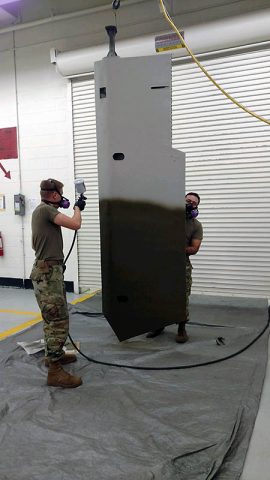 "When I was in school in the early 80s the Federal Aviation Administration still mandated us to learn how to repair old aircraft because there were still hundreds of them flying around and that has diminished over the years," said Thompson.

Modern aircraft are made of carbon fiber, aluminum, and various different types of alloys, however, back in the 1940s, aircraft were made out of light weight wood with fabric.

Using his expertise, Thompson said he was glad he was able to help preserve a small part of Army history.

Used during World War II, the glider, often referred to as "flying coffins" by the men who rode in them, was used to support vertical envelopment operations.

Developed at the tail end of World War I, vertical envelopment warfare is a concept centered on the idea of combining parachutist and gliders to create a force that could go behind enemy lines.

"The glider became the methodology of reinforcing and sustaining vertical envelopment operations and it was incredibly effective during World War II," said John O'Brien, the post historian. "All of the [101st Airborne Division (Air Assault)] operations, the parachutist going in and seizing the initial air head, were augmented, reinforced and sustained by these gliders that come in."

Throughout World War II many Soldiers from the 101st Airborne Division (Air Assault) used gliders during the Normandy invasion, during Operation Market Garden in Holland and for resupply missions at Bastogne.

A glider could carry a 13-man infantry squad, a 75mm howitzer or 2000 pounds of equipment.

"It is essentially a Chinook with the one drawback," said O'Brien. "It only goes one way."

Through the years, vertical envelopment warfare changed, but the methodology stayed the same.

"During Vietnam the vertical envelopment warfare becomes known as air mobile warfare and, of course we're not using gliders anymore, but the tactics of being able to strike deep behind enemy lines with a significant force is sustained," said O'Brien. "It becomes the new version of vertical envelopment warfare."

The story line of the museum is about vertical envelopment warfare said O'Brien, and the glider serves a reminder of that history.

"The thing that reminds us what vertical envelopment warfare is all about is the glider," said O'Brien. "The modern CH-47 and UH-60 does everything the glider was designed to do and we're really proud of the glider because it is a symbol, an icon, of how that type of warfare is executed."

With the museum now open, O'Brien said he is grateful for the assistance of Thompson and his team.

"When Soldiers, particularly from the aviation brigade, adopt an aircraft and help us maintain it and keep it looking good were very appreciative," said O'Brien. "You've got aircraft all across post and all of these are reminders to our Soldiers of where we've come from."



Sections
News
Topics
101st Airborne Division, 101st Combat Aviation Brigade, 96th Aviation Support Battalion, Air Assault, B Company 96th Aviation Support Battalion, CH-47 Chinook, Chinook Helicopters, Don F. Pratt Museum, Federal Aviation Administration, Fort Campbell KY, Glider, Ian Thompson, John O'Brien, Marcus Floyd, Normandy Invasion, UH-60 Black Hawk Helicopter, vietnam, World War II, WW II