APSU Sports Information
Nashville, TN – Designated hitter Brett Newberg hit three home runs and Austin Peay State University's baseball team launched five homers in a 10-5 Ohio Valley Conference series-opening win against Belmont, Friday, at E.S. Rose Park.
Newberg's three home runs came in his first three at-bats and each proved pivotal. His first to right center in the second gave the Govs their first run of the contest.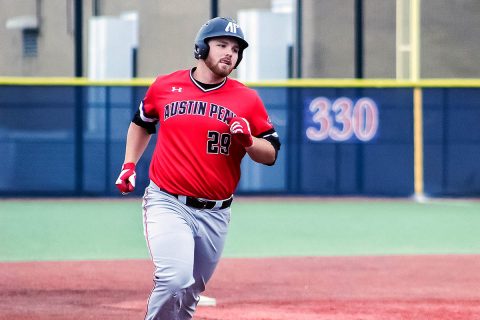 Newberg then hit his second to left of center field in the fourth to give Austin Peay its first lead, 3-1.
His final home run was to straightaway center field and provided the Govs a 6-5 lead they would not relinquish.
Austin Peay (17-13, 8-5 OVC) also got home runs from right fielder Nick Walker and catcher Alex Sala in a three home run fourth inning. After grabbing the lead for good on Newberg's final home run, the Govs secured the lead with a three-run seventh inning that saw Nick Walker and left fielder Kyle Wilson each supply RBI.
Belmont (12-17, 7-6 OVC) scored the game's first two runs, striking in the first inning. Shortstop Kyle Conger walked to start the game and later scored on a wild pitch. Third baseman Ben Kocher followed with a run-scoring double to give the Bruins a 2-0 lead.
Austin Peay starting pitcher Michael Costanzo (5-1) overcame the rocky start with some help from his defense. The Governors turned double plays in the second and third innings to keep the Bruins off the scoreboard. Belmont would score twice in the fourth and add a run in the fifth, but each burst only served to tie the game.
Costanzo would retire eight straight late in his outing, including a fly out to start the eighth. But he would allow a solo home run and a single in the eighth to end his outing. Newberg would then take the mound and recorded the final five outs to end the game.
Newberg became the first Govs batter to hit three home runs in a game since Logan Gray in 2015 and finished the game 3-for-4 with three RBI and a walk. Nick Walker, making his first start in right field since March 00, went 3-for-5 with two RBI.
Belmont starter Tyler Vaughn (3-3) suffered the loss after surrendering six runs on seven hits, including five home runs, while striking out seven in six innings of work. Conger and first baseman Chas Hadden each went 2-for-3 to pace the Bruins offense.
Govs Notably
Newbie's Day
Newberg's three-homer day was the first by a Governors' batter since Logan Gray's three-homer outing against Southeast Missouri in 2015. Both Newberg and Gray hit their three home runs in consecutive at-bats – Newberg doing it in the second, fourth and sixth innings while Gray did it in three consecutive innings (seventh, eighth and ninth).
Giovannelli's Streak Hit 36
Second baseman
Garrett Giovannelli
extended his reached safely streak to 36 games with base hits in each of his first two at-bats. His streak is now tied the fourth longest since 1996, surpassing the 35-game streak pieced together by Lance Wampler during the 2000 season.
Tipler Streak Now At 14
Third baseman Malcolm Tipler used a seventh-inning single to extend his hit streak to 14 games, tying Giovannelli's earlier hit streak for longest by a Governors hitter this season. It is the second straight game Tipler has used a one-hit day to extend the streak.
Costanzo's K-Mark
Costanzo may have had his lowest strikeout total of the season (five) but he still made progress toward 200, finishing the day with 180 career strikeouts. He is now 13th on the Govs career strikeouts list, moving past Ryne Harper (177, 2008-11). Costanzo is two behind Jamie "Cat" Walker for 12th.
Up Next for APSU Baseball
Austin Peay and Belmont are scheduled to play Game 2 of their three-game series with a 2:00pm, Saturday contest at E.S. Rose Park.