APSU Sports Information

Clarksville, TN – Austin Peay State University women's tennis team continued its fine form as of late, easily disposing of Eastern Illinois, 6-1, Saturday, at the Governors Indoor Tennis Center.
The Govs (10-6, 5-1 OVC) are not firmly entrenched at the top of the Ohio Valley Conference after the win.
The twin sister duo of Lidia and Claudia Yanes Garcia easily won at No .2 doubles to kick things off for the Govs.
Brittney Covington, who was honored before the match on Senior Day, teamed with Fabienne Schmidt at No. 3 doubles to claim the doubles point for Austin Peay.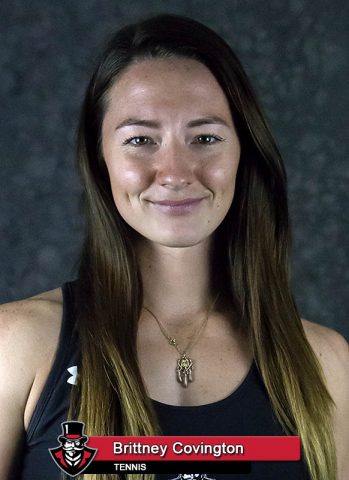 Lidia finished first for the Govs, easily winning in straight sets at No. 1 singles. Lidia is now 15-0 in matches at No. 1 singles this season. Her sister Claudia, back to playing right-handed, also won in straight sets at No. 4 singles to put the Govs a single point away from their ninth win in ten matches.
In the end, it was Fabienne Schmidt, who had her family visiting her and America for the first time cheering her on, who won the deciding point for the Govs, with a win at No. 2 singles over EIU's Grace Summers (4-6, 6-1, 7-6).
Covington also won on her senior day at No. 6 singles and Ana Albertson, who loves a three-set match, came back from down a set to win in three sets.
The Govs have a chance to move into second place in the OVC when they host Murray State, 2:00pm, Tuesday.
Box Score
Austin Peay 6, Eastern Illinois 1
Doubles
1. Ana Albertson/Helena Kuppig (APSU) vs. Stella Cliffe/Grace Summers (EIU) 2-5, unfinished
2. Claudia Yanes Garcia/Lidia Yanes Garcia (APSU) def. Karla Contreras/Emily Pugachevsky (EIU) 6-1
3. Brittney Covington/Fabienne Schmidt (APSU) def. Srishti Slaria/Shelby Anderson (EIU) 6-2
Singles
1. Lidia Yanes Garcia (APSU) def. Stella Cliffe (EIU) 6-0, 6-4
2. Fabienne Schmidt (APSU) def. Grace Summers (EIU) 4-6, 6-1, 7-6 (5)
3. Srishti Slaria (EIU) def. Helena Kuppig (APSU) 7-5, 2-6, 7-5
4. Claudia Yanes Garcia (APSU) def. Emily Pugachevsky (EIU) 7-5, 6-4
5. Ana Albertson (APSU) def. Abby Carpenter (EIU) 5-7, 6-2, 10-8
6. Brittney Covington (APSU) def. Karla Contreras (EIU) 6-4, 6-3
Order of finish: Doubles (2, 3); Singles (1, 4, 2, 3, 5, 6)
Sections
Sports
Topics
Ana Albertson, APSU, APSU Athletics, APSU Sports, APSU Tennis, APSU Women's Tennis, Austin Peay State University, Brittney Covington, Clarksville TN, Claudia Yanes Garcia, Eastern Illinois, Fabienne Schmidt, Governors Indoor Tennis Center, Lady Govs, Murray State, Ohio Valley Conference, OVC, Senior Day