Clarksville, TN – On Monday, April 16th, Brad Averitt, Austin Peay State University director of development, will join about 30,000 other runners for one of the nation's most hallowed races—the Boston Marathon.
He's likely to stand out, wearing a red shirt with the APSU logo on the chest, but as he weaves past slower runners, they might wonder about the words on the back — #GovsGive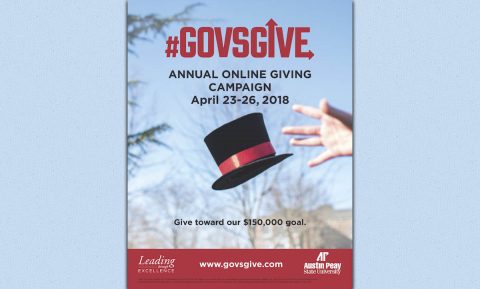 "Austin Peay and running are two of my biggest passions," he said. "I definitely wanted to represent the APSU brand while running in Boston, and I thought it would also be a great opportunity to highlight the philanthropic spirit that takes place at Austin Peay every spring."
This year's #GovsGive, Austin Peay's 72-hour online giving campaign, will begin on April 23rd, with the goal of raising $150,000 for the different colleges' Funds of Excellence, athletics and student affairs. These are innovation funds that allow deans and directors in academic and student areas to provide students with the tools and opportunities they need to succeed.
"We hosted this event for the first time last year, with the hope of raising $90,000," Rylan Kean, director of annual giving at APSU, said. "But the community and our alumni and friends around the country really rallied behind the University, and we ended up raising more than $148,000, with donations coming in from as far away as Canada and Australia."
Money raised during the campaign will allow different colleges to purchase needed equipment, such as musical instruments, Bloomberg Stock Terminals, high-altitude balloon equipment and human simulators for nursing.
"I encourage everyone to make a difference at Austin Peay by providing students with the tools they need to thrive," Kean said. "Share why you gave on social media, and tag your friends to get involved."
For more information, visit www.govsgive.com
Sections
Education
Topics
APSU, Austin Peay State University, Boston MA, Boston Marathon, Brad Averitt, Clarksville TN, GovsGive, Kylan Kean