APSU Sports Information
Clarksville, TN – Austin Peay State University starting pitcher Josh Rye threw six scoreless innings and four relievers followed him on the mound as APSU's baseball team shutout Western Kentucky, 6-0, in nonconference action Tuesday at Raymond C. Hand Park.
Rye (1-3) powered his way through the first five innings. After facing just 10 batters in the first three innings, he worked around doubles in the fourth and fifth to keep the shutout bid going. Rye faced his toughest test in the sixth when the first three batters reached safely to load the bases.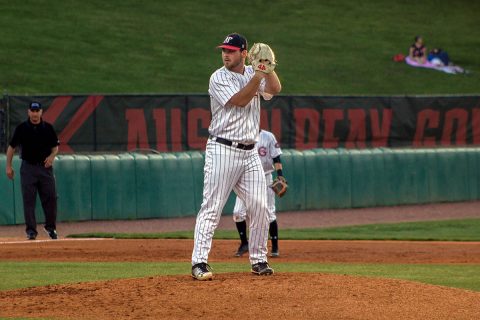 However, he dug in and struck out the next three batters to deny the Hilltoppers.
Relievers Ross Walker, Harley Gollert, Devin O'Donovan and Brett Newberg followed Rye on the mound. That quartet tossed the final three scoreless frames, striking out three, to secure Austin Peay's second shutout of the 2018 season.
Austin Peay (26-19) provided early run support for its pitching staff. Designated hitter John McDonald hit his second home run of 2018 in the second inning to put the game's first run on the board. The Governors would tack on single runs in both the third and fourth innings after leadoff doubles in each frame to build a 3-0 lead.
That lead would be doubled in the fifth as the Governors struck for three runs. McDonald tacked on a run with a single that was the Govs fourth hit of the game. Shortstop Bobby Head added a sacrifice fly and second baseman Garrett Giovannelli chipped in a run-scoring single.
After failing to score with the bases loaded and no outs in the sixth, Western Kentucky (20-24) would threaten one final time in the ninth. The Hilltoppers loaded the bases in the frame, but Newberg would strike out the next two batters to close the game. Western Kentucky finished the night 0-for-5 with five strikeouts in bases loaded situations.
McDonald went 2-for-4 with two RBI to lead the Govs offense while Giovannelli added two RBI in a 1-for-4 outing. Center fielder Nick Walker added a 2-for-3 performance as the Govs finished with 10 hits.
Center fielder Jacob Rhinesmith and left fielder Colie Currie each went 2-for-4 to account for the bulk of WKU's six-hit outing. Starter Paul Kirkpatrick (4-5) suffered the loss after allowing one run in two innings of work.
Austin Peay returns to Ohio Valley Conference action when it travels to SIU Edwardsville four a three-game set slated to start with a 6:00pm, Friday contest.