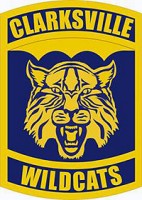 Clarksville, TN – Hundreds came out Saturday evening for Clarksville High School's 2018 Prom at Belle Hollow, followed immediately by an after-party at the soon-to-open City Forum.
"I saw a flyer for this year's prom that said something like Starry Night, but I don't think there really was a theme, Clarksville High School Assistant Principal Jenny Spurbeck said. "We've gotten away from the tradition of decorating to a theme.
"We had about 325 students this year, and everything went very well. We've had our prom at Belle Hollow a few years in a row now. It's a very nice facility."
Students and their dates began arriving Saturday night around 8:00pm. They checked in at a table just inside Miss Lucille's Cafe, then proceeded down the hallway, past the coat-check area, to Belle Hollow.
"We had a DJ and dance area in the main room, there was also a photo booth" Spurbeck said. "We had a table set up in Miss Lucille's with sweets, there were cupcakes, brownies, and cheesecake bites. We also had refreshments, water, lemonade, and tea. So, the students were going back and forth between the two areas."
The prom itself was scheduled from 8:00pm-11:00pm. As the dance party came to an end, students and chaperones were let in to the expansive City Forum area, an indoor amusement center that features mini golf, go karts, laser tag, and much more.
"The City Forum hasn't officially opened yet, but will be in the next few weeks," Spurbeck said. "But, the kids had an amazing time back there. The owners were so accommodating. In fact, it was a great prom, there were no issues. Everybody had fun. Last year, it was raining, but this year, the weather was perfect, and everyone had a wonderful experience.
"We can't say thank you enough to the owners and staff of Belle Hollow and City Forum, working with them made for a really good partnership and a successful event for Clarksville High School."
Photo Gallery