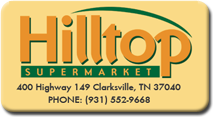 Clarksville, TN – It might have been raining, but spirits were high at Hilltop Supermarket's 3rd annual Dwayne Byard Memorial BBQ Cook Off.
The cook off was held in honor of Dwayne Byard who past away three years ago. Proceeds from the event went towards a scholarship fund for Dwayne's grandchildren.
Seventeen teams competed for trophies and cash prizes. There was BBQ, ribs and more for sale.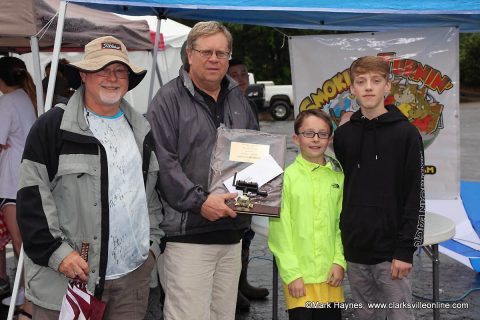 This year's teams were Serious Hog, Big B's BBQ, Smoke Em If You Got Em, Big Orange Smokers, Smokin' In The Country, The Spice Is Right, Legend Of The Stall, DC Backyard Smokers, Double A's, Tennessee Double D's, Lannoms Low & Slow, RT-Que and Macho Man Randy Slab Ribs.
"The BBQ cook-off today went excellent. It rained quite abit but everyone had a good time. All the teams showed up and competed hard. They stayed out here, braved the weather and cooked their food. They all had some really, really good entries," said Cody Jackson with Hilltop Supermarket.
Chicken, pork ribs, pulled pork, beef brisket and dessert were the categories for this year. 1st, 2nd and 3rd place finishing teams per category and the overall Grand Champion won cash prizes. Only 1st place in dessert got a cash prize.
The judges were Roy McDowell, Wes Evans, Shelly Evans, Montgomery County Mayor Jim Durrett, Keith Jackson, Lucian Wyatt, Minerva Wyatt, Robert Cruz, John Mark Atkins, Jeff Bateman, Scott Jackson and Wayne Liverett.
The judging started with dessert at 11:30am, then chicken at 12:00pm, followed by pork ribs at 12:30pm, pulled pork at 1:00pm and finally beef brisket at 1:30pm.
When asked how it was being a judge this year, Montgomery County Mayor Jim Durrett said, "Best job in the world. The food was fantastic. They spoiled us though. They served us the desert first. But it was all awfully good, awfully good."
"The event was great. All of the food was great, desserts, and everything. It was fun. I'd like to do it again next year if they ask me." stated Shelly Evans. "Hilltop is great. They are always working to help the community out."
"All of it looked excellent to me. It's a competition, but they all looked like first places to me," said Jackson.
"Oh, boy, I'll be talking about that for awhile. It's was all good, very good," stated Minerva Wyatt when asked about judging the BBQ this year.
The score sheets were computer tallied to determine the winners once the judging was done.
Big Orange Smokers won first place in the dessert category.
First place in chicken went to Smokin' In the Country. RT-Que came in second and The Spice Is Rice placed third.
In the pork ribs category, first place went to The Spice is Right. Serious Hog came in second and RT-Que was third place.
RT-Que took first place in the pulled pork category. Second place went to Smokin In The Country and Smoke Em If You Got Em won third place.
First place for the beef brisket category went to Serious Hog. Big B's BBQ took home second place and Smoke Em If You got Em placed third.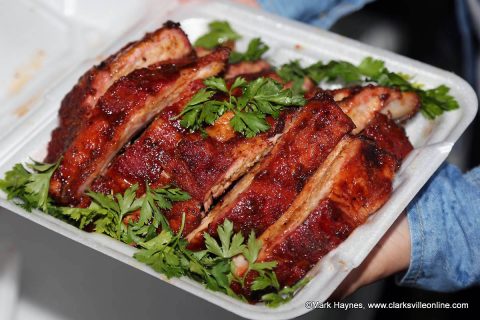 When the scores from all four categories were tallied, the Grand Champion prize went to RT-Que, Bubba Burchett and Ricky Thomas.
"I was really excited. This was the first time we have won a grand champion," Ricky Thomas stated. "This is a great cook-off. It's a fun competition that everybody has a good time at. It was an honor to win this one."
"Hilltop is community. That's who they are. They are what's community is all about. They just get behind somebody out here if someone is sick or something. They hold fundraisers. Their just a great hometown business. I love them to death," said Durrett.
"Hilltop puts this on for the community. That's why were here. The people come here and shop," Jackson stated. "Hilltop puts this on to give something back to the community. We are all about giving back to our community any way we can."
Results
GRAND CHAMPION
Place
Team
1st
RT-Que
DESSERT
Place
Team
1st
Big Orange Smokers
CHICKEN
Place
Team
1st
Smokin' In The Country
2nd
RT-Que
3rd
The Spice Is Right
PORK RIBS
Place
Team
1st
The Spice Is Right
2nd
Serious Hog
3rd
RT-Que
PULLED PORK
Place
Team
1st
RT-Que
2nd
Smokin' In The Country
3rd
Smoke Em If You Got Em
BEFF BRISKET
Place
Team
1st
Serious Hog
2nd
Big B's BBQ
3rd
Smoke Em If You Got Em
Photo Gallery
About Hilltop Super Market
Hilltop Super Market is located at 400 Highway 149, Clarksville TN. From Clarksville, you would take Hwy 48/13 south across the Cumberland river, turn right on highway 149 and Hilltop Super Market is located on the left at the top of the hill next to Freds. Hilltop serves the grocery needs of the southern Montgomery county area.
Visit their website at: www.hilltopsupermarket.com