APSU Sports Information

Clarksville, TN – APSU Men's Basketball junior point guard Zach Glotta's summer vacation will be a little different this year.
The O'Fallon, Missouri native has a couple of big events coming up in the next few weeks. First, he'll say "I do," to fiancée Ashley Slay, former Austin Peay State University volleyball standout, May 19th, 2018. Then he'll flee the country.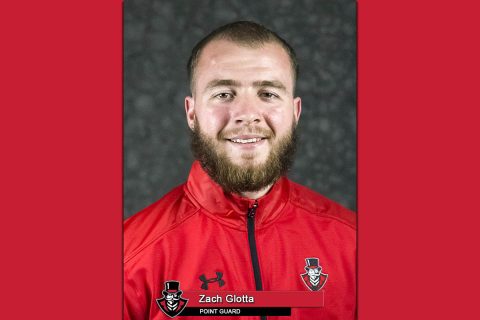 Not really; however, the honeymoon will have to wait as Glotta will spend the end of May and beginning of June as part of Athletes In Action's European tour, one of ten Division I basketball players chosen for the prestigious event.
The team will conduct a training camp at Baylor May 21st-24th and depart the USA May 25th for Prague, Czech Republic. The AIA team will play two games against the U20 Czech National Team on May 27th and 28th.
On the 29th the team will fly to Madrid, Spain. The AIA team will play three games vs. pro teams on May 30th, June 1st and June 2nd. The team returns to the United States on June 3rd. The goals of this tour are to provide a rich cross-cultural experience for each team member, an opportunity to compete internationally, and for team members to grow in their personal faith.
This is not Glotta's first venture with Athletes in Action; last summer, he and teammate Chris Porter-Bunton went to Xenia, Ohio for the Athletes In Action Captains Academy, developing leadership skills that would spur Austin Peay to 19 wins and an appearance in the CIT quarterfinals.
Last season, Glotta played the best ball of his Austin Peay career, averaging 8.1 points in 22.1 minutes per game and hitting nearly 35 percent (57-of-164) from beyond the arc. Glotta reached double figures 13 times during his junior campaign, including a career-high 21 points in the Ohio Valley Conference Tournament quarterfinals against Eastern Illinois.
Athletes in Action is an international sports organization which focuses on developing athletes and coaches as leaders of influence, on and off the field. The organization's ultimate goal is to see athletes and coaches living to leave a powerful legacy on every team, in every sport, in every nation.
Learn more about Athletes in Action at www.athletesinaction.org
Sections
Sports
Topics
APSU, APSU Athletics, APSU Basketball, APSU Men's Basketball, APSU Sports, APSU Volleyball, APSU Women's Volleyball, Ashley Slay, Austin Peay State University, Baylor, Chris Porter-Bunton, Clarksville TN, Governors, Govs, O'Fallon MO, Ohio Valley Conference, OVC, OVC Tournament, Prague Czech Republic, Xenia OH